"I got a 32 GB iPhone 7 on release day. Since I've had it, I have put about 1,500 photos (I have about 4,500 total) on it from my iTunes library on my MacBook. I recently want to upgrade to iPhone 8 when it comes. My questions is: can I transfer the same exact photos from my iPhone 7 to my new iPhone 8? Thanks for any help!" This is one of the questions comes from Apple Community about iPhone data transfer. If you happen to meet such problem, you can find three simple and free solutions in this post on transfer photos from iPhone 7 to iPhone 8 without using iTunes. Read on to get details.
Transfer photos from iPhone 7 to iPhone 8 using MobiMover Free
The first solvable method on this issue we highly recommend is using EaseUS MobiMover Free, the unique free iPhone data transfer software in the market to migrate data from iPhone/iPad to the computer, sync contents from PC to iPhone/iPad, copy files between two different iOS devices and custom data transfer. For transferring photos from iPhone7 to iPhone 8, we need to choose the transfer mode of Transfer to Other Device of MobiMover after you have successfully installed and set up MobiMover Free on your computer.
1. Download and install EaseUS MobiMover Free on your PC. Please ensure your PC is running Windows 7, 8, 8.1 or 10. Except for iPhone 7 and iPhone 8, MobiMover also supports iPhone models later than 4S with iOS 8 and later.
2. Connect both iPhone 7 and iPhone 8 to your PC and tap on "Trust This Computer" on the devices for next operations. Open MobiMover, choose the iPhone 7 as the original one to transfer photos from in the left upper corner.
3. Click Transfer to Other Device in the main interface of MobiMover, and you will access to the data transfer interface. Click Photos in the files categories list to transfer to iPhone 8.
4. Click Transfer to begin to move photos from iPhone 7 to iPhone 8. As MobiMover will save the photos to the Photos app directly, just go to the Photos app on iPhone 8 to check the copied pictures. For other iPhone data migrations, like transferring music from iPhone 7 to iPhone 8 or sending contacts from iPhone 7 to iPhone 8, you can apply the same steps above to easily make it.
Transfer photos from iPhone 7 to iPhone 8 using AirDrop
The second method we suggest is using Apple AirDrop, which enables you to transfer photos from iPhone 7 to iPhone 8 wirelessly. And to be frank, for photos transfer, AirDrop may be the easiest way, but for other files migrations, like music and video sendings, MobiMover is your first choice as it can transfer files in batches at an amazing speed.
1. First of all, turn on Wi-Fi connections (Wi-Fi connections problems fixes here) and Bluetooth on both iPhones.
2. Open AirDrop on both iPhones from the home control center.
3. Run Photos app on the iPhone 7, tap the Select button in the left upper corner to choose photos and then choose the Share button.
4. Tap AirDrop under photos and choose iPhone 8 as the target device.
5. Open another iPhone 8, and tap Accept on the notice box to receive the photos from Airdrop.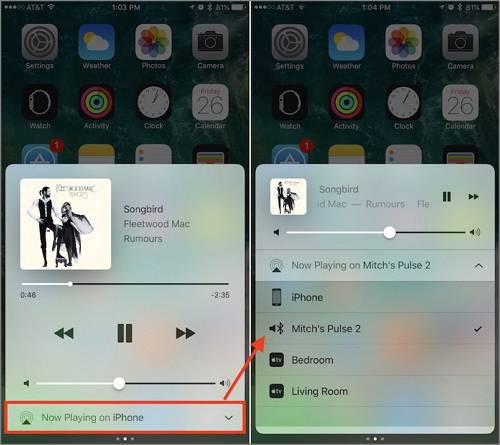 Transfer photos from iPhone 7 to iPhone 8 using Email
The third method recommended in the last part is using Email to transfer photos from iPhone 7 to iPhone 8, which works well for moving a few photos. For lots of photos transfer effective, MobiMove is the best choice.
1. Go to Photos app on your iPhone 7.
2. Choose the photos you want to transfer to iPhone 8, and tap the Share button the lower right bottom.
3. Select send as Email, and then you will go to Email sending interface with the photos attached.
4. Enter your own's email address, and tap Send to transfer the photos. Go to the Email app on your iPhone 8, check and save the photos contained in the certain Email.
Email can also be used for transfer voice memos on iPhone to another one, for example, transfer voice memos from iPhone to iPhone 7/7 Plus, check the guides if necessary.