It is an exciting thing to have a brand-new iPhone, like iPhone X. At this time, you will need to move all your old data to the new device. But do you know how to do this? Which way is the most useful and easiest way to do the information transfer? Today on this page I will show three ways to transfer information from one iPhone to another: by iTunes, by iCloud, and by EaseUS MobiMover.
Method ONE: Transfer information to another device by iTunes
No matter you want to transfer data by iCloud or iTunes, a backup of the iPhone is necessary in these two cases. First, let's see how to back up your iPhone in iTunes:
1. Plug your iPhone into your Mac or PC
2. Open iTunes
3. Click 'Back Up Now'
4. Wait until it completes. Please go to iTunes Preferences > Devices and make sure the backup has been done correctly.
Note: Please make sure you have installed the latest version of iTunes. An old version of iTunes might cause a backup failure.
Then turn on the second iPhone and press the Home button. Just follow the instructions until you get to the Apps & Data screen.Tap Restore iTunes From Backup and then tap Next.
5. Plug the iPhone into your PC or Mac. Open up iTunes again and click the device icon.
6. In the summary page, click Restore Backup and choose the RIGHT one that you have made before.
7. Wait a few minutes, and you can continue to set up your iPhone.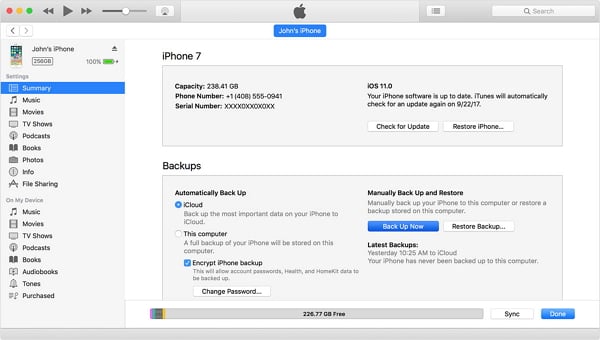 Method TWO: Transfer information to another device by iCould
The iCloud backup is an essential part of this method, first follow the guide below to make an iCloud Backup.
1. Connect your previous device to the Internet with Wi-Fi
2. Go to Settings > [your name] > iCloud > iCloud Backup. If you're using iOS 10.2 or earlier, go to Settings > iCloud > Backup.
3. Make sure that iCloud Backup is turned on. And tap Back Up Now.
4. Stay connected to Wi-Fi until the process finishes.
5. Turn on the new iPhone and follow the steps as mentioned in the first method until you see the Apps & Data screen, then tap Restore from iCloud Backup.
6. You need type in your Apple ID and password to sing in iCloud.
7. Choose which backup you want to transfer data from it (probably the latest one).
8. After this is done, you can continue your setup normally by following the instructions on the screen.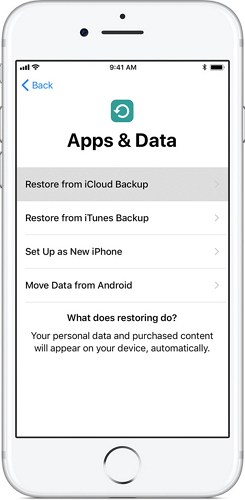 Two methods above will overwrite the existing data of your new iPhone. These can be helpful if you want to upgrade from on an old iPhone to a new one. But if you want to keep the data of the new device intact, these two methods are not recommended, you'd better use EaseUS MobiMover that allows you to transfer data more flexible. It won't overwrite the existing data, and you can choose to transfer specified types of data like SMS, pictures, memos, notes, videos, etc.
Method THREE: Transfer information from one iPhone to another
We can take EaseUS MobiMover as an alternative to iTunes or iCloud. It can transfer data from the device to computer, to another device and export data from the computer to the iDevice. With its powerful function, moving and backing up data from iPhone users becomes easy and straightforward. Let's see how it works to transfer the information from one to another:
Step 1. Connect two iPhones to your computer with compatible USB cables and tap "Trust This Computer" on both devices. Run EaseUS MobiMover and select the "Phone to Phone" mode on the main screen. Next, you need to determine the transfer direction, from iPhone A to iPhone B, or from iPhone B to iPhone A. Once done, click "Next" to continue.
Step 2. At this step, all the iPhone data are presented with numbers and file size. Select one category or multiple categories of data as you want, and click "Transfer".
Step 3. MobiMover will begin to transfer selected files from one iPhone to the other without any hassle. When the process finishes, go to the corresponding apps to check the newly added files.
Compared to iTunes and iCloud, EaseUS MobiMover can do more for data migration among the iPhone, iPad, and computer. It is the top iPhone data transfer tool that makes iPhone data management easy.