Apple's long-awaited iPhone 11, 11 Pro and 11 Pro Max have finally hit the shelves on September 20, one day after the iOS 13 release date. When it comes to the time for you to get the new iPhone 11 series, how are you going to arrange photos, contacts, messages, notes or other regular data files resided on your old iPhone? Apparently, you'll likely want to continue having those files on the new iPhone, to preserve the recordings of past memory and daily reminders on the new device. Even if you sent the old iPhone away, you'll at least need to keep a copy of certain important data before factory reset.
Data transfer between recent iPhone models is becoming straightforward and fast. As you know, iOS 12.4 and the newly introduced iOS 13/13.1 comes with a data migration assistant, which makes it perfectly convenient for Apple users to directly transfer data from an old iPhone to the new iPhone 11, iPhone 11 Pro, and iPhone 11 Pro Max. Instead, old-fashioned iOS devices (running system under iOS 12.4) are free from this astonishing feature, but it could restore data from the old device to the new via the iCloud/iTunes backup, as well as EaseUS MobiMover - a dependable third-party iPhone data transfer tool.
This is a conclusion table for you to distinguish the iPhone to iPhone data transfer approaches in different iOS versions:
| iOS Version | Data Transfer Approach |
| --- | --- |
| iOS 12.4~iOS 13.1 | iPhone data migration, EaseUS MobiMover |
| iOS 11 ~iOS 12 | iCloud/iTunes Backup, EaseUS MobiMover |
| iOS 8~ iOS 11 | EaseUS MobiMover |
As you can tell, it doesn't matter which iPhone models you're working on, but the iOS operating systems. All the three given methods could bring over data from your old iPhone. Except for iCloud/iTunes way that seems tedious and time-consuming, most of all, not a straight way of data transfer, the other two approaches are quite manageable and little troublesome. The corresponding process is relatively easy, too.
How to Use iPhone Migration
Requirements: [1]Current iPhone and iPhone 11/11 Pro/Pro Max are both running iOS 12.4 or higher; [2]Wired connection or stable Wifi connection; [3]Nex to each other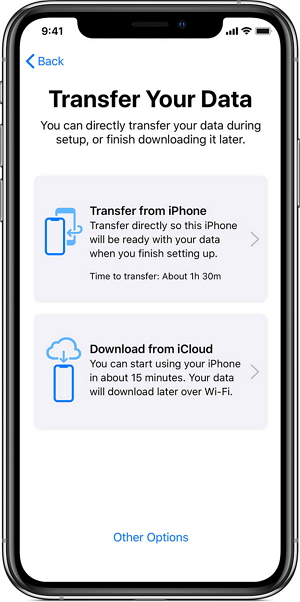 Step 1: Turn on your new iPhone and place it near your current iPhone that's running iOS 12.4 or later. If you want to migrate data via wired connection, connect the devices. The Quick Start screen appears on your current iPhone and offers the option of using your Apple ID to set up your new iPhone. Make sure that it's the Apple ID that you want to use, then tap Continue. If you don't see the option to continue on your current device, make sure that Bluetooth is turned on.
Step 2: Wait for an animation to appear on your new iPhone. Hold your current iPhone over the new iPhone, then center the animation in the viewfinder. Wait for a message that says Finish on New iPhone. If you can't use your current iPhone camera, tap Authenticate Manually, then follow the steps that appear.
Step 3: When prompted, enter your current iPhone passcode on your new iPhone.
Step 4: Follow the instructions to set up Face ID or Touch ID on your new iPhone.
Step 5: Tap Transfer from iPhone to begin transferring your data from your previous iPhone to your new iPhone. If you're using the wired method, the transfer icon indicates that your devices are connected. You can also choose whether to transfer some settings, such as Apple Pay and Siri, from your previous iPhone to your new iPhone.
Step 6: If you have an Apple Watch and you're setting up a new iPhone, you'll be asked if you'd like to transfer your Apple Watch data and settings.
Step 7: Keep your devices near each other and plugged in to power until the iPhone data migration process is complete. Transfer times can vary based on factors such as the connection type that you're using, network conditions, and the amount of data being transferred.
User guide source: https://support.apple.com/en-il/HT210216#migrationhowto
How to Use EaseUS MobiMover
Requirements: [1] iOS 8 or later; [2] Hardwired connection to a PC or Mac; [3] Download EaseUS MobiMover on your PC or Mac
EaseUS MobiMover is a piece of iOS data transfer software that is Windows OS and Mac OS X/macOS compatible, iTunes-independent and multi-direction transfer supported. It allows you to transfer data between iDevices, from PC/Mac to iDevice, or from iDevice to PC/Mac. It's virtually the most direct way you're looking for to manage data on an abandoned iPhone or iPad. Be different from using the Quick Start migration way, which only takes effect while setting up a new iPhone, you can put MobiMover in use anytime and anywhere you want to migrate, copy, back up, access or view iPhone data for daily use, or switch an old iPhone to a new, etc.
To transfer photos, videos, contacts, messages, notes or other types of files from an old iPhone to iPhone 11, iPhone 11 Pro or iPhone 11 Pro Max, simply use the matched USB cables to connect the source iPhone and the destination iPhone to a computer where you have EaseUS MobiMover installed. Learn with the detailed steps to start over.
Step 1: Connect the two iPhones to your computer with compatible USB cables and tap on Trust This Computer on the devices if you are required. Launch EaseUS MobiMover Free and select iDevice to iDevice model on the main screen as the image displays below.
Step 2: MobiMover enables you to transfer the whole or specific iPhone data files directly without using iTunes anymore. You can check the boxes to sync whatever data you need with ease.
Note: You can click the drop-down arrow next to your iPhone device to set the source/target device directly.
Step 3: Now, click Transfer to begin to transfer data from iPhone to iPhone without iTunes. Please don't disconnect your devices until the process has finished. When it has done, go to open the corresponding applications to check the synced items.