With an iPhone 8/8Plus/X, we can take high-quality photos using the built-in camera. Except taking photos with iPhone's built-in camera, we also save pictures from internet and Mail to the iPhone, and also take screenshots on iPhone. These pictures might contain some important information, such as your favorite wallpapers, screenshots of messages, maybe for legal use, or photos of some important moment. They are stored on your iPhone, and eating up your iPhone's storage bit by bit.
One day, you'll find there is no available storage to save one more picture or download one more video or install one more APP. At this moment, you have to consider copying pictures from iPhone to PC to free up space, but how to copy pictures from iPhone to PC?
For Apple users, many tutorials tell you that you can make it in many ways, like Windows Explorer, iTunes, third-party software, etc. In this guide, we will offer you 3 methods to copy pictures from iPhone to PC. You can choose which way is best for you.
Part 1: How to copy pictures from iPhone to PC with Windows Explorer
Windows treats the iPhone as a digital camera or file system, so you can copy pictures from iPhone to PC with Windows Explorer. And it only copies Camera Roll photos, and your photos are stored in several folders in disorder, if you want to export all iPhone photos, and keep them organized, please move to Part3 to make it.
Step 1: Connect your iPhone to PC > Open My Computer > Find your iPhone it will appear under Portable Devices Sections.
Step 2: Double click iDevice icon to open your iPhone > You can see the Internal Storage icon > Double click it to open it.
Step 3: You'll see the DCIM folder that is the Camera Roll folder > Double click open it > Open one folder to see if it contains the pictures you want to copy > Select the photos you like and copy them > Paste them to the folder of your computer.
Part 2: Copy pictures from iPhone to PC via iTunes
iTunes is the syncing tool for iOS devices that is used by most Apple users. It will copy all the pictures and photos from iPhone to PC, which means you cannot select one specific picture to send. If you want to copy the specific pictures to PC, please go to Part3.
Step 1: Connect your iPhone to a PC with the USB cable that came with your device.
Step 2: Open iTunes. It's an app with a musical note icon.
Step 3: Click on the iPhone icon in the upper-left corner of the window.
Step 4: Click on Photos >> Sync Photos, and select a folder to save the pictures.
Step 5: Click on Apply >> Sync.
Yes, you can get many ways to copy iPhone pictures to computer, but most of them only help you transfer Camera Roll Photos to computer, and all photos are placed in disorder, etc. Therefore, here, Part3, we recommend you an FREE iPhone data transfer software - EaseUS MobiMover Free. It is the only free iTunes Alternative on the market. It can not only backup iPhone without iTunes, but also allows you to copy one specific picture to PC. Now let's see its outstanding features.
Copy all kinds of pictures from iPhone to PC - supports to copy Camera Roll photos, Photo Stream, Photo Library, photos synced from iTunes or computer, iCloud sharing photos, photo albums, etc.
All pictures are organized by different folder - Camera Roll, Live Photos, Screenshots, Selfies, and Bursts, etc. are organized by different folder, so you can easily find what you want.
Top security guaranteed - 100% copy the original iPhone pictures to computer instead of compressed pictures.
Compatible with all iPhone models and computer operating system - works well with all iPhones 6/7/8 and the latest iPhone X.
No matter you want to copy all iPhone pictures or just some specific pictures, you can make it with following methods.
Part 3: Copy pictures from iPhone to PC with EaseUS MobiMover Free
Step 1: Download and install EaseUS MobiMover on your PC. Your PC should be running Windows 7 or later. MobiMover can only access the data on your iPhone with the installation of iTunes.
Step 2: Unlock your iPhone, and connect to Computer via USB Cable. You may need to tap on Trust on your device if it requires permission.
Step 3: Run EaseUS MobiMover Free on your computer. The information of your iPhone will be listed on the main interface, such as storage, system, and phone number. Click "Custom" on the main interface. Wait for a second, and MobiMover will list all your files on iPhone quickly. There you can find your photos and picture.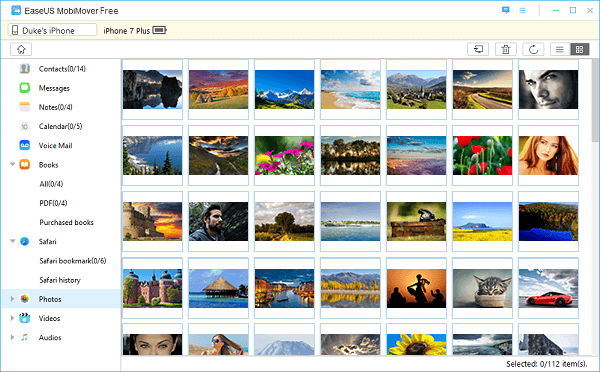 Step 4: Select the pictures that you want to copy to computer, and click Transfer to computer on the right top corner.
Step 5: Select the folder where you want to save your pictures. Then click "Transfer" to start. The process might take some time due to the amount of data you're transferring.
After copying pictures from iPhone to PC, you can check and view the pictures in the folder you selected above. MobiMover is also able to copy pictures from iPhone to iPhone. You just enter the section of " Transfer to Other Device" from the main window, and follow the guide.