AirDrop is a useful tool to send or receive files between iPhones, iPads, iPods and even Mac computers for file sharing which is highlighted in the newcomer iPhone X and vital for mobile data sharing over WiFi and Bluetooth. Supporting iPhone X running the new iOS 11, AirDrop works effectively to share contents from Apps like Photos, Safari, Contacts, and more with another iPhone, iPad or iPod.
How to use AirDrop on iPhone X to share contents with Other iOS devices nearby
Follow the steps below to turn on AirDrop on iPhone/iPad and Mac if you also need to sync files between iPhone/iPad and a Mac, and share files together wirelessly with other devices that are close to your iPhone X.
Step 1: Switch on your WiFi connection or Bluetooth on your iPhone X. Then install the new iOS 11 on your new iPhone X. AirDrop is only available on iOS 7.0 and later, and can be enabled through the Control Center.
Step 2: Now, go to Settings > General > AirDrop to choose who can see your iPhone X in AirDrop and send/receive files. Of course, you have other options to open AirDrop in Control Center: swipe down from the upper-right corner of the screen on iPhone X, hold down the network, set up the card and tap AirDrop. Now three choices appear: Receive off, Contacts only, and Everyone.
Receiving Off: you won't receive AirDrop requests.
Contacts Only: only the person in your contact list can see your iPhone X.
Everyone: any iOS devices or Macs using AirDrop can see your iPhone X.
To send files, choose Contacts only or Everyone and make sure the iPhone X AirDrop is restricted with Settings > General > Restrictions.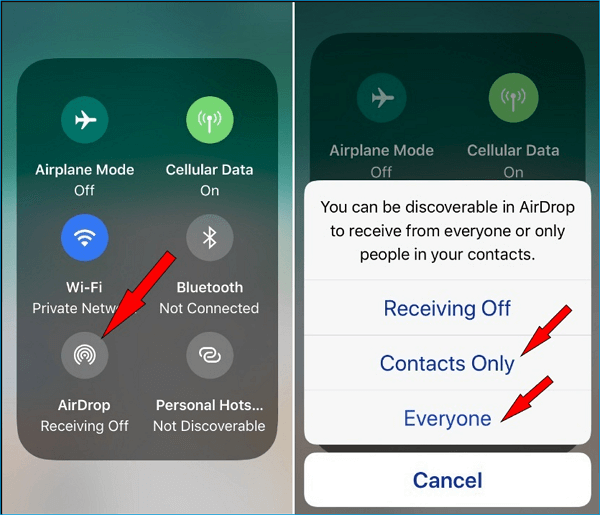 Step 3: Open the App and find the files you want to AirDrop from iPhone. Here, take Photos as an example. Open the Photos App and click Photo Albums to access your pictures on your iPhone X. Tap Select to tick multiple items for sharing. Afterward, tap the Share button and choose the available AirDrop user nearby to share your contents with. At last, the users can choose to accept or cancel your files after the previewing on their end.
However, requirements exist for AirDrop usage. There are some limits to distance, network, and device depending on its operating system. Thus, we suggest another free alternative to share contents between iPhone X and another iPhone. EaseUS MobiMover Free is a free iPhone transfer program that helps transfer files from iPhone to iPhone or transfer files from computer to iPhone to realize file sharing on time and keep all files up-to-date on iOS devices. With this free phone transfer App, you can share all contents in one place with one click.
Install both EaseUS MobiMover Free (100% safe and clean) and iTunes on your iPhone X on your computer.
How to share contents by EaseUS MobiMover Free from iPhone X to another iPhone easily
Step 1. Connect two iPhones to your computer with compatible USB cables and tap "Trust This Computer" on both devices. Run EaseUS MobiMover and select the "Phone to Phone" mode on the main screen. Next, you need to determine the transfer direction, from iPhone A to iPhone B, or from iPhone B to iPhone A. Once done, click "Next" to continue.
Step 2. At this step, all the iPhone data are presented with numbers and file size. Select one category or multiple categories of data as you want, and click "Transfer".
Step 3. MobiMover will begin to transfer selected files from one iPhone to the other without any hassle. When the process finishes, go to the corresponding apps to check the newly added files.