Imagine the situation, when you're in a hurry to the subway station, at the very moment you notice your iPhone is ringing. Then you stop and open your briefcase, take out the iPhone but just find it doesn't have any call. Suddenly you realize this is just somebody else's mobile ringtone because you are using the same default melody of iPhone.
It was probably because of this little trouble that you were late at the subway station and then watched the subway drive away from your eyes, you have missed the subway! What's more, this could make you late at work and thus you may lose a very important customer. This is not the end, your boss would break into a furious rage and you finally lose your job.
After thinking about all these consequences, you decide to change the iPhone's ringtone and make it unique. You open the computer, launch iTunes and plug in your iPhone, then there pops up a window that reminds you iPhone not recognized by iTunes. If you encounter such a situation, you will wonder if there is a tool can help you send ringtones to iPhone.
The answer to this question is certainly YES. Here we will recommend you a free iPhone data transfer software - EaseUS MobiMover Free. Here in this article, we'll tell you how to send ringtones to iPhone with the help of EaseUS MobiMover Free.
Steps for sending ringtones to iPhone with EaseUS MobiMover Free
Step 1. Connect your iPhone to your computer and run EaseUS MobiMover.
Tap "Trust" on your phone and click "Allow" to enable EaseUS MobiMover to access your iPhone.
At the Content Management section, click "Audio" and select "Ringtones" to continue.
Step 2. Click "Ringtones", then select "Add Contents" to browse and add saved ringtones from PC to your iPhone.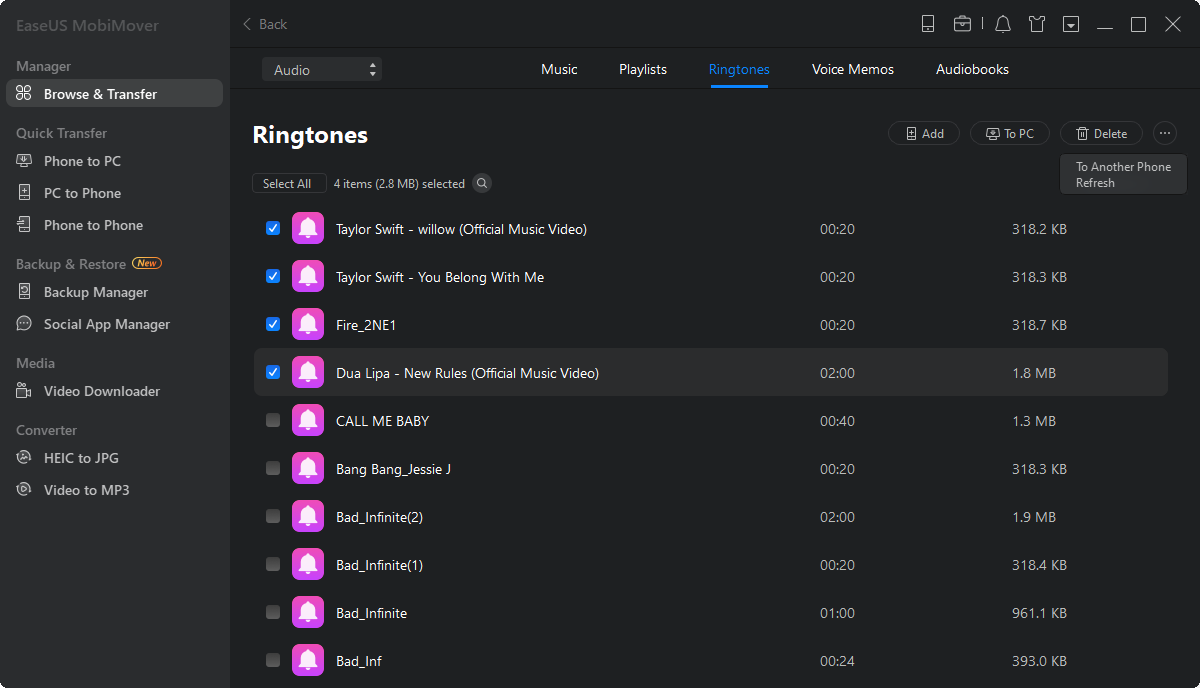 Step 3. Select saved ringtones on your PC and click "Open" to start the transferring.
When the process finishes, go to Settings on your iPhone, then tap "Sounds & Haptics" > "Ringtone" to check ringtones on your iPhone.
Follow the tutorial above, you can easily send ringtones to iPhone with this free iPhone transfer software. From now on, you will only hear your own unique ringtones when you're walking on the road. You will never miss the subway because of the wrong call, and you don't have to worry about late for work and be criticized by your boss. This totally Free tool can not only help you send ringtones to iPhone but also transfer music from computer to iPad.