It is very convenient for you to take and store photos on handy iPhone, but sometimes you still want to hold some in hand and enjoy them at anytime or anywhere. Then you need to print photos from iPhone, but what to do? You can try any of these three methods depends on the particular case: print photos from iPhone by using AirPrint, print iPhone photos through a computer and print iPhone photos via a photos-printing service app.
Print photos from iPhone via AirPrint
Apple self-built-in AirPrint is the simplest way to print photos from your iPhone without having to connect to any printer with wires. iPhone can automatically detect and list nearby AirPrint compatible printers, so you can directly connect to it.
Open the Photos app on your iPhone>tap the target photo>tap the Share button at the bottom-left corner of your screen>Tap Print and you'll be able to print it. besides, you can set the printing numbers for one photo at Printer Options.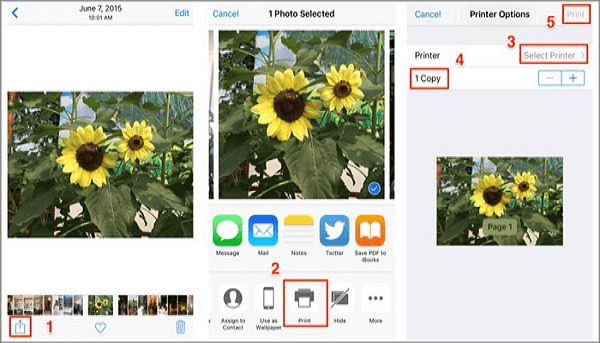 Print photos from iPhone by using computer
If there is no AirPrint capable printer nearby, you are still able to print photos from iPhone in virtue of computer. Before printing photos directly from a computer, you need to transfer photos from iPhone to computer at first, please click to see detailed operation tips. In addition, please make sure that the computer is connected to a printer and the printer is turned on, has enough ink, and is loaded with glossy photo paper.
Open certain photos on computer>click Print>choose Printer>setting Photo Properties>click Print.
Print photos from iPhone through a printed-enabled app
Printing photos from iPhone by using a computer will take you a while, if you don't have enough time, you can choose a specific online printed-enabled app with a nearby printing service store which allows you to upload photos, pick up them when you are convenient, or even have photos shipped to you.
Here we recommend the Walgreens to you that offers these features.
Download Walgreens on your iPhone from App Store>Sign in or Register>Order Prints>Select Photos via tap Device>choose single or multiple photos>Set photos size>Pick photos up at a nearby Walgreens store.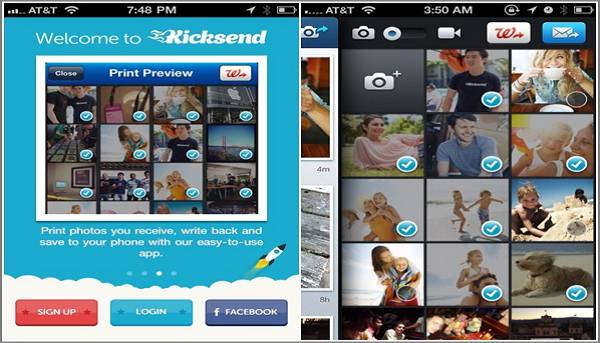 If you don't want to download the Walgreens app on your iPhone, you can finish photo-order-printing just on its website accordance with operation steps on the mobile app.