Using AirDrop to transfer content is suitable for the following situations:
1. The two devices are close enough for the Bluetooth to connect successfully.
2. There is a Wi-Fi connection available.
3. The content you want to send is on the Share sheet of AirDrop.
4. The size of the items you want to transfer isn't too big, or it will take you a long time.
How to turn on AirDrop on iPhone/iPad
1. Switch on Wi-Fi and Bluetooth on your iPhone or iPad.
2. Swipe up from the bottom of your iPhone/iPad screen to open Control Center.
3. Click on AirDrop. Choose "Contacts Only" or "Everyone" to send data to you or receive data from you.
4. For example, if you want to transfer photos from your iPhone to your iPad, after you have turned on AirDrop on both of your devices, go to the Photos App and select the photos you want to transfer.
5. Tap on the Share button and choose your iPad shown on the screen.
6. On your iPad, choose "Accept" to receive the photos from your iPhone.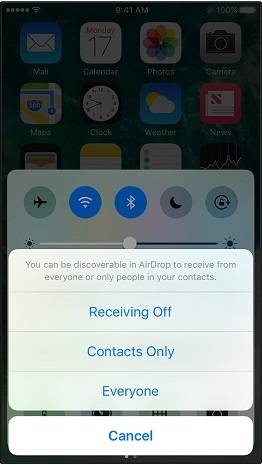 How to turn on AirDrop on Mac
1. Go to Finder and choose "Go" in the menu bar.
2. Choose "AirDrop" on the left side of the window.
3. Turn on Wi-Fi and Bluetooth on your Mac if you haven't turned them on.
4. You can set the "Allow me to be discovered by" option as "Everyone" or "Contacts Only".
5. After you have turned on AirDrop on Mac, drag the items you want to share to the recipient's image appeared in the AirDrop window and click "Send". (Or you can choose items, tap on the Share button, choose "AirDrop", select the recipient and click "Done" to transfer data to another AirDrop-supported device.)