Applies To: iPhone XS/XS Max/XR, iPhone X, iPhone 8, iPhone 8 Plus or other iPhones in iOS 11
By uploading photos from iPhone to iCloud, your photos can be accessed from all your devices on which you have signed into iCloud with the same Apple ID. It's no doubt a convenient way to share photos between your devices. What's more, you will make a backup of your iPhone photos elsewhere by moving photos from iPhone to iCloud storage, which is quite necessary to avoid complete data loss. Read this article to learn how to upload photos from iPhone to iCloud in several steps and how to share or back up your iPhone with an alternative way.
Part 1: How to move photos from iPhone to iCloud
You can upload your iPhone photos to iCloud following the steps below.
Step 1: Open Settings App on your iPhone X/8/8 Plus in iOS 11.
Step 2: Tap on [your name] > iCloud > Photos.
Step 3: Toggle on iCloud Photo Library. After that, you have two options to choose from. One is Optimize iPhone Storage, the other is Download and Keep Originals. The former helps to optimize your iPhone storage by storing the device-optimized version of the photos on your iPhone and save the original in iCloud. While the latter keeps the originals on your iPhone and in iCloud.
Step 4: After turning on iCloud Photo Library, your iPhone will start to upload photos to iCloud.
Step 5: When it's completed, you can go to iCloud.com to view the uploaded photos.
Open a browser on your computer and visit iCloud.com.
Enter your Apple ID.
Choose Photos among the options and then you can view the photos you have uploaded to iCloud.
When you get a new iPhone or iPad, you can download photos from iCloud to iPhone to keep your iPhone photos updated or you can download photos from iCloud to PC or Mac if you need.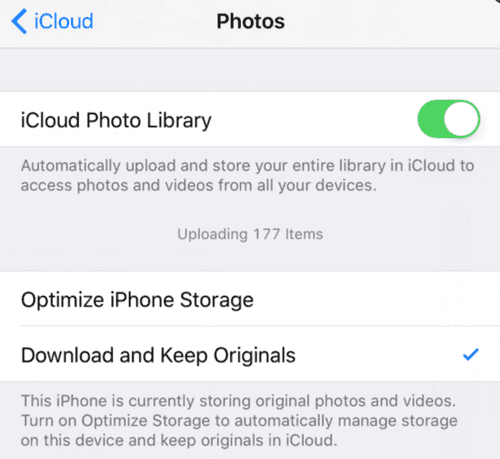 Part 1: How to share photos between iDevices or between iDevice and PC without iCloud (FREE)
Is iCloud uploading photos slow on your device? Is your iPhone not syncing with iCloud? Don't worry. There is a completely free tool for iOS data transfer and file management which you can use to share files between iOS devices (iPhone/iPad in iOS 8 or later) or between iOS device and computer. With EaseUS MobiMover Free, you can transfer photos, videos, audios, contacts, messages, notes, calendars, and more to or out of your iOS device without any cost. Follow the steps below to sync photos from one iPhone to another.
Step 1: Connect your iPhones to your computer, open EaseUS MobiMover Free, then go to [your device name] > Picture > Photo/Album. (It's no doubt that you can also use the 1-Click Transfer feature to download photos from iPhone to iPhone.)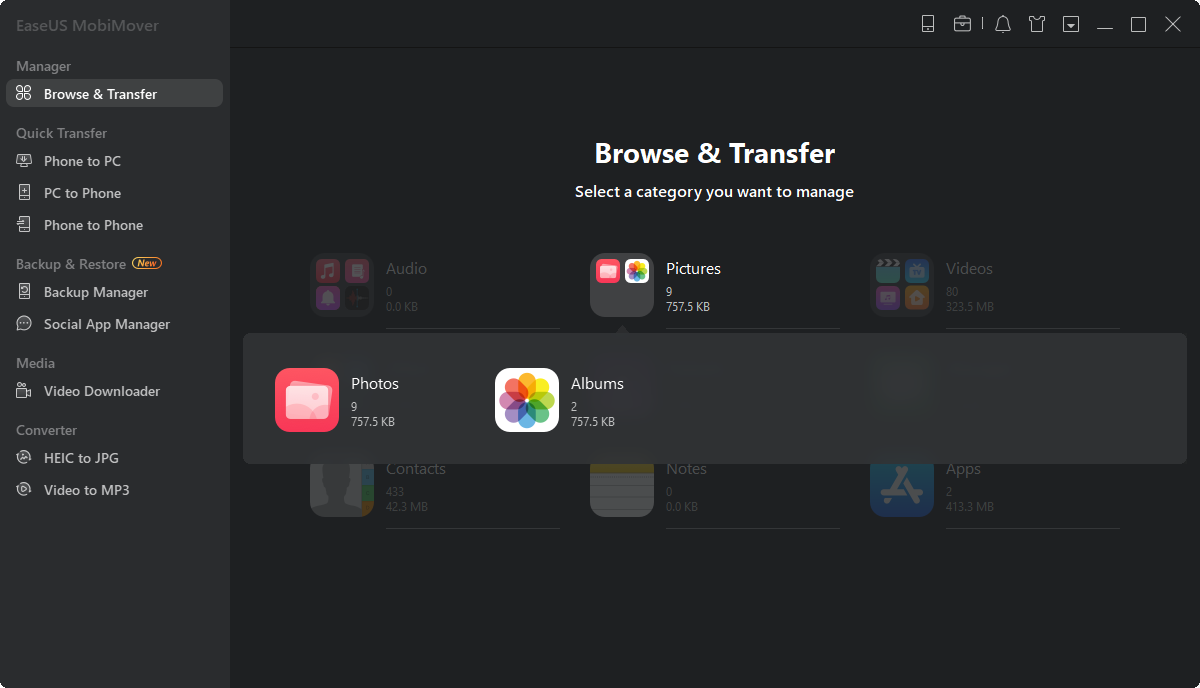 Step 2: Choose the photos or albums you want to move from one iPhone to another, then click the Transfer to Other Device button. (One difference between the custom transfer introduced here and the 1-Click Transfer is that the former enables you to copy photos from iPhone to iPhone selectively, while the other helps to download all photos at once.)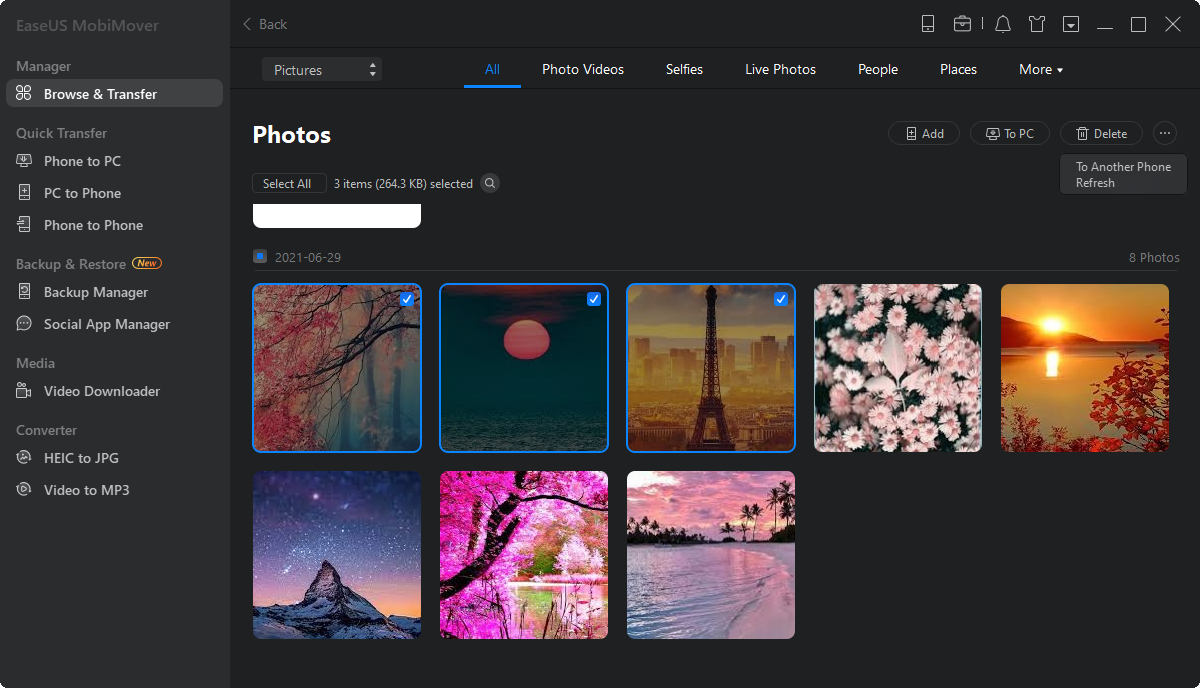 Step 3: Select your target iPhone and MobiMover will start transferring photos from iPhone to another. When it has done, go to your target device to check the items in the Photos app.
While if you want to transfer photos from iPhone to PC without iCloud, you can also learn how to make it from another article.