Get a new iPhone X and want to sync contacts from old iPhone via iCloud? Back up contacts on iPhone in case of an unexpected disaster like ransomware attack? Restore deleted contacts on iPhone from iCloud backup copies? Generally speaking, iCloud works seamlessly with the iOS device and offer you a quick access to share data over iPhone, iPad, iPod or Mac. Contacts on your iPhone are important information to keep you in touch with contact persons. To protect contacts on iPhone and make them available across devices in iOS, it's a great practice to import contacts from iPhone to iCloud and manage contacts anywhere at any time.
How to export contacts from iPhone to iCloud and get contacts from iCloud? In the new iOS 11, iPhone users can automatically sync contacts from iPhone with iCloud service as you have enabled it in Settings. If you are new to iPhone, it's necessary to create an Apple account with Apple ID and iCloud account accordingly. After you've done that, let's move on to transfer contacts from iPhone to iCloud now.
Step 1: Unlock your iPhone and tap Settings on iPhone. Connect your iPhone to a WiFi or internet network.
Step 2: Tap your Apple ID if you have entered. If you have not signed into your Apple account, fill in your Apple ID and password to log in.
Step 3: In Apple account section, tap iCloud. Then you can see the iCloud storage and manage space on iCloud.
Step 4: Scroll down the apps that are using iCloud and select Contacts app. Now slide the contacts button to turn it on. Prompt alerts you of how to deal with local contacts on your iPhone. Just click Merge to sync iPhone contacts to iCloud.
Step 5: log in your iCloud account on icloud.com and click Contacts to check contacts on your iPhone.
After that, when you add or update a contact, iCloud records the changes also. Certainly, it enables you to copy contacts to another iOS device as long as you load contacts from an iCloud backup. If you turn off iCloud contacts, the updates will end together.
Meanwhile, there are some limits for iCloud contacts, for example, only 5GB free space available. The total number of contact cards should be less than 50000. The Maximum size of all contact cards is 48MB for text and 200MB for photos in contact. Therefore, here we introduce you a free iPhone contact transfer tool to allow you move contacts from iPhone to iPhone or computer and back up iPhone contacts easily.
EaseUS MobiMover Free, a free iPhone data transfer software, helps you quickly transfer iPhone contacts along with other contents in a safe way. With only one click, your iPhone contacts can be download to and accessed on Windows PC/laptop, iPad or another iPhone.
How to transfer iPhone contacts with EaseUS MobiMover Free?
Step 1. Connect your iPhone to your computer (Mac or PC) and click "Trust" in the pop-up on your iPhone to trust this computer. Launch EaseUS MobiMover and click "Content Management" > "Contacts".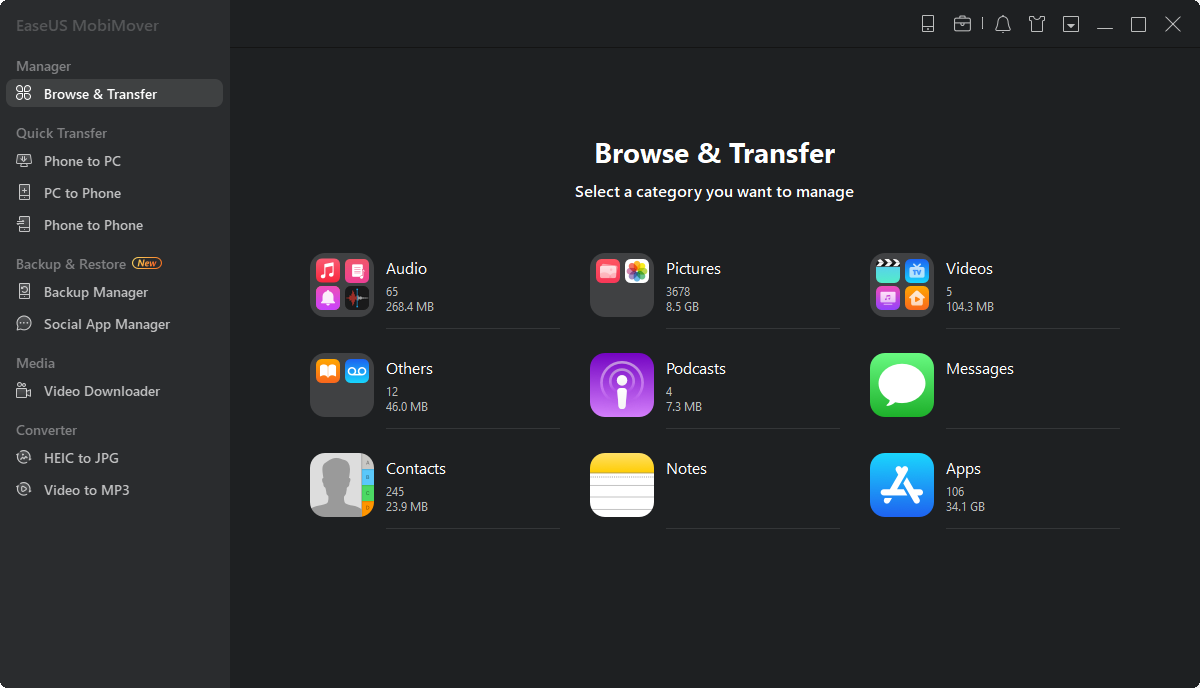 Step 2. When you transfer files from your iDevice to your computer, the files will be stored on your desktop by default. If you want to set a custom path, go to "More" > "Setting" and choose a location.
Step 3. Now select the contacts you want to copy and choose "Transfer to PC". Afterward, the contacts will be transferred instantly. When it has finished, you can go to the selected folder to check the items. (The contacts will be saved an HTML file on your computer, thus you need to open it with a browser to view its details.)