Even an iPhone with a large storage capacity will eventually reach its limit. After that, it is no longer possible to load more music onto the small companion, your only way to save storage is to move mp3 files to computer.
However, an important hint in advance. We'll show you how to do the transaction with iTunes. With iTunes, however, only songs purchased from the iTunes Store can be transferred from your iPhone to your PC.
If your iPhone also contains mp3 files from other sources, you will need to access alternative programs such as EaseUS MobiMover. The procedure is similar for these programs.
iTunes: Transfer music from iPhone to PC
To back up mp3 files from your iPhone to your PC in the iTunes library, you must have the connection cable to your PC and iTunes ready in addition to your iPhone. Then proceed as follows:
1. Connect your iPhone to the PC via data cable. Then start the iTunes software.
2. Now wait a moment until your PC has recognized your iPhone via iTunes. After that, it's just a few steps to back up your iPhone's music to your PC.
3. As soon as the iPhone appears in the drop-down list, right-click on it and select the item "Transfer Purchases".
4. After that, your music purchased in iTunes will be transferred to the local library on your PC, where it is available.
What can I do if there are external mp3 files on my iPhone?
If you have songs on your iPhone that were not purchased via iTunes, you have problems with iTunes. The software does not transmit songs that were not purchased via iTunes.
In such cases, use alternative programs such as "EaseUS MobiMover Free". Simply follow these steps:
Step 1. Connect your iPhone to your computer and run EaseUS MobiMover on your PC.
Tap "Trust" on your iPhone screen and click "Allow" on EaseUS MobiMover to enable the program to access your iPhone.
Click "Content Management" on the main screen, click "Audio" and select "Music" to continue.
Step 2. Select MP3 files on iPhone and specify a secure location on PC to transfer.
You can click "Music" to select MP3 music files on your iPhone for transferring.
By clicking "Settings", you can navigate a safe location on your PC to save the transferred music files.
Step 3. Click "Transfer to PC" to start the transferring process.
Wait for the transferring process to complete.
If you didn't set a new spot for saving the music files, MobiMover will save the data to a folder named Exported by MobiMover on the desktop of your PC.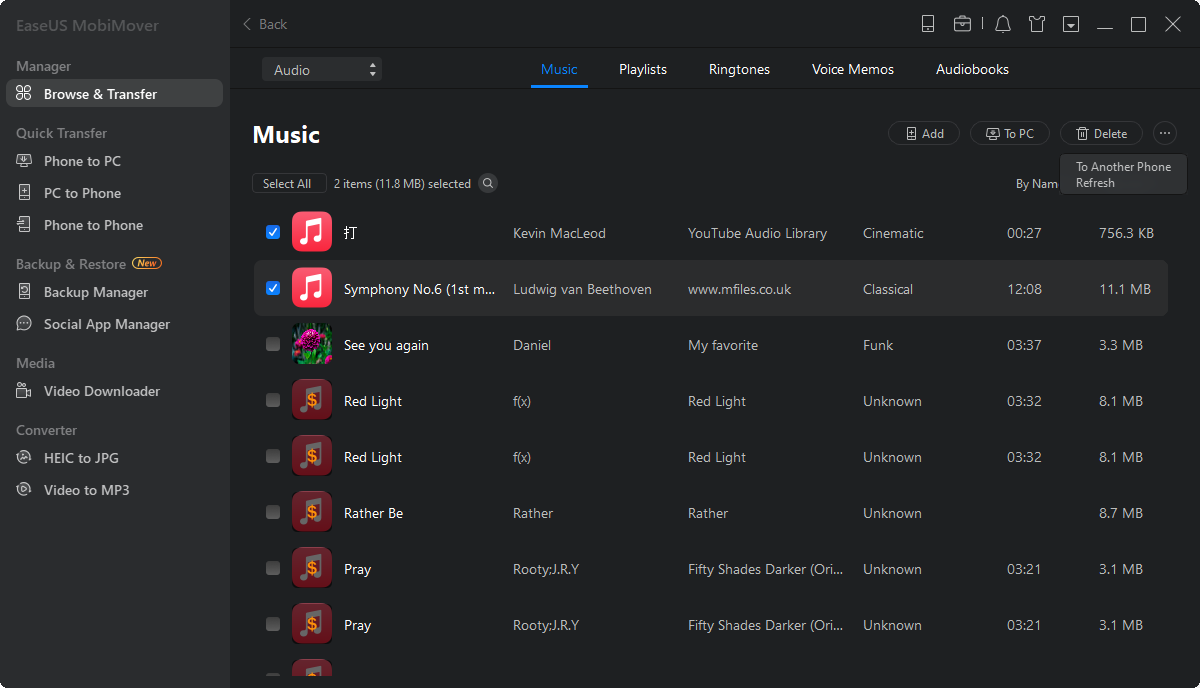 EaseUS MobiMover Free is designed to import all kinds of files from PC to iPhone/iPad, export data from iPhone/iPad to PC, transfer them from one iOS device to another and manage iOS data by deleting, adding, and editing items without any quantity and size limitation.