Watching videos on your iPad is a good way to kill time. But when you no longer like them, you might want to delete the videos from your device to free up space on your iPad. No matter what the reason is, as long as deleting videos from your iPad is your purpose, you can take a look at this article that covers three ways to make it. You can remove videos from your iPad directly on your device or manage your iPad videos from the computer for free with MobiMover. What's different is that you can use MobiMover to manage other content like music, ringtones, playlists, contacts and more on your computer. Read on to get the details.
How to delete videos from iPad
Tip 1: Delete videos from iPad for free via Mobimover (FREE)
As a free iDevice manager, MobiMover Free can help you customize your iPhone/iPad content from PC by deleting, adding or editing items. In addition, you can back up your iPhone/iPad data to PC, transfer files from one iPhone/iPad to another and export data from PC to your iPhone/iPad with MobiMover installed on your computer. The supported files include photos, videos, audios, contacts, messages and more. What's important is that you can enjoy the amazing features for absolutely free. Isn't it worth a try? Follow the steps below to learn how to use MobiMover quickly.
Step 1. Connect your iPhone or iPad to your computer running Windows or macOS and run EaseUS MobiMover. Click "Trust" on your iPhone in the pop-up asking you whether to trust this computer. Go to "Content Management> Videos", and choose the category you want to delete videos from, including Movies, TV shows, and Music Videos.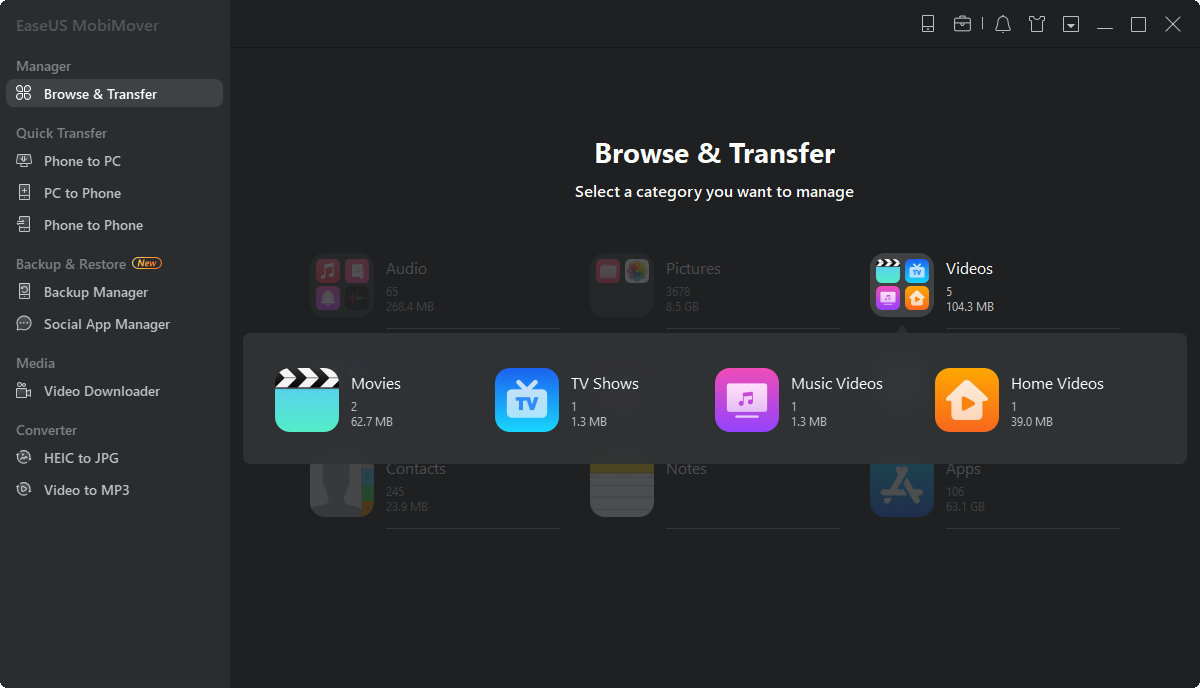 Step 2. To delete videos on your iPhone, you just need to select the videos you want to remove and then click "Delete".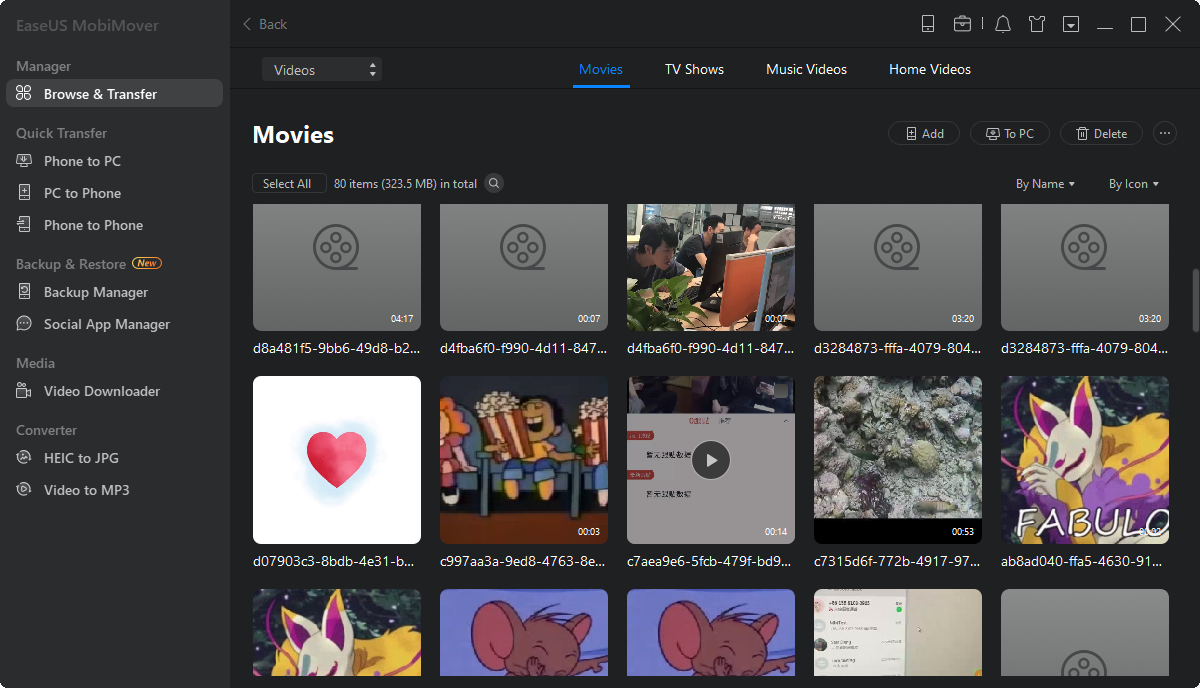 Step 3. After clicking the "Delete" button, a new window will appear asking for your confirmation. Choose "Yes" and MobiMover will delete videos on your iPhone in seconds.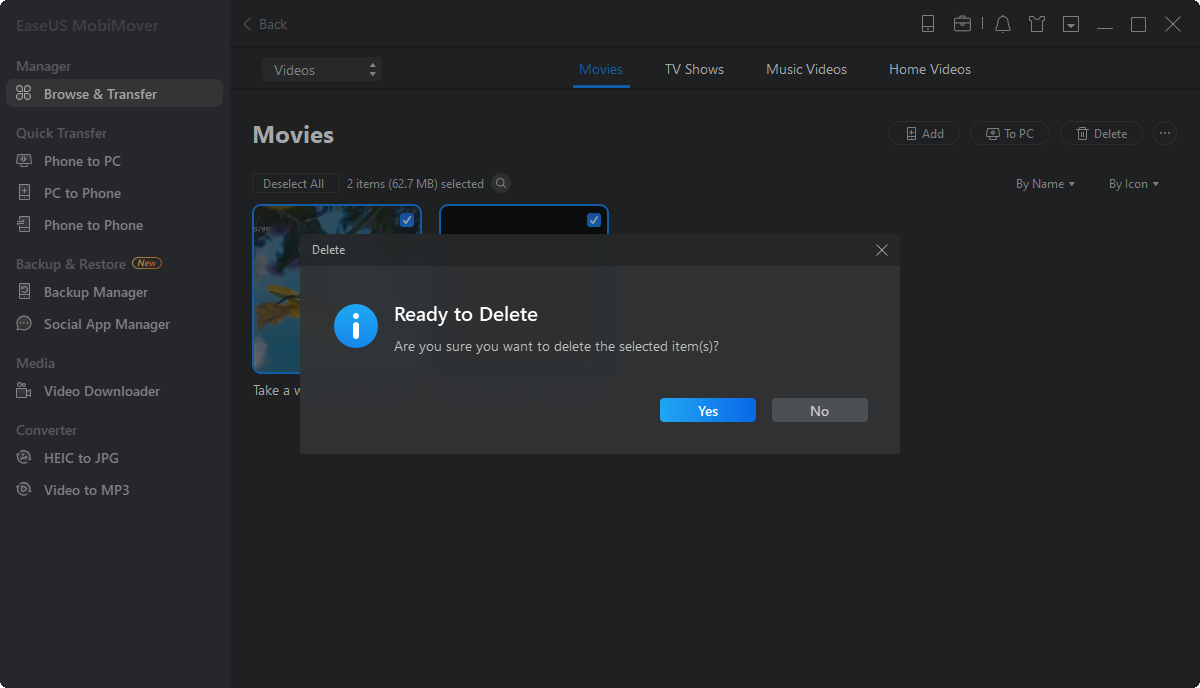 MobiMover can also be your good helper when it comes to iPhone data transfer. For example, you can transfer contacts from iPhone to iPhone, transfer music from computer to iPad and import videos from iPhone to the computer with it. Hope you enjoy the conveniences MobiMover brings to you.
Tip 2: Delete videos from iPad via Settings App
If you want to remove all the videos on your iPad (make sure you have backed the videos up in case of future use), you can make it easily through Settings App. The detailed steps are shown below.
Step 1: Launch "Settings" App on your iPad.
Step 2: Tap on "General" and choose "Storage & iCloud Usage".
Step 3: Under "STORAGE" section, choose "Manage Storage".
Step 4: Tap on the item you want to remove then swipe left on the item you want to delete.
Step 5: Click "Delete" next to the item.
Tip 3: Delete videos from iPad via Photos App
If the videos you'd like to remove are filmed with your iPad camera, you can delete them directly on your iPad in Photos App.
Step 1: Go to "Photos" App on your iCloud.
Step 2: Choose "Videos" to see all the videos you have filmed with your iPhone.
Step 3: Tap on "Select" on the upper right of the screen.
Step 4: Select the videos you want to remove.
Step 5: Tap on Trash icon and then click "Delete Video" to confirm.