It's a good habit to clean up your iPhone to improve its performance by removing unwanted files from your device. Although Podcasts may not eat up your iPhone storage like photos, videos, or other big occupiers, it's meaningless to keep these files you don't favor enjoy any more on your device. Thus, it's necessary for your deleted undesired podcasts from your iPhone. If that is exactly what you intend to do, go through this article right now and you will find all the possible solutions to do it.
How to delete podcasts from iPhone in iOS 11/12
When it comes to removing podcasts from your iPhone, you can either delete the items one by one in the Podcast App on your device (Method 1) or delete multiple podcasts from your iPhone (method 2) using the freeware for iOS file management and data transfer, EaseUS MobiMover Free.
Method 1: Remove podcasts individually from iPhone
Without the help of third-party software, you can only get rid of the podcasts on your iOS device one by one, which is quite time-consuming. If you prefer this method, follow one of the two tips below to get things done. (The following steps are performed on iPhone XS Max running iOS 12.)
Tip 1: Delete from library
Step 1: Open the Podcasts app on your iPhone.
Step 2: Click the Library tab and choose the category you want to remove podcasts from, including Shows, Episodes, and Downloaded Episodes.
Step 3: Single-click the item you want to get rid of, click the more button (three dots), then tap Delete from Library.
Tip 2: Delete item directly
Step 1: Open Podcasts on your iPhone.
Step 2: Go to Library > Shows/Episodes/Downloaded Episodes.
Step 3: Click Edit in the top-right corner of your screen.
Step 4: Tap the minus icon on the podcast you want to remove.
Step 5: Choose Delete to confirm your deletion of the item.
Method 2: Delete multiple podcasts from iPhone
Within the Podcasts app, you cannot remove items in batches, which is annoying when you want to delete all or multiple podcasts from your iPhone. Luckily, you can have EaseUS MobiMover Free in assistance. With this tool, you can:
Now, follow the three simple steps below to delete podcasts from your iPhone within seconds.
Step 1. Connect your iPhone to your computer (Mac or PC), launch EaseUS MobiMover, and then go to "Content Management > Podcasts" as shown in the image below.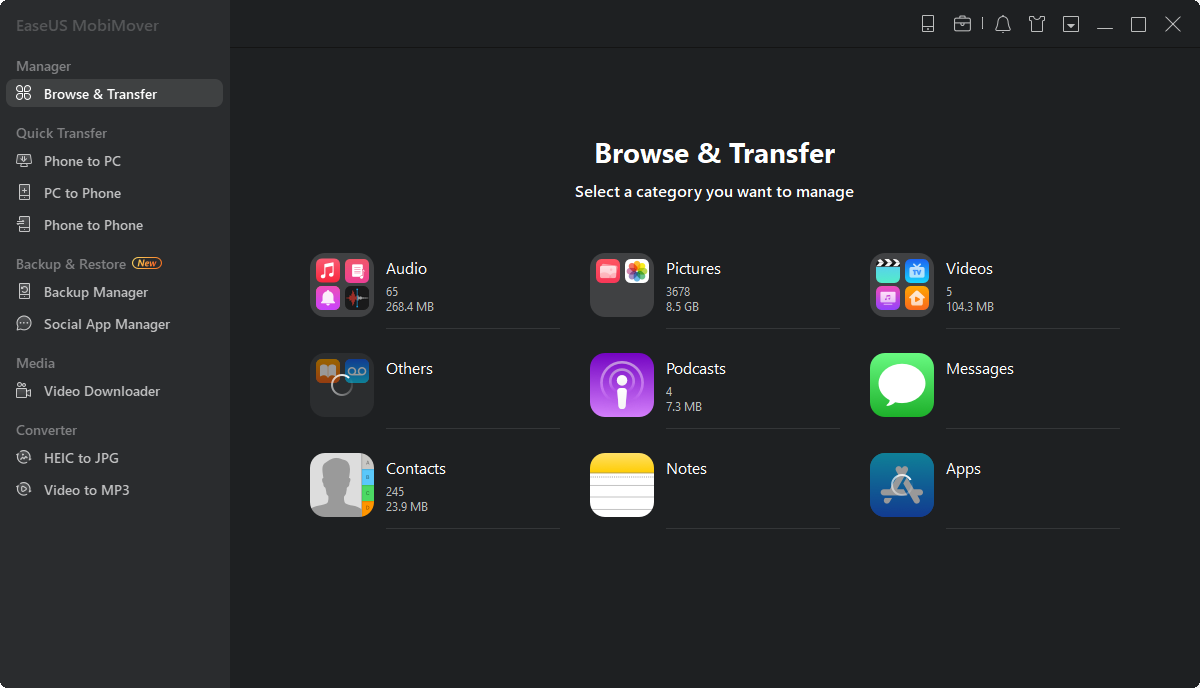 Step 2. Select the items you want to get rid of. (You can make a backup of them to your computer before the deletion by clicking "Transfer to PC".) Then click "Delete".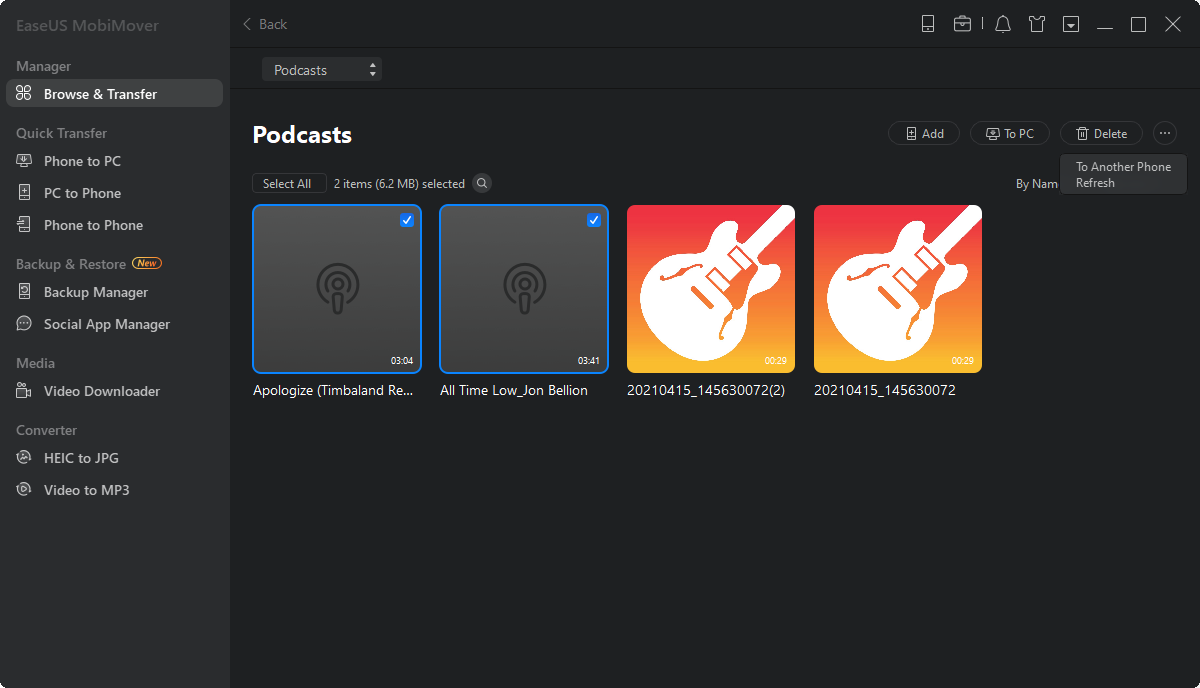 Step 3. Choose "Yes" in the new pop-up window to delete the multiple podcasts from your iPhone in seconds.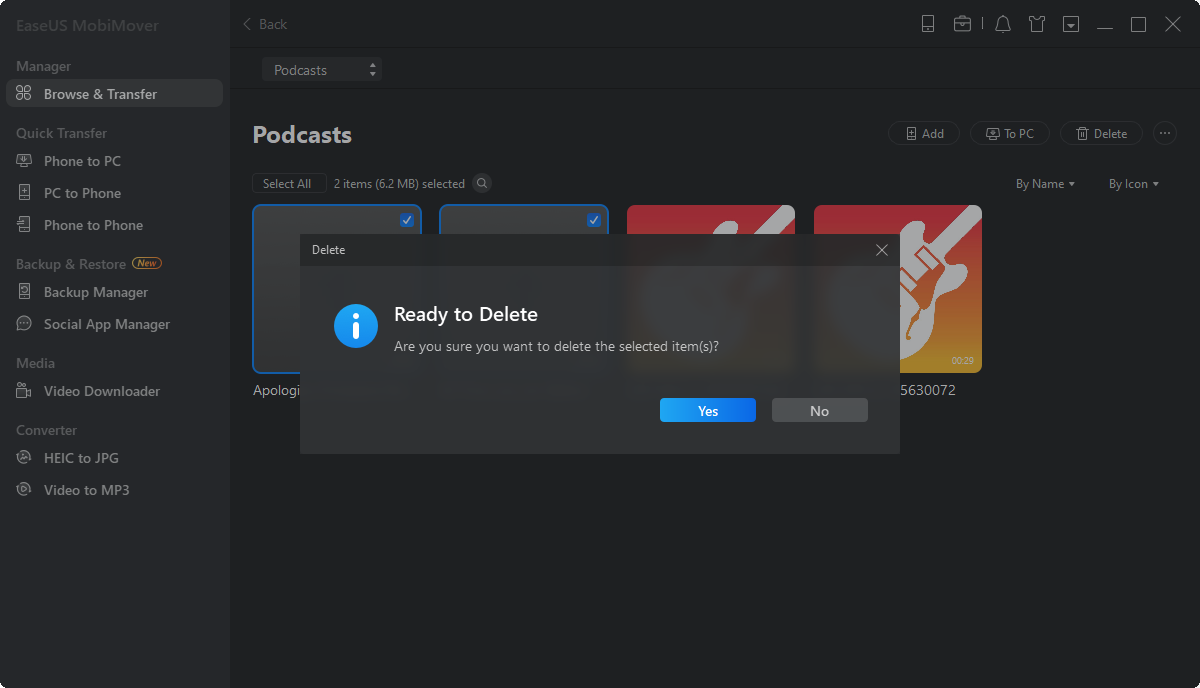 Easy, right? With MobiMover, you can not only manage your iPhone files but also transfer files to or from your device in order to enrich its content, share content, or back up important files. What's more, if you like watching videos offline, MobiMover can help your get the videos you like to your computer or mobile devices to do it. All these things can be done at no cost. In a word, MobiMover is well worth trying. Get it right now!