"Why my iPhone contacts disappeared?", "Why my contacts on iPhone are missing?" or "Why my contacts disappeared from iPhone", some iPhone users asked these questions after they updated their devices. As you may know, iOS updates can cause accidental data loss in some cases. If you have encountered such kind of problem, read this blog post that can help you out of the problem by providing three possible solutions to retrieve disappeared contacts on your iPhone. And to avoid similar problems that may happen in the future, there is a fourth tip that introduces how to back up your iPhone contacts in case of data loss. Read on to get the details.
Tip 1: Fix "iPhone contacts disappeared" on iPhone with iCloud
If you have backed up your contacts on iCloud before, you can easily recover your disappeared contacts on iPhone with iCloud. If you're not sure about where you have backed them up, you can check it in iCloud.com. Here are the steps to get back your missing contacts on iPhone. (With iCloud contacts on, you can also download iCloud contacts to PC if you need.)
1. Open "Settings" and go to "iCloud".
2. Switch on "Contacts". (If it's already on, turn it off and switch it on again.)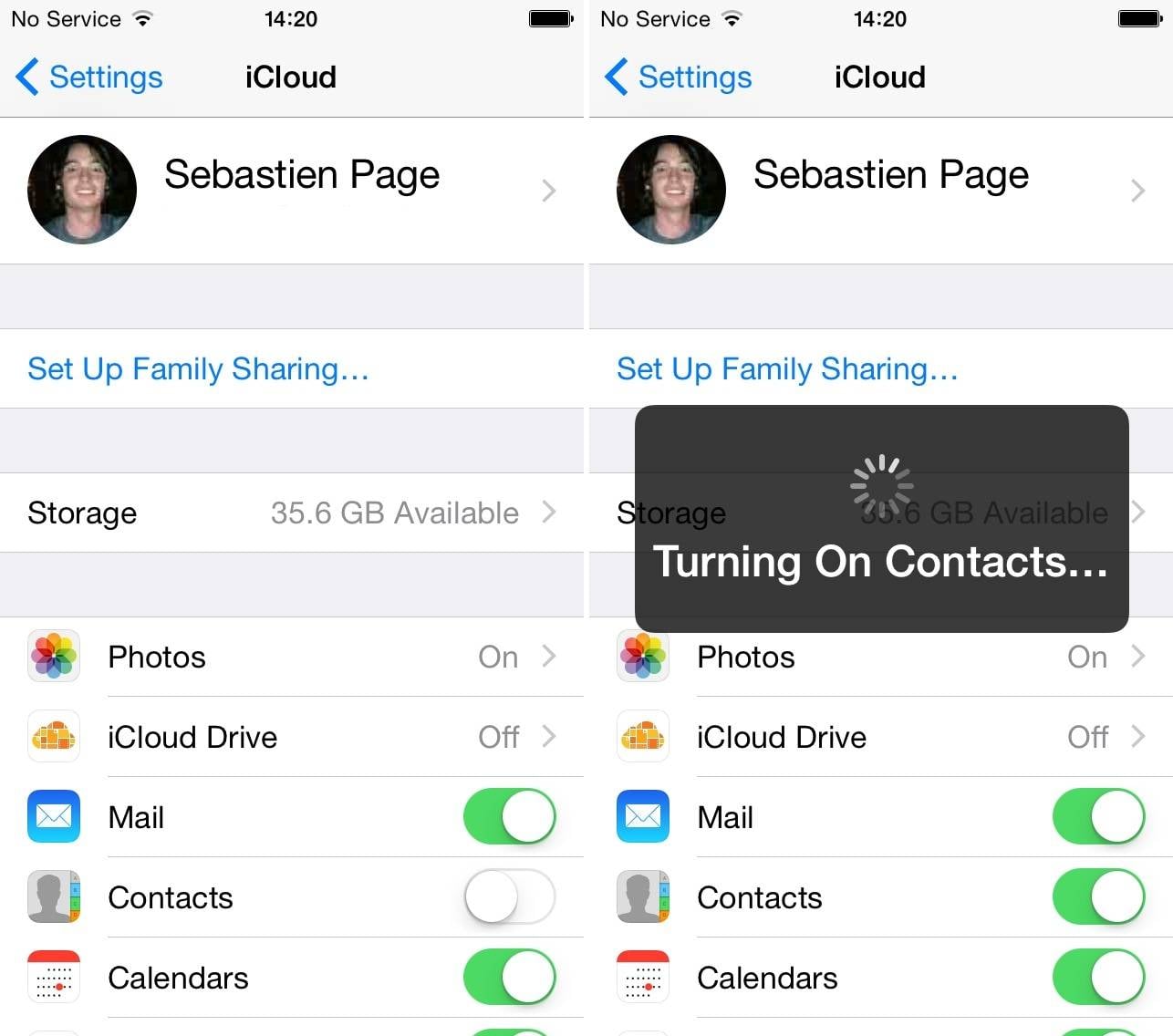 Notes:
If you are asked about whether to delete contacts on iPhone during the process, just deleted them because you have the copy on iCloud.
Tip 2: Get back disappeared contacts on iPhone with iTunes
Luckily, you have backed your iPhone up with iTunes, then comes the method to restore your lost contacts from iTunes backup. What you need to know before you apply this method is that other data like calendars, notes, text messages and setting will also be recovered together with contacts. If this means no trouble to you. Follow the next steps.
1. Connect your iPhone to computer and run "iTunes".
2. Click on the device icon and choose "Summary".
3. Choose "Restore Backup" and choose a backup when the "Restore from Backup" window pops out.
4. Click "Restore".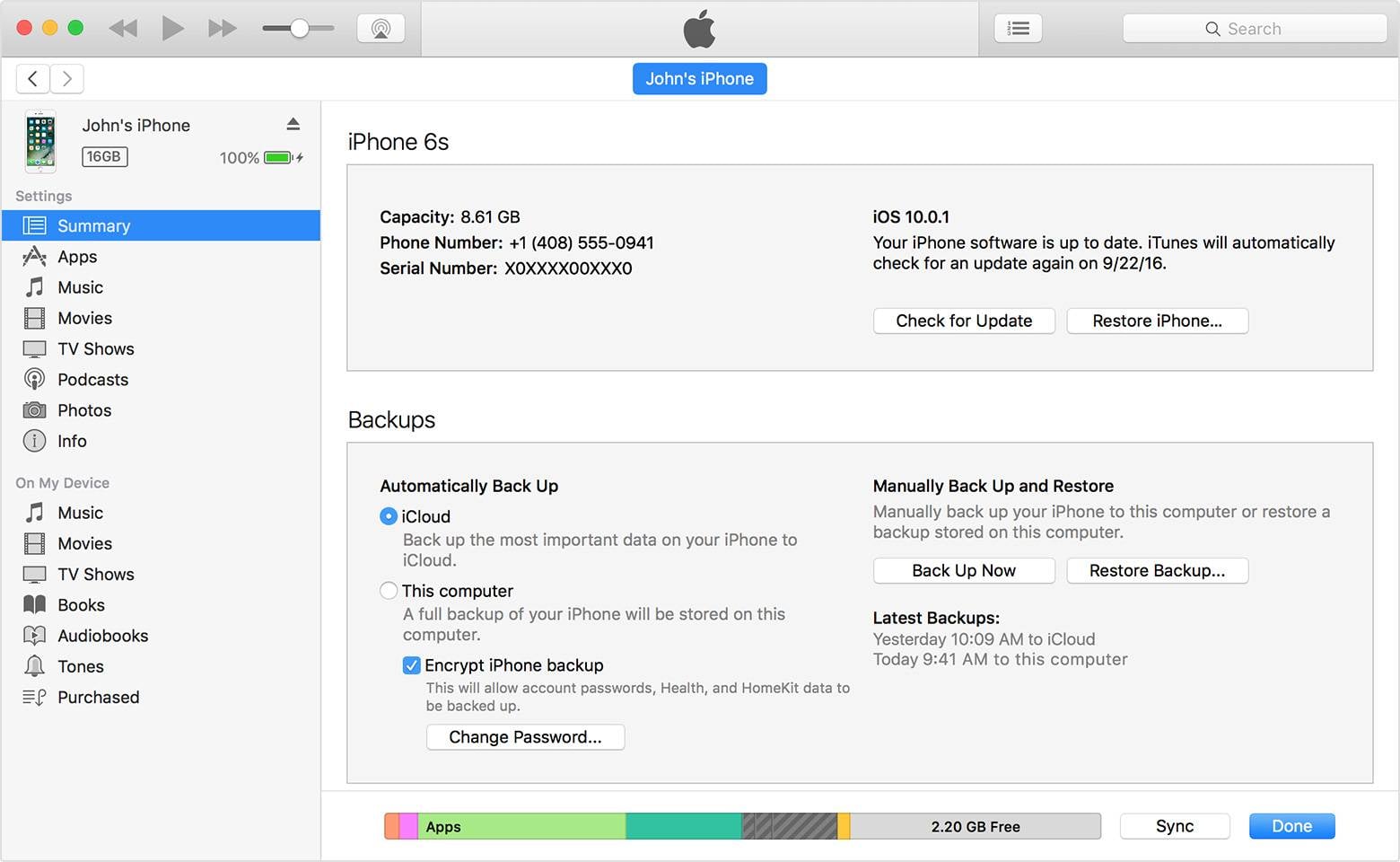 Tip 3: Restart your iPhone to recover lost contacts
The two tips above are suitable for the situation in which you have backed up the contacts you need in iCloud or iTunes before they disappeared. If you do, you can surely get them back. While this tip 3 is a possible and simple way you can try to restore your disappeared contacts by restarting your iPhone. Like one of the ways to solve iPhone problems like Wi-Fi not working, restarting your iPhone could be an option you can choose to have a try.
1. Tap and hold the Sleep/Wake button and move the slider to turn your iPhone off.
2. Press and hold the Sleep/Wake button again to start it.
Tip 4: Back up your iPhone contacts to avoid data loss
When you want to update your iPhone, you need to back up your iPhone first to get your contacts back when problems like "iPhone contacts missing after iOS update" happen. When it comes to iPhone data transfer, a useful tool to help you make it is MobiMover Free, Which can be used to transfer data between PC and iPhone/iPad or between two iOS devices for totally free. Thus backing up your iPhone contacts is just one of the many things MobiMover can do for you. Follow the steps below to learn how to back up your iPhone contacts or more to your PC.
Step 1: Unlock your iPhone, connect your iPhone to your PC running Windows 10/8.1/8/7, and then run EaseUS MobiMover Free. When a prompt appears on your iPhone asking you whether to trust this computer, tap on Trust to continue.
Step 2: Click the PC icon or the folder icon next to PC/Desktop to set the storage path.
Step 3: After selecting the path, MobiMover will load all the supported files on your iPhone. Check the category/categories you want to back up. (Using the 1-Click transfer feature helps to back up all your iPhone contacts to PC at once. If you want to selectively save contacts from iPhone to the computer, click your device name in the main interface and choose Contact.)
Step 4: Then click the Transfer button to start backing up your iPhone contacts to PC. The contacts will be saved as an HTML file on your computer, thus you need to open it with a browser to view its details. What's more, you can transfer the contacts from PC to other iOS devices (iPhone or iPad in iOS 8 or later) using MobiMover if you need.
With your iPhone contacts backed up on your PC, you don't need to worry about data loss the next time you update your iPhone because you already have a backup of it on your computer. With MobiMover, you can manage your iPhone/iPad content better. For example, you can transfer photos from computer to your iPhone, put music to iPhone without iTunes and delete music albums from iPhone using MobiMover. Have a try and make it your useful tool.