Music and video files usually take a lot of spaces on your new iPhone, and you may just have changed your taste in music. Plus, iPhone 7 has a better audio, that makes you want to try more music. Well, it's time to organize your music files in a better way. Deleting the music albums you don't want any longer to make more room for the new songs is the first step. There are 2 easy Methods to delete music albums on your iPhone.
Method 1. Delete music in the album with EaseUS MobiMover (Free Tip)
Usually, people use iTunes to manage music files on the iPhone. But the iTunes always let you down because of the speed of operation. So, how to manage music files on iPhone? EaseUS MobiMover is a newly released iPhone transfer tool. It has all the functions that iTunes support and it has an amazing file managing function. You could edit, transfer and delete music in the album easily with only a few clicks.
Step 1. Download and install EaseUS MobiMover Free on your computer. You need to check the system of your computer before the installation, make sure that it is on the Windows 7 system or later.
Step 2. Launch EaseUS MobiMover, and update it to the latest version. Then connect your iPhone to this computer. Please unlock your iPhone when it is connecting to the computer.
Step 3. Find the Custom button at the bottom, then click the Audios>Music categories on the left side menu. You will find all the music files on your iPhone on the right side panel. Now you can manage music files on iPhone easily.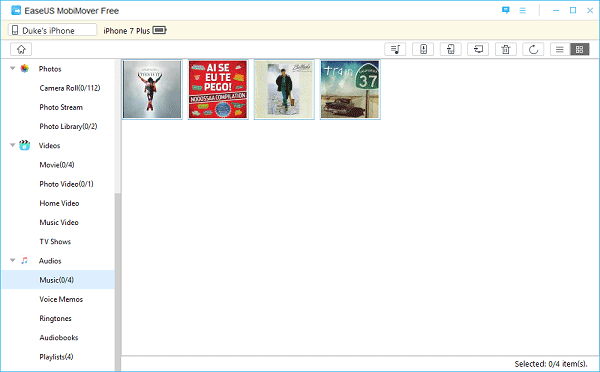 Step 4. Select which music songs in the album you want to delete, then find the Delete on the right top. Click it and confirm that you want to delete those files.
Tips: If you want to send music to this iPhone, you could click the button Transfer to this device to add music.
Method 2. Delete music albums from iPhone in Setting
This method will delete your music albums from your new iPhone 7, but it will still keep the music in the iCloud and take the very limited free room.
Step 1. Go to Settings>General>Storage & iCloud Usage.
Step 2. Tap "Manage your iPhone storage".
Step 3. Tap App "Music" and select the artist, now you will see all the albums of his/hers.
Step 4. Find the albums you want to delete, slide the albums' name to the left and delete them one by one.