It is really a pleasant experience to use an Apple newly released iPhone, but how about the older one? No matter you want to give it to a friend a family member, or just put it aside, you are highly recommended to clear some sensitive information for a private privacy, which includes bookmarks and history data in Safari on iPhone. Then how to delete bookmarks and history on iPhone? Read guides below.
How to delete bookmarks on iPhone with MobiMover Free
If you are finding a reliable iOS files management software to delete Safari bookmarks and history on iPhone, then use EaseUS MobiMover free iPhone manager program to delete the Safari bookmarks and history with simple keyboard operations. Just connect your iPhone to the computer, and open Mobimover, navigate to Safari from Custom transfer model, then you can delete the whole or certain bookmarks on iPhone.
1. Download and install Mobimover iPhone data manager software on your computer. Make sure the system of PC is Windows 7, 8, 8.1 or 10, and your iPhone is 4S or any later model.
2. Connect iPhone to the computer with a compatible USB cable. Launch MobiMover, go to Custom>Safari>Safari bookmark. In the right panel, all the Safari bookmarks will be listed in a linear way.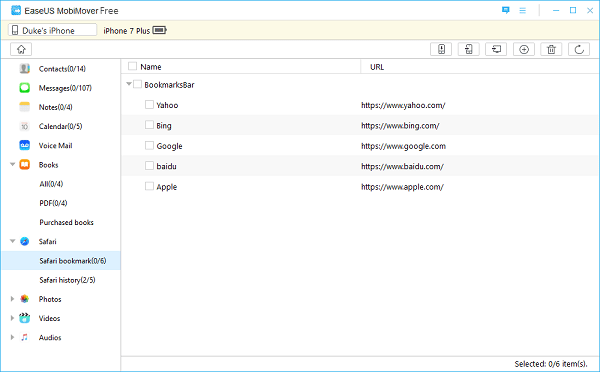 3. In the right upper corner, find the delete button in a trash shape. The moment you put the mouse on the button, Delete will occur like displayed in the sample screenshot.
4. Click Delete button, and a warning windows will appear to let you confirm the deletion. Click Yes to delete bookmarks, and this operation will sync to iPhone automatically.
EaseUS MobiMover still can be applied to delete bookmarks on iPad, the operation steps are the same. Just change the iPhone to iPad, connect to the computer, then MobiMover will help you.
How to delete bookmarks on iPhone
If you browse a specific website or multiple websites frequently in Safari, you can save the URLs as bookmarks. Next time, you just simply tap the bookmarks toolbar in Safari on iPhone when you need to visit the website, but don't need to input the site address over and over again. This saving much time and effort in surfing the internet instead of typing and remember web address. On the other hand, too many bookmarks also bring you trouble in looking for a certain one from even hundreds of bookmarks. Then, it is the right time to delete your bookmarks.
For deleting bookmarks in Safari, there is no way to select and delete all at one time, you need to delete one by one manually.
1. Open your Safari app, and tap the book-like icon Bookmarks button in the lower right corner.

2. Tap Edit button located in the lower right corner.
3. Tap the red Minus sign or just left swipe the bookmark, and click Done to delete the bookmark.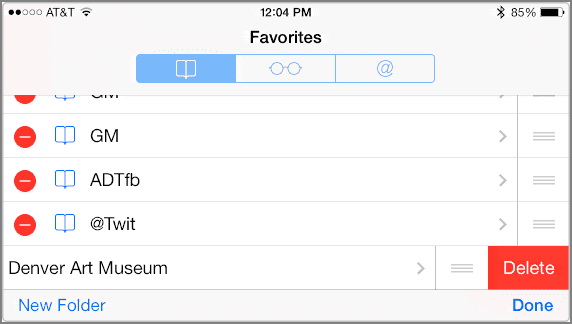 How to delete history on iPhone
Clearing surfing history in Safari from time to time is a good practice to keep personal privacy and make iPhone faster. We offer two ways to clear history in Safari on iPhone:
Delete history on iPhone within Safari
1. Open Safari on your iPhone, then tap the book-like icon Bookmarks button in the lower right corner.
2. Tap History, you will see the visited URLs list.
3. If you want to delete a single URL from the list, swipe left and tap the red Delete button. If you want to delete the whole history, tap Clear button in the lower right corner. You will be presented with four options: The last hour, Today, Today and yesterday, and All time. Delete history according to your particular requirement.
Delete history on iPhone via Settings
1. Open the Settings, tap on Safari, then scroll down until you see Clear History and Website Data at the bottom, tap it.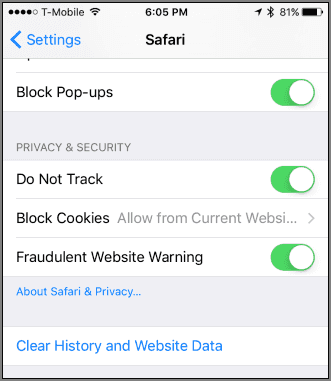 2. A pop-up will occur to remind you that this action will clear your history, cookies and other browsing data and history will be cleared from devices signed into your iCloud account. Tap Clear History and Data.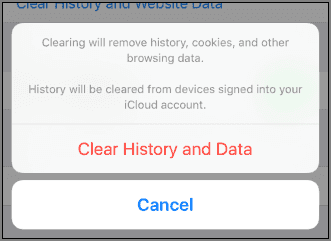 For freeing up iPhone space to make iPhone faster, there is much we can do but not limited to delete bookmarks and history on iPhone. Clear caches on iPhone from long-time clogged junk on Safari, applications and memory files is also an efficient way.