Why can't I download YouTube videos anymore in 2018?
I'm unable to download YouTube videos using YouTube downloader. What should I do?
"Can't download YouTube videos" is a commonly-searched problem when users try to download videos from YouTube, due to the improper performance of the YouTube downloader. In this article, I'd like to explain why you can't download YouTube videos anymore with your YouTube downloader (Part 1) and how to successfully download YouTube videos with an alternative tool (Part 2), with which you can save YouTube videos to your computer or to your mobile devices, like iPhone and iPad, using the URL.
Part 1: Why can't you download YouTube videos anymore?
If you can't download YouTube videos ANYMORE, that's generally because YouTube is constantly improving their coding and site layout to prevent people from getting their videos for free. However, there are also other reasons why YouTube downloader will not work properly:
Some paid videos may not be downloaded because of the copyright issue
The given URL cannot be recognized
Your YouTube downloader is not updated
Software like McAfee may interfere with the YouTube video downloader
If the download progress shows you 0% for a long time, it's probably because you have chosen the wrong format.
Part 2: How to download YouTube videos
EaseUS MobiMover is a versatile tool that can play the role of a video downloader, iOS data transfer tool, and an iPhone/iPad content manager.
As a video downloader, MobiMover helps to:
Download videos from YouTube and other popular sites, including Vimeo, Instagram, Twitter, Facebook, Metacafe, Dailymotion, BBC News, MySpace, and more. (The way to download videos from BBC News is slightly different from others.)
Download Videos from websites to your computer or iPhone/iPad.
As an iOS data transfer tool, MobiMover enables you to:
Add files to your iPhone/iPad in iOS 8 or later ( iOS 13 is supported) from the computer running Windows or macOS.
Back up iPhone/iPad content to your computer.
Transfer files, including videos, photos, music, ringtones, contacts, messages, and more to or from your iOS device.
As a content manager, MobiMover serves to:
Delete/edit the existing files on your iPhone/iPad from the computer.
Create new items on your iPhone from the computer.
Now, it's time to learn how to use MobiMover to download YouTube videos. Whether you want to save YouTube videos to your computer or to your iPhone/iPad, you can apply the steps below to do it.
Step 1. Run EaseUS MobiMover, go to "Video Downloader", and choose the device you want to save the downloaded YouTube videos. If you want to download YouTube videos to your mobile device, connect it to your PC first.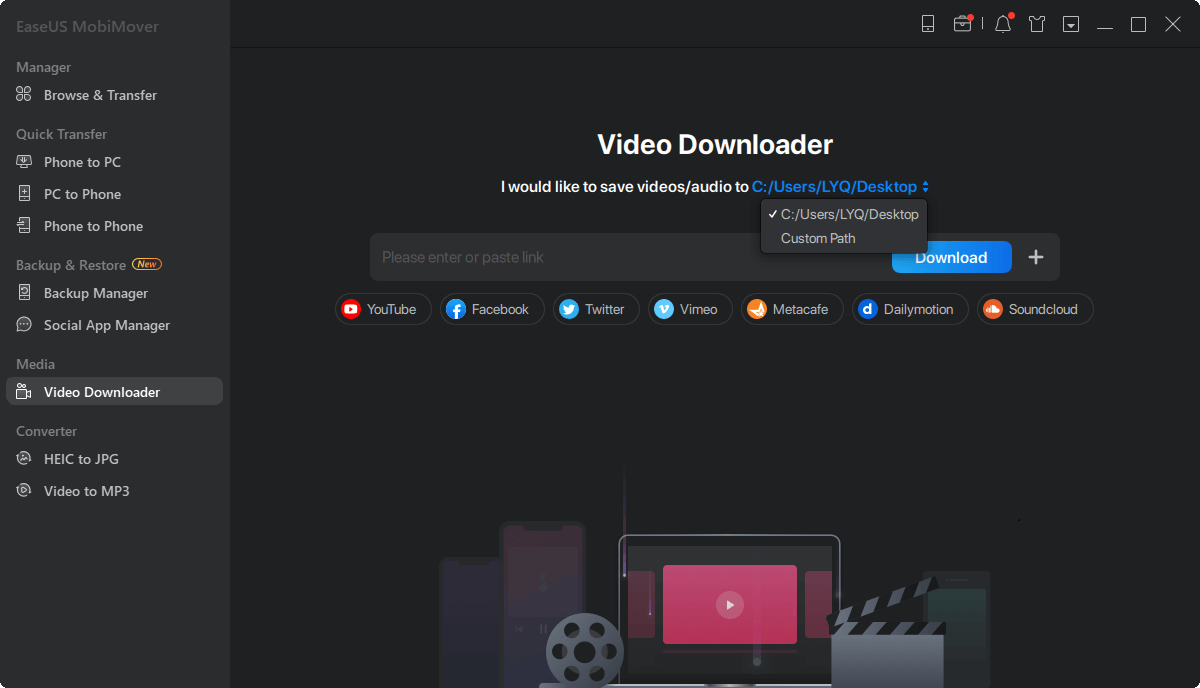 Step 2. Copy the URL of the YouTube video you want to download, paste it into the bar in MobiMover, then tap the "Download" button.
Step 3. After you click the "Download" button, MobiMover will quickly analyze the URL and download the YouTube video to your computer or iPhone/iPad.
In a word, MobiMover is a comprehensive tool that you can't miss. Don't hesitate to give it a try. Besides, if you still want to learn more about other features before you try, go to the full user guide of EaseUS MobiMover and read it for reference.