It could be the truth that you are using iCloud Backup every day, but do you really know what it is and how to use iCloud Backup correctly?
What is iCloud Backup?
Apple offers a limited online space for each of its users. As long as you have an Apple account, you can enjoy using iCloud. iCloud service means to help users to keep all the Apple devices in sync. So, what is iCloud Backup? It is the service to backup you iPhone, iPad, iPod and even computer with the iCloud, then you can get data from iCloud Backup just like you get contacts from iCloud to your new iPhone 7/7 Plus whenever you need to.
What files does iCloud Backup?
Call history
Messages (including iMessage, SMS, MMS)
Visual Voicemail
Ringtones
Settings
HomeKit configuration
Home screen and app layout
Photos and videos
App data
Apple Watch backup
Purchase history (everything you purchased from Apple)
The list above is what iCloud would backup. Followings are what iCloud would not backup, generally, they are the data that already stored in iCloud. Such as Contacts, Mail, Notes, Calendar, Bookmarks, My Photo Stream, iCloud Photo Library, shared photos, and what you have stored in iCloud Drive.
How to Use iCloud Backup?
When you're using iCloud Backup, please make sure your devices have been connected to Wi-Fi.
Step 1. Go to Settings>Name>iCloud if you iPhone runs iOS 10.3 or any version later than 10.2. For the other iPhone users, please go to Settings>iCloud.
Step 2. You can see the switch "iCloud Backup" or "Backup", tap it to turn it on.
Step 3. Stay connected to Wi-Fi until the backup is done.
You can always go to Settings>Name>iCloud>iCloud Storage>Manage Storage to check the backup in details. If your iPhone runs in the iOS system earlier than 10.2, please go to Settings>iCloud>Storage>Manage Storage.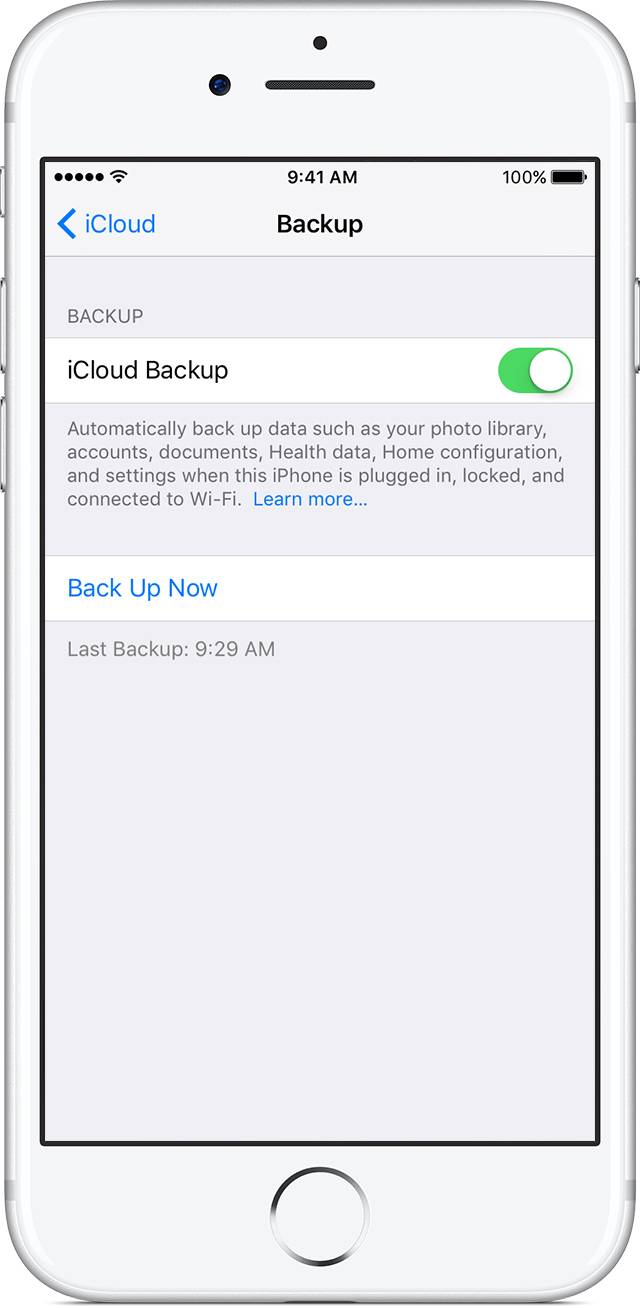 iCloud Backup is Not Working?
You might meet some problems during the process, iCloud Backup maybe not working well. If you find that the iCloud Backup is not working, here are the things you need to do:
First of all, test your Wi-Fi, it could be the main reason of iCloud Backup not working.
Second, please check the storage, have you already used all of the 5G room that Apple provides for free? If yes, clean the unimportant files. For example, you can backup photos with iTunes and delete them from iCloud Backup.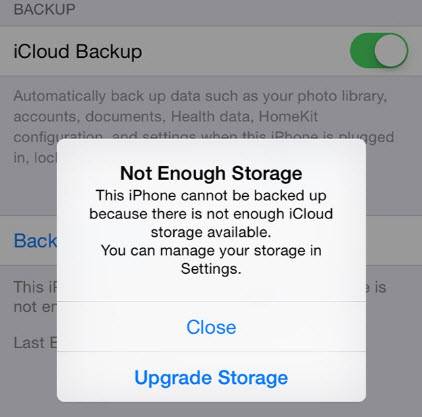 Third, of course, you can purchase more room in iCloud Backup.
50 GB per month: 0.99 USD
200GB per month: 2.99 USD
2 TB per month: 9.99 USD
Fourth, clean the data on your iPhone, iPad, iPod or computer before you make iCloud Backup. This would save you from deleting unnecessary files over and over again and make iCloud Backup faster.