Q: "I've lost my text messages data two days ago, but I need some of them now. Since the day before yesterday, I cannot view my text iMessages on my iPhone, nor on my Mac too, but I need the data I've lost now exactly. Is there any way I can view my text messages on iCloud? I tried to access my iCloud account directly, but I can't find messages. Any good suggestion?"
iCloud is a great tool for users to upload iPhone photos, text messages/MMS messages/iMessages, purchased music/movies/apps, contacts, calendars, notes, reminders, HomeKit settings, and more and allow access from any iOS device anywhere with the same iCloud account. Once you have taken iCloud to make an iPhone data backup, you can restore iPhone with iCloud backup next time your iPhone is stuck on an unknown issue. However, just like the question demonstrated above, some users want to know how to view text messages on iCloud for whatever reason. The question is can we view iPhone text messages on iCloud? No, the answer is negative. Apple doesn't give the option to check where your iCloud backup files are stored either the permission to view iCloud backed up files. You can view photos, contacts, notes, reminders, or other supportable data categories on iCloud.com, but text messages/iMessages are not typically viewable.
How to view text message on iCloud easily
Surely, your text messages history are kept on the Apple server but you cannot read them on iCloud directly unless you refer to a certain third-party iPhone manager. Before this, please make sure you have made the text messages backup on your iPhone with iCloud by going to "Settings" > [your name] > "iCloud" > "Login". If you are using iOS 10.2 or earlier: go to "Settings" > "iCloud" > "Login" and begin the process. Then, download and install the any mentioned apps on your computer and follow the on-screen instructions to view text messages on iCloud.
NOTE: If you just need to view the iPhone text messages online from the computer instead of restoring, you can use EaseUS MobiMover Free below to make it via a simple trick without iCloud sign in on a browser. Read on to check details.
How to view text messages online from computer - EaseUS MobiMover Free
EaseUS MobiMover Free, the all-in-one and totally free iPhone data transfer software enables you to back up iPhone messages to the computer in a simpler way than ever with one-click. After that, you can view, delete, re-text the exported messages as you need with the familiar keyboard operations, which is not permitted by iCloud at all. Except for data syncing to the computer, EaseUS MobiMover Free also allows for transfer files from iPhone to iPhone or add data from PC/laptop to your iPhone in a data-safe ways, including put music to iPhone without iTunes, import playlists to iPad or download MP3/MP4 to your iPhone without effort.
Now, just follow a few steps below to download MobiMover Free and try to view text messages online from your computer.
Step 1. Connect your iPhone to your computer (Mac or PC) and click Trust on your iPhone to trust this computer. Launch EaseUS MobiMover and navigate to "Content Management". On the right pane, you need to choose "Messages" to start messages transfer from iPhone to your computer.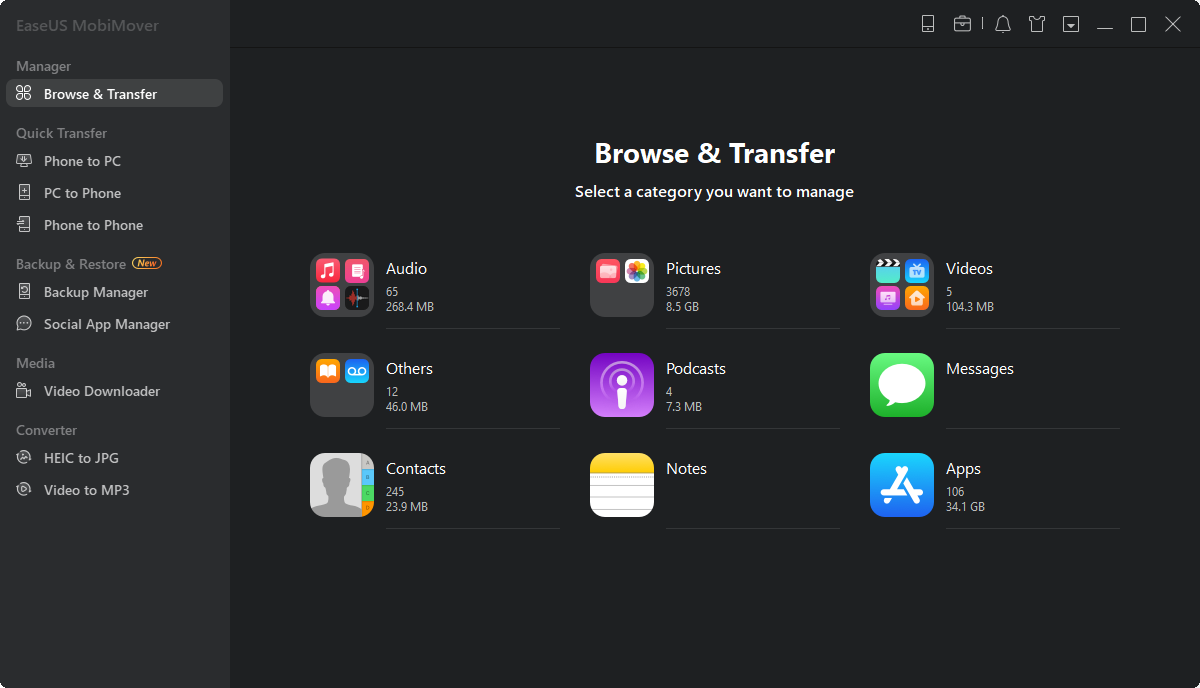 Step 2. In "Settings", you can choose a location to save the messages you're going to transfer. Otherwise, the default location is on your computer Desktop.
Step 3. Select the messages, including text messages (SMS) and iMessages, you want to transfer from your iPhone to the computer and click the "Transfer to PC" button. After that, MobiMover will start copying text messages from your iPhone to the computer automatically. When finished, you can go to the selected folder to check the messages. (The items will be saved an HTML file on your computer, thus you need to open it with a browser to view its details.)