After upgrading to the new iOS 11, many users have encountered the "touch screen not working" problem on their iPhone or iPad, which can be quite annoying since you can't use your iDevice as you like. Given the frequency of the occurrence of the issue, here this article is written to provide the potential solutions to the problem. If you are in the situation where touch screen not working in iOS 11 or touch screen not responding in iOS 11 is bothering you, read this article and try the tips below to solve your problem.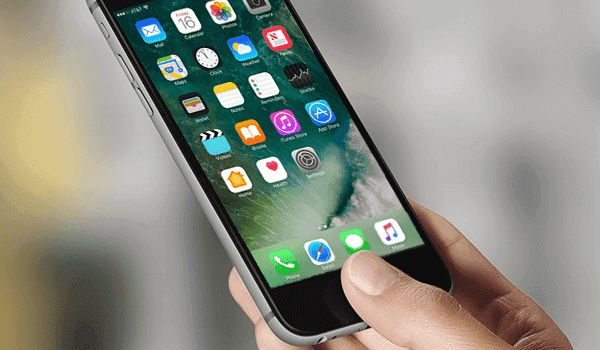 6 tips to fix Touch Screen Not Working/Responding in iOS 11 on iPhone/iPad
Solution 1: Keep your hands and iPhone/iPad screen dry and clean
It may sound absurd. But if you touch your iPhone/iPad screen with your wet hands or there is liquid on your iPhone/iPad when you touch it, the touch screen can not successfully feel you, which will cause the problem "touch screen not working". Thus it's necessary to keep both your hands and your iPhone/iPad screen dry and clean to avoid "iOS 11 screen not responding" on your iPhone.
Solution 2: Restart or force restart your iPhone/iPad
Whenever there is a problem on iPhone/iPad, restarting or force restarting your device is one of the ways to solve the problem. The issue "touch screen not working in iOS 11" is no exception. This tip is also a workable solution to fix This Accessory May Not Be supported in iOS 11.
How to restart iPhone/iPad: Hold and press the On/Off button until the slider appears, drag the slider to turn the device off and then hold and press the same button to turn your device on.
How to force restart iPhone/iPad: On iPhone 7 and later, press and hold both the On/Off button and the Volume Down button until you see the Apple logo. On iPhone 6s and earlier or iPad, press and how the On/Off button and Home button until you see the Apple logo.
Solution 3: Free up space on iPhone/iPad
If your iPhone/iPad storage is eaten up by the files stored on your device, it's likely that it will take a long time for your iPhone/iPad to respond when you try to open an App, which will make you feel touch screen not responding on your iPhone/iPad running iOS 11. If that's the case, the most effective way to solve the problem is to free up space on iPhone/iPad.
Solution 4: Downgrade to former iOS version
What you need to know here is that not all generations of iPhones are suitable for upgrading to the new iOS 11 due to the incompatibility of the hardware, which can make the "touch screen not working" issue happen. If you are using a relatively early iPhone, it's might be better for you to use an older iOS version. All you need to do is to downgrade your iPhone from iOS 11 to iOS 10 to solve the problem.
Solution 5: Change 3D Touch intensity
Step 1: Go to Settings App on your device and choose General.
Step 2: Scroll down to choose Accessibility and then select 3D Touch.
Step 3: Turn on 3D Touch and move the slider to set the intensity of 3D Touch.
Solution 6: Restore your iPhone/iPad with iTunes
If you decide to use this tip to solve the "iOS 11 screen not responding" issue, make sure you have installed the latest version of iTunes to avoid some common problems and have backed up your iPhone/iPad on your computer.
Step 1: Connect your iPhone/iPad to computer and open iTunes if it doesn't run automatically.
Step 2: Tap on the Device tab and go to Summary.
Step 3: Choose Restore iPhone and select the latest backup of your iDevice to restore your iPhone/iPad.
Notice

Looking for the free software to transfer contacts from iPhone to PC or from PC to your iPhone? Read the article to get what you want.
Since you are an iPhone/iPad user, here is a completely free tool that will be useful to you, which is called MobiMover Free. MobiMover is a professionally designed iOS data transfer software, which enables you to back up iPhone/iPad content to computer, sync data from computer to iPhone/iPad and transfer files from one iPhone/iPad to another. Besides, MobiMover can also serve as a free iPhone content manager with its file management features that can help you delete/edit the existing items on your iPhone/iPad or add new items to your iPhone/iPad from computer. The files you can transfer or manage include photos, videos (movies, home videos, music videos, TV shows, photo videos), audios (music, ringtones, audiobooks, voice memos, playlists), contacts, messages, notes and more. What's more important is that you can use any feature MobiMover supports without any cost. Sounds great? Don't hesitate to have a try.