"I just updated to the new iOS 11 and tried to charge my iPhone 7 by connecting it to my computer. Then a pop-up appeared telling me This Accessory May Not Be Supported. Is there any good solution to fix the issue?", said an iPhone user. If you are encountering a similar situation on your iPhone/iPad running iOS 11, try the possible fixes provides below to cope with the problem. Since there are many causes that can lead to the This Accessory May Not Be Supported problem, the solutions vary. The fix works well or others may not be workable for you. Just keep trying. The tips below can be applied to iPhone 7, iPhone 6 or other earlier iPhones.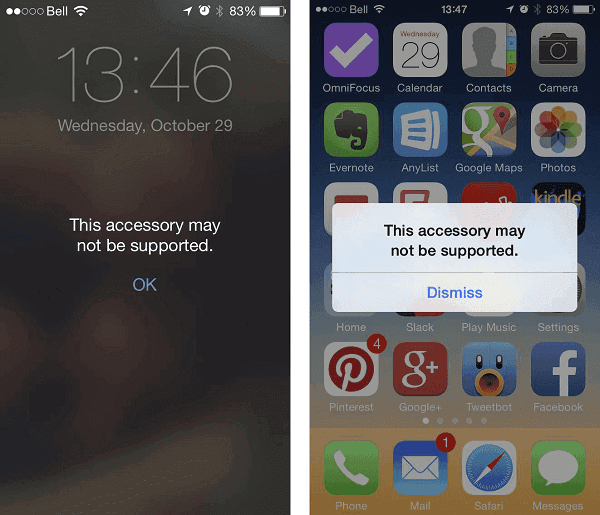 How to fix "This Accessory May Not Be Supported" in iOS 11 on iPhone/iPad after update
Solution 1: Use official Apple cable
The most common cause that contributes to the "This Accessory May Not Be Supported" issue is that using a non-Apple official or broken cable. You can use the cable to connect other iDevice and see whether the problem happens. If you are sure it's something wrong with the cable, just change to another official Apple cable and have a try. But if you were using an Apple cable and the cable works well with other iDevices, you can try the following tips on your iPhone to solve the problem.
Solution 2: Clean the charging port on your iPhone/iPad
If you have used your iPhone/iPad for a long time and have never clean out the charging port, that's may be the cause of the issue for you have pocket lint or debris jammed in your charging port. The solution to this situation is to use a toothpick or other tiny and pointed object to carefully clean the dirt out.
Solution 3: Restart your iPhone/iPad
You may be quite familiar with this fix for it's a common solution to the problems on iPhone/iPad like Bluetooth not working on iPhone. How to restart your iPhone? Just press and hold the Sleep/Wake button on your iDevice until a slider appears, drag the slider to turn off your iPhone/iPhone and then press and hold the same button to turn it on. If you need, you can also turn off your iPhone/iPad without Power button.
Solution 4: Plug into the power side first
Believe it or not. Many users find this tip really useful in solving the problem "This Accessory May Not Be Supported" in iOS 11 after update. This solution is quite simple. When you try to charge your iPhone 7 or other iDevices, remember to plug the cable into the power supply first and then plug it into the lightning port on your iPhone/iPad.
Solution 5: Use Airplane Mode to help you out
When the pop-up telling you "This Accessory May Not Be Supported" appears on your iPhone/iPad running iOS 11, tap on Dismiss and then turn on Airplane mode (in Control Center) on your device. Keep your iPhone/iPad connected and turn it off. Wait for several minutes and then turn your iPhone/iPad on again. Many iDevice users have proved the usefulness of this solution. Try it yourself and the problem may be solved perfectly.
Notes:
Do you need the Completely FREE software for iOS data transfer? if you are reading this article, you must be an iPhone/iPad users. That's why I recommend, MobiMover Free, the free iOS data transfer tool for you here. With MobiMover installed on your computer running Windows 10/8.1/8/7, you can easily export files from computer to iPhone/iPad (like adding ringtones to iPhone X), import files from iPhone/iPad to computer (like transferring videos from iPhone to computer), share files between iOS devices (like transferring contacts from iPhone to iPhone) and manage iOS content (like deleting all contacts on iPhone at once). Besides, there are more than ten types of files you can transfer, including photos, movies, TV shows, home videos, music videos, music, ringtones, contacts, notes and more. Don't hesitate to install MobiMover Free on your computer and have a try.