Since you may log in your Apple Account on different devices and purchase products such as movies, music, books etc., it is important and useful to sync your iDevice with iTunes, a practice that allows you to share information between different devices under the same Apple Account. The traditional way to sync your iPhone(iPad, iTouch, iPad as well) is use iTunes with a USB cable. This time, we'll show you how to sync with iTunes using Wi-Fi. It can surely save you the trouble of plugging a cable every time, a pain you may have endured for a long time.
You may also like: How to back up text messages on iPhone
How to transfer contacts from iPhone to iPhone
What is needed to sync your iPhone with iTunes over Wi-Fi
Before proceeding to sync your iPhone with iTunes wirelessly, you have to ensure that you have met the requirements as followed:
1.Check if your iTunes is the latest version. If not, update it to the most recently released edition. Just launch iTunes and go to Help > Check for Updates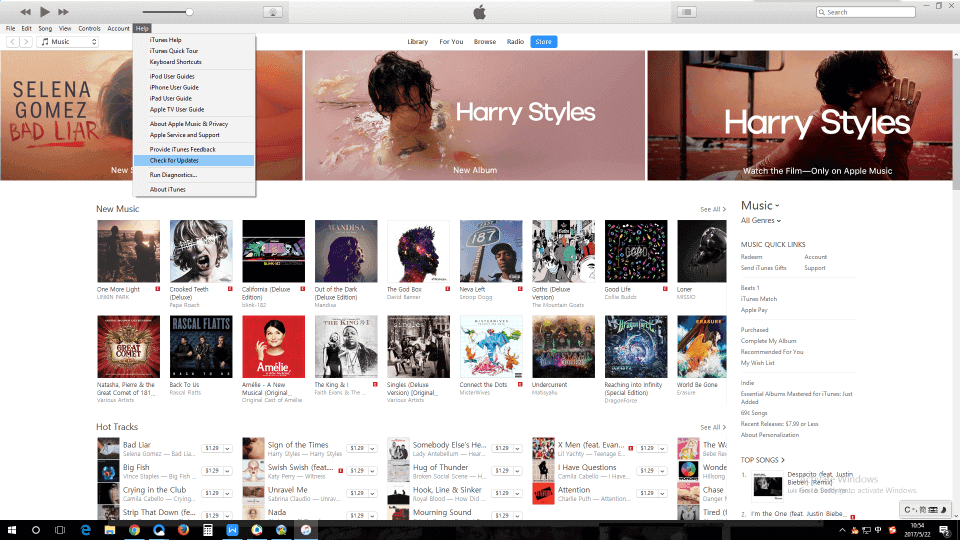 2.Check if your iPhone/iPad/iTouch is running iOS 5 or higher; the latest the best.
3.Connect your iDevice and computer to the same Wi-Fi network.
Procedure to Sync iPhone 5/5s/6/6s/se/7 with iTunes over Wi-Fi
After finishing the basic needs in the previous part, you can follow the steps to sync your iPhone(iPad, iTouch as well) with iTunes via Wi-Fi. Here is the procedure:
Step 1: Launch iTunes and connect your iPhone to the computer with a USB cable.
Step 2: Click your iPhone in iTunes.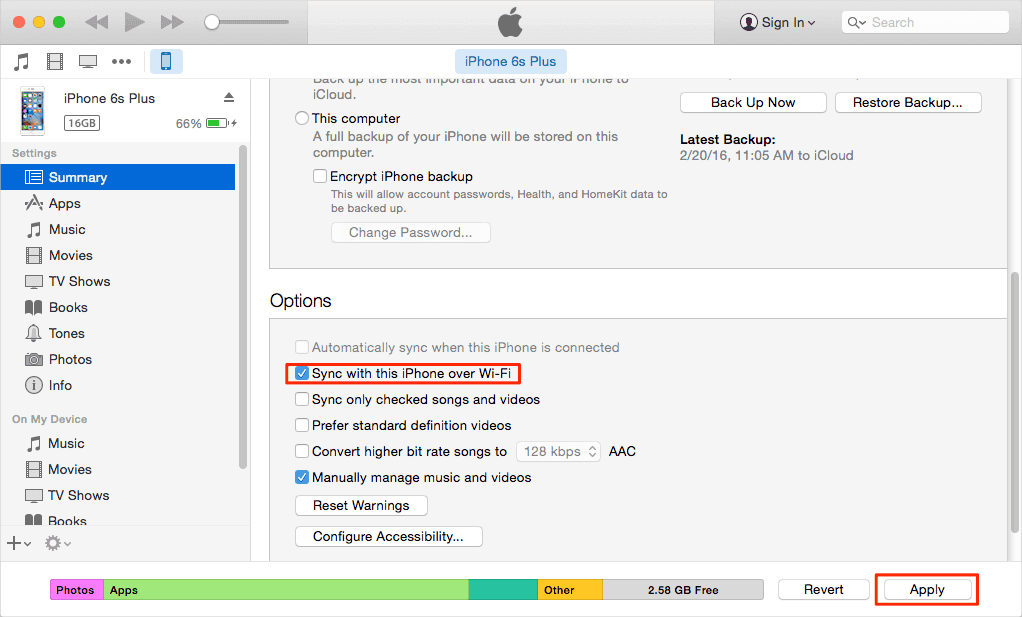 Step 3: Tick"Sync with this iPhone over Wi-Fi", click Apply and then disconnect the USB cable.
Step 4: Choose the items you want to sync, and click Sync.
Tips for Syncing your iPhone with iTunes via Wi-Fi
1. As soon as your iPhone gets to a power source and is on the same Wi-Fi network with your computer, it'll sync automatically. (If you don't prefer this, you can change the setting in iTunes.)
2. You have to use iTunes to change sync settings. You are not permitted to do this on your iPhone/iTouch/iPad.
3. Without the use of a USB cable, Syncing iPhone via Wi-Fi can be extremely convenient and, unfortunately, pretty slow. Therefor, We highly recommend that you sync iPhone(other iDevices as well) with plugging the USB cable when it comes to huge data.