Data syncing between two iOS devices are quite convenient for Apple users to update and share files, including calendar sharing on iPhone X or iPhone 8/8 Plus. Sharing calendar or calendar events offers an easy way for family members, co-workers, or partners to see what's on each others schedule. Through iCloud, any events changing on the shared calendars will update automatically. In following texts, we will show you how to easily share calendar on iPhone X/8/8 Plus with any other iPhone, iPad or Mac device. Besides, in the last part of this post, we will introduce EaseUS MobiMover Free to help sync other data on iPhone X/8/8 Plus to a different iOS device with one-click.
How to share calendar on iPhone X/8/8 Plus
To be able to share calendar or calendar events on iPhone X/8/8 Plus, you first need to make sure you have turned on the iCloud service for the calendar, otherwise, you cannot share calendar on iPhone X to others. For transferring calendar from iPhone to Mac, we have provided two available methods on another page, link to get details if you need.
Go to "Settings" > Tap on "iCloud" > Switch on the "Calendar". After you have this enabled, go on to share calendar on iPhone X/8/8 Plus with detailed steps.
1. Open the Calendar app on your iPhone X or iPhone 8/8 Plus.
2. Tap the Calendars at the bottom of the screen.
3. Find the calendar you'd like to share and then tap the "(i)" Info button next to that calendar.
4. Choose "Add Person". Type the name(s) of contacts you'd like to share the calendar with and then tap the "Add" button to invite those people to the calendar.
5. Tap "Done" to share the calendar and events with people you added.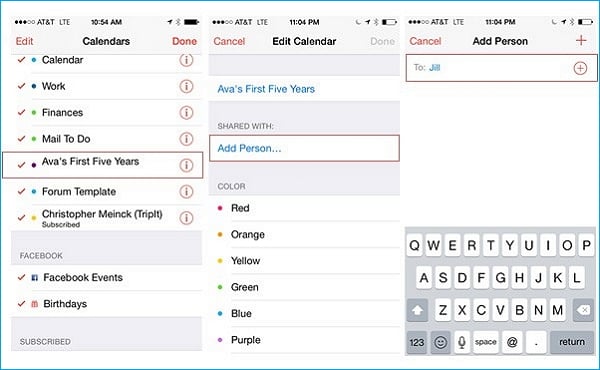 Apart from sharing calendar among iPhone, iPad, and MAC, you also can sync Google calendar to iPhone or download the calendar from Outlook to update events and make an easier life.
How to share other data on iPhone X/8/8 Plus
Except for calendar, there is much more data you can sync to other iPhone and iPad, such as contacts, notes, books, Safari bookmarks, photos, videos, movies, TV shows, music, ringtones, and audiobooks. Then, how to transfer all these files from iPhone to iPhone at one time in high-efficient? Try EaseUS MobiMover Free, the unique completely free iPhone data transfer software in the world enables you to transfer all the supportable files from iPhone X/8/8 Plus to another iPhone or iPad with one-click. Why not download and try MobiMover Free now!
Step 1. Connect two iPhones to your computer with compatible USB cables and tap "Trust This Computer" on both devices. Run EaseUS MobiMover and select the "Phone to Phone" mode on the main screen. Next, you need to determine the transfer direction, from iPhone A to iPhone B, or from iPhone B to iPhone A. Once done, click "Next" to continue.
Step 2. At this step, all the iPhone data are presented with numbers and file size. Select one category or multiple categories of data as you want, and click "Transfer".
Step 3. MobiMover will begin to transfer selected files from one iPhone to the other without any hassle. When the process finishes, go to the corresponding apps to check the newly added files.