New user of Apple Watch? Or update your iPhone to the latest model? No matter it's new Apple Watch or New iPhone, you'll need this guide to know about how to pair Apple Watch and iPhone to make the service they provide more enjoyable and convenient. Here I present you two ways to connect those two devices. One is automatic (by using iPhone's camera), another is manual (by using "Apple Watch" App on your iPhone).
You may also like: How to use Reduce White Point on iPhone
How to wipe an iPhone
To make sure a smooth pairing process and avoid some possible setbacks. There are some preparations you need to make before the connection.
How to prepare
1. Turn on the Bluetooth on your iPhone: Open "Settings" App, find "Bluetooth" and then tap it on.
2. Ensure that your iPhone is under network connection.
3. Start your Apple Watch and choose a language: Tap and hold the side button until the Apple logo pops up. Then scroll between options to select a language.
After making these preparations, you can start connect your Apple Watch to iPhone by following the next two tips.
How to pair Apple Watch with iPhone automatically
Step 1: Open "Apple Watch" App on your iPhone.
Step 2: Click "Start Pairing" and a yellow box which is the camera viewfinder will show on the screen.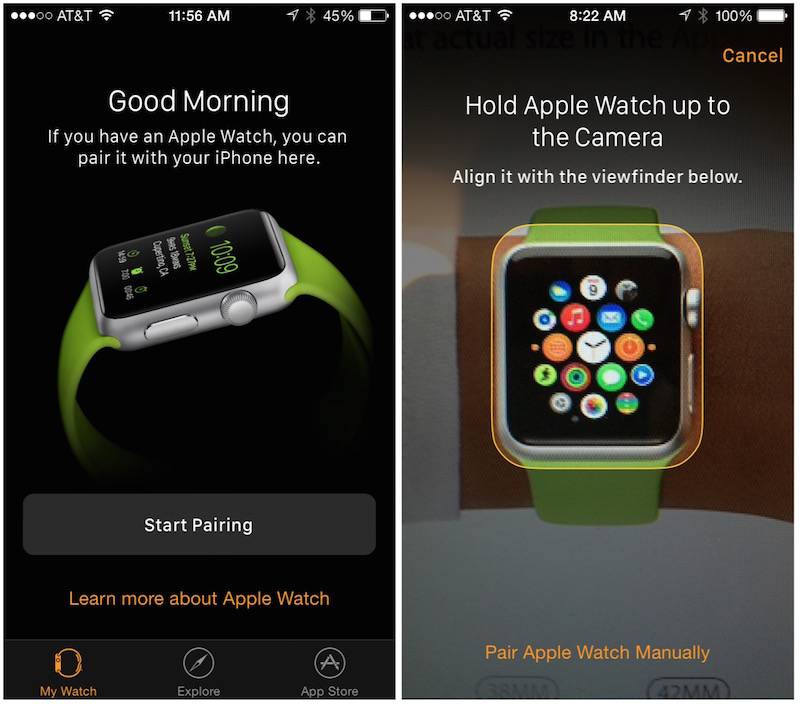 Step 3: Put Apple Watch behind the iPhone screen and align it with the viewfinder. Then wait for the message that tells you the Apple watch is Paired.
Easy, right? However, there is always some exception in life. If you can't connect your Apple Watch to iPhone successfully. There following tip is another way to go.
How to pair Apple Watch with iPhone manually
Step 1: Open "Apple Watch" on your iPhone and click on "Start Pairing".
Step 2: Tap on "Pair Apple Watch Manually".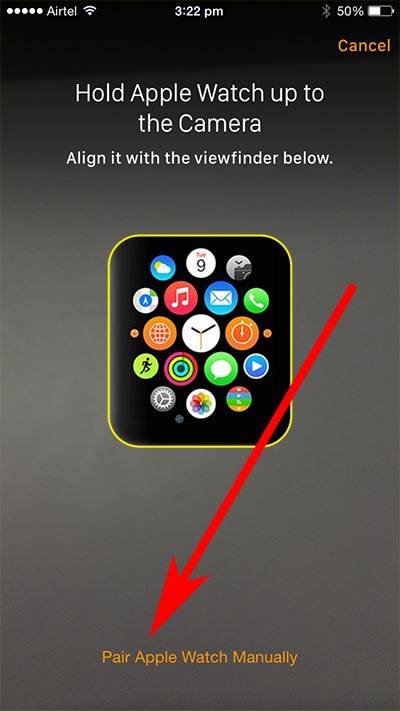 Step 3: Back to your Apple Watch, click the "i" icon shown on the top right corner and check the name of your Apple Watch.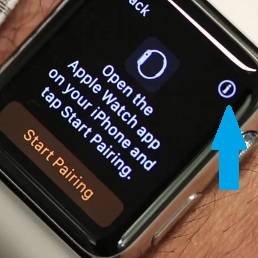 Step 4: Choose your device name from the name list on your iPhone.
Step 5: After step 4, a 6-digit code will be shown on the Apple Watch's screen. Follow the instruction "Enter this code on your iPhone". Then your Apple Watch will be paired.
Note:
Before the syncing process, you have to:
1. Set up wrist preference, agree with the Terms and Conditions, log in your Apple ID.
1. Go through some setups, like Location Services, Siri, Diagnostics. All are compulsory.
2. Then you can choose to create a passcode for Apple Watch by referring to the introductions on the lower iPhone screen.
4. Finally, choose to install available Apps on your Apple Watch by click "Install All" or "Choose Later". Then Apple Watch will begin syncing.
5. It takes like 20mins to sync the Apple, so keep the two devices charged.
Now, you can enjoy your Apple Watch fully if you have successfully connect your Apple Watch to iPhone.