Apple announced a plethora of neat iOS 11 features, such as Siri becomes more natural and more intelligent, customize the Control Center freely, App Store adjustment, new Files application added, drag and drop features for iPad. And one of them brings us the useful way to optimize iPhone storage effortlessly, that is "Offload App". Offload App enables you to free up iPhone space by deleting unused apps but keeping its documents and data. One day, you want to download and install the app again, the reinstalling will place back its data. Very useful and user-friendly, right? In following paragraphs, we will teach you how to offload apps in iOS 11 iPhone and iPad manually and automatically.
Offload apps in iOS 11 iPhone and iPad manually
Unlike deleting apps in iPhone 8 or in other devices that will also remove the settings and data of these apps permanently, offloading apps in iOS 11 won't delete the apps' documents and data, which is quite useful if you want to reinstall and reuse the apps.
1. Go to the "Settings" on your iPhone and iPad in iOS 11.
2. Go to "General" > "iPhone Storage" > slide down find the apps you want to offload.
3. Tap one specific app, like "Podcasts" as the example.
4. Once you tap the app, you can see "Offload App" and "Delete App" displayed under the app.
5. Tap "Offload App" and confirm "Offload App" to finish the operation.
Offload apps in iOS 11 iPhone and iPad automatically with "Offload Unused Apps"
iOS 11 is so intelligent that provides you the automatic "Offload Unused Apps" when you are low on storage. And also the apps' documents & data will be saved what if you want the apps back.
How to enable Offload Unused Apps
1. Go to "Settings" > "General" > "iPhone Storage".
2. Find "Offload Unused Apps" and find the "Enable" button behind it.
3. Tap "Enable" to activate "Offload Unused Apps ".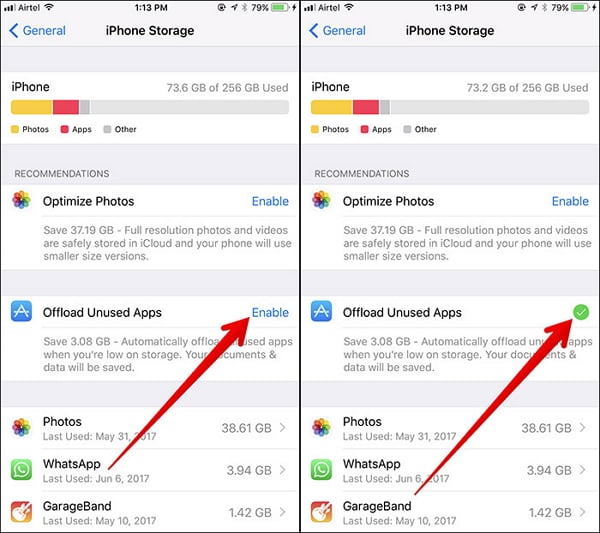 How to disable Offload Unused Apps
Disabling Offload Unused Apps can't be realized in the same way to enable it. Do it by following steps below.
1. Go to Settings > iTunes & App Store.
2. Scroll down to find "Offload Unused Apps".
3. Slide left to disable "Offload Unused Apps", then the unused apps won't be automatically removed from your iPhone.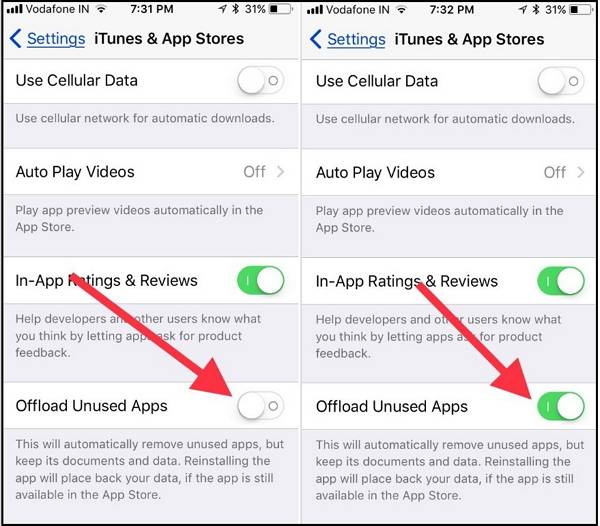 Offloading and deleting apps are both the useful way to manage your iPhone. Here, we want to introduce a totally free iPhone manager tool to you - EaseUS MobiMover Free. With MobiMover Free, you can do more iPhone management far beyond apps deletions. For example, you are able to add, edit & save notes of iPhone on the computer; import audio files into playlist or export certain playlist files; delete multiple or all contacts on iPhone at once, and transfer the edited files to PC or another iPhone/iPad directly. MobiMover Free is not only a good iPhone manager but also the iPhone data transfer expert. Try it anyway by directly checking the download button below.