"Since I have upgraded to iOS 11 on my iPhone 6 on the release day, my notifications do not work properly. I used to get notifications from many different apps. But now, there won't anyone. I have the notifications activated in the app and in the settings but the notification still not working. What's wrong? How do can fix the notification not working on iOS 11?" This is one of the user's questions comes from Apple community.
Notification issue is one of the iOS 11 common problems encountered by users who have updated to iOS 11 on iPhone 7/6/5, which may be caused by the software conflict. Usually, the notification will cause iPhone to vibrate and light up the home screen to remind you to check the information. If the notification not working for some reason, there won't be a vibration or screen lighting up. Then, how to fix this small problem to let you enjoy iOS 11 perfectly? Read on to get answers.
How to fix notification not working on iOS 11 iPhone and iPad
Fixing notification on working on iOS 11 iPhone or iPad is not complex, you can try following 6 tips one by one until the issue is settled.
1. Reset Network Settings
The Wi-Fi or cellular connection problem may cause the network-dependable application with no notification. You can try to reset the network settings by going to Settings > General > Reset > Reset Network Settings > Confirm resetting. Furthermore, the Wi-Fi connection problem will also cause notification on working. If you are stuck with such issue, fix Wi-Fi connection with correct guides.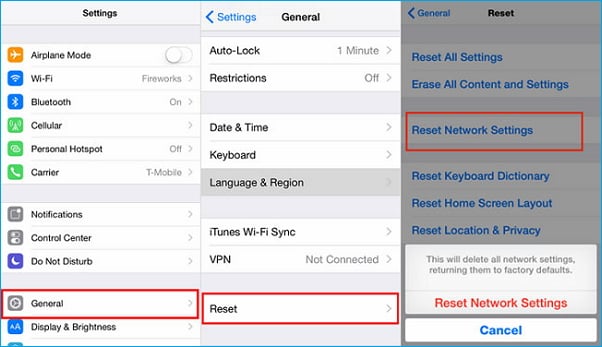 2. Turn off Disable Do Not Disturb
If the Do Not Disturb is enabled, calls and alters will be prevented while the screen is locked. You can go to Settings > find Do Not Disturb and turn it off.
3. Turn on Allows Notifications
You may think this is too obvious and you have turned on the notification before. An iOS update may change the settings, therefore, go to have a check.
Go to Settings > Notifications > Show Previews > choose "Always". If you set it to "When Unlocked" or "Never", the notification won't work when the screen is locked.
4. Turn on Notification for Certain App
Although you have turned on notification, you still can't receive the notification from a certain app with the notification off.
Go to Settings > Notifications > tap the app with no notification, like Messages > turn on Allow Notification > turn on Show on Lock Screen and Show as Banners. Besides, tap Sounds, if the ALTER TONES is set to None, reset it to any other way, like Note, Aurora, Bamboo or Chord.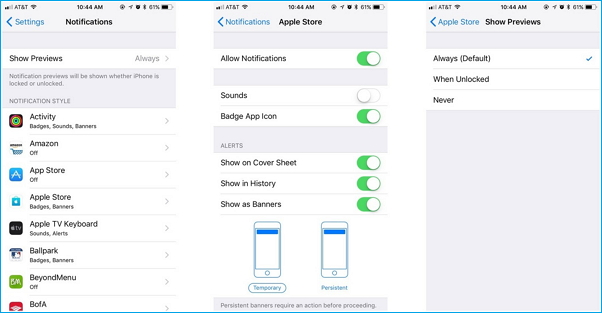 5. Restart the Device
Restarting your iPhone with iOS 11 can be very useful for many simple issues. Just have a try, sometimes, the solution lies in the simplest way.
Press and hold Sleep/Wake button for 10 seconds until you see red slider, then toggle the slider to power off. After a few seconds, press and hold the Sleep/Wake button again until Apple logo appears.
6. Downgrade to iOS 10
If you have tried all the tips above and the notification not working in iOS 11 still exists, you may consider downgrading iOS 11 to iOS 10, as the firmware on your iPhone, like iPhone 5S may be out of date. Please note that the iOS 11 back-ups can't be restored to your iPhone with iOS 10, therefore, please ensure you have an iOS 10 backup before you decide to downgrade to iOS 10. After downgrading, you can refer to EaseUS MobiMover Free, the free iPhone manager in the market to sync data to your iPhone, like add ringtones to iPhone 7 without any previous data erasing.