Nowadays, we have got used to recording our daily life with the iPhone - taking photos, shooting videos, chatting with friends, listening to music, etc. Thus our life cannot be separate from the mobile phone. As time goes by, files stored on your iPhone keeps eating the space up little by little. One day you will find you are unable to save anything to the iPhone for it runs out of storage space. Then what to do?
First, you should know what is taking up space. Even if your device is 256GB, you also might face this problem depending on how you use the iPhone.
A. Operating system: Although Apple has made iOS smaller than ever before, it still takes up to 5GB of space.
B. Photos/Videos: These two file types have increasingly eaten up the space for HD images, and videos have changed our lifestyle.
C. Movies and music: Nowadays people prefer to use iPhone as the video and music player. You will find the storage space has been taken up so fast when these two files are increasing
D. Apps: Apps especially games can take up a lot of space on the iPhone.
E. Other data like attachments.
How to get the specifics:
Go to Settings > Tap on General > Tap on iPhone Storage
You have to wait for a while to list all items out.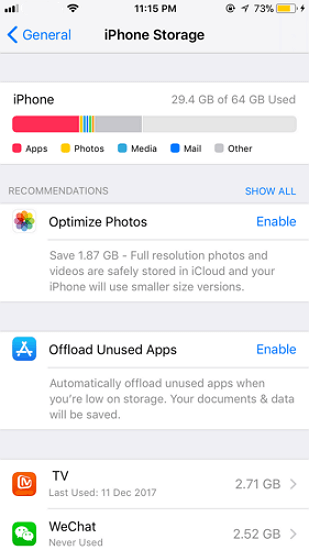 How can you regain the storage space on your iPhone?
1. Delete
Have a good habit to clean up those out-dated and useless junk files on your iPhone. For example, if you often take several photos to get one that you like, you'd better delete those that you dislike regularly. Removing useless data on a regular base could save you a significant amount of space. Do remember remove those apps that you would not use them anymore.
2. Optimize
Storing all data on your iPhone is a risking thing. Although making backups could help you handle the data loss problem, there is not enough space for all backups. You have to pay extra money to extend the storage space. That is costly and might not as safe as you think.
Therefore, here I would like to introduce another way to optimize your disk space. That's to use the iPhone transfer software.
How Can EaseUS MobiMover Help You?
This iPhone data transfer tool can help you move all data from the iPhone to the computer or another device. Therefore, you can migrate some large files like photos, videos, music, movies, etc. to the hard drive in the PC. Even if we have used the iPhone to recording many things that happened around us, we only need them for a special occasion. Thus there is no need to hold everything on the iPhone. Transferring them to the computer would free up more space for essential data and also protect the critical data in case of any data loss disasters.
Step 1. Connect your iPhone to your computer running Windows or Mac OS systems with a USB cable. Tap "Trust" on your iPhone screen to continue. Run EaseUS MobiMover on your computer, and select the "Phone to PC" to help you back up iPhone data to Window PC. On the right pane, click "Next".
Step 2. MobiMover enables you to transfer all the iPhone files at once, including photos, videos, movies, music, playlist, ringtones, books, contacts, messages, notes, voice memos, and more. The default storage path is C:\Users\Owners\Desktop. You can customize a location by yourself in advance. Now choose the desired files you want to back up, and click "Transfer".
Step 3. Wait patiently until MobiMover finished all data migration from your iPhone to your computer. Once done, you can view, edit, keep, or delete the content as you like.
You can follow this guide to see how transfer photos from iPhone to the computer.