It's important to make your iPhone 8 or iPhone 8 Plus more eye-friendly since you use it every day for a long time. I guess that's why you are searching in Google with questions like "How to invert colors on iPhone 8/iPhone 8 Plus" and "How to turn on Dark Mode in iOS 11". This blog is written to detail the steps about how to invert colors on iPhone or, in other words, how to enable dark mode in iOS 11 on iPhone and iPad. Besides, the solutions to common problems on iPhone like "touch screen not working" are also provided. Learn how to cope with the problem from the article if you need.
How to invert colors on iPhone 8/iPhone 8 Plus
Turning on Dark Mode in iOS 11 is done via Settings App on your iPhone/iPad like the way to turn on iMessages. Besides, the Invert Color option in iOS 11 is different from the option in iOS 10. Read on to apply the steps to your device to invert colors on your iPhone 8/8 Plus and you will know the difference.
Step 1: Go to Settings App on your iPhone 8/iPhone 8 Plus and choose General.
Step 2: Tap on Accessibility and click Display Accommodations in VISION section. (You can also turn on Reduce White Point under the same section.)
Step 3: Tap on Invert Colors and you will see two options, Smart Invert and Classic Invert. (There are no such options in iOS 10.)
Step 4: As you can see, the Smart Invert will reverse the colors of the display, except for images, media and some Apps that use dart color styles. While the Classic Invert will reverse the colors of the display.
Step 5: Toggle on Smart Invert or Classic Invert according to your needs. And this is the last step to invert colors on your iPhone 8/iPhone 8 Plus.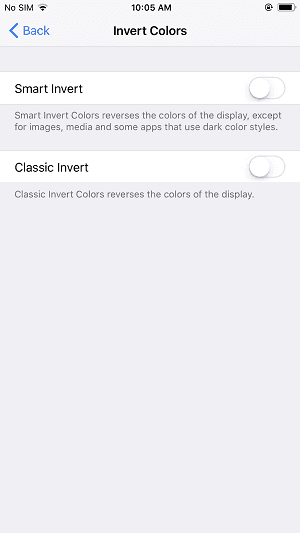 Notes:
Want to sync data to your new iPhone 8 or iPhone 8 Plus from computer or other iDevices? Want to back up the data on your old iPhone to prevent data loss? If so, you can't miss the completely free iOS data transfer software, MobiMover Free, that can help you make these things done. With MobiMover installed on your PC running Windows 10/8.1/8/7, you can transfer files between iOS devices (iPhone/iPad) or between iOS device and computer without any cost. What's more, MobiMover can also serve as a free iPhone content manager with its file management features. The files you can transfer or manage include photos, movies, TV shows, home videos, music, ringtones, audiobooks, contacts, messages and more, depending on the feature you'd like to use. Don't hesitate to have a try. Check following guides on how to transfer data from one iPhone to another or from old iPhone to new iPhone without iCloud.
Step 1. Connect two iPhones to your computer (PC/Mac/laptop) with compatible USB cables and tap on "Trust This Computer" on the devices to continue. Run EaseUS MobiMover and navigate to "Phone to Phone". Next, you need to determine the direction, from the source iPhone [name] to the destination iPhone [name], and then click "Next" to continue.
Step 2. With MobiMover, you can sync all the files listed below from one iPhone to the other without using iCloud. After choosing the desired data, click "Transfer" to transfer data from iPhone to iPhone without any hassle. If you find some data types, such as Contacts, Notes, or Messages are not allowed to be moved, please turn off the iCloud service for these apps at first.
Step 3. Wait patiently until the syncing process finished. Go to the related applications to check the content.