Assistive Touch is a software control on your iPhone or iPad. As an alternative to some hardware buttons, you can use it to easily take a screenshot on your iPhone, to turn off your iPhone without pressing Home button, to open Control Center without swiping from the bottom of the screen and so on. It's more convenient to use your iPhone or iPad with Assistive Touch enabled. The following two tips will tell you how to turn on Assistive Touch and how to use it. Read on to know the details.
How to turn on Assistive Touch
As you can guess, like turning on iMessage and inverting colors on iPhone 7, you can turn on Assistive Touch via Settings App. The detailed steps are shown below.
Step 1: Go to "Settings" App and tap on "General".
Step 2: Select "Accessibility" among the options.
Step 3: Scroll down to choose "AssistiveTouch" then turn on "AssistiveTouch".
Step 4: Tap on "Customize Top Level Menu" to customize your Assistive Touch options.
Step 5: Click the Plus sign to add icons to your Assistive Touch, tap the icon on the screen and choose the menu according to your needs. For example, you can choose "Control Center", "Lock Screen", "Screenshot" and so on.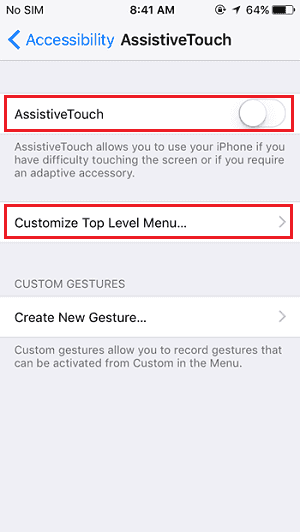 How to use Assistive Touch
After you have activated Assistive Touch, the Assistive Touch icon will appear on your iPhone screen. Here is the way to use it.
Step 1: Click the Assistive Touch icon and you will see all the shortcuts you have added.
Step 2: Click the feature you want to use. For example, click "Screenshot" and you will take a screenshot of your current iPhone screen. Tap on "Control Center" and you will open Control Center. Click "Siri" and Siri will be activated.