"How do I share my iPhone calendar?" and "How to share a calendar on iPhone?" are the common questions being asked. If you have the same or similar question, there is the way in this article that you can apply to help you out. As you may know, you can share your iPhone calendars via iCloud services. Just turn on iCloud Calendars on your iPhone and then go to the Calendar App to share the items by settings. Want to know the details? Read on to get what you need and apply the tip or tips that you think is suitable to your device.
Part 1: How to share a calendar on iPhone via iCloud
Apple's iCloud service enables you to share your calendar on iPhone, so you need to turn on iCloud for Calendars first. If you'd like to share your iPhone calendars using iCloud, there are the preparations you need to make.
Step 1: Go to "Settings" on your iPhone.
Step 2: Tap on your name and choose "iCloud". (For iOS 10.2 and earlier users, select "iCloud" directly.)
Step 3: Turn on "Calendars".
After you have turned on iCloud for Calendar, you can follow the steps below to share your iCloud calendar. (If you find the backup process slow, learn how to make iCloud backup faster here.)
Step 1: Open "Calendar" App.
Step 2: Choose "Calendars" at the bottom of the screen.
Step 3: Click the Info icon next to the calendar you want to share.
Step 4: Click "Add Person" option on the screen and select the people you'd like to share your calendar with.
Step 5: Tap on "Add" and then click "Done" on the top of the screen. That's the last step you need to do to share your calendar on iPhone.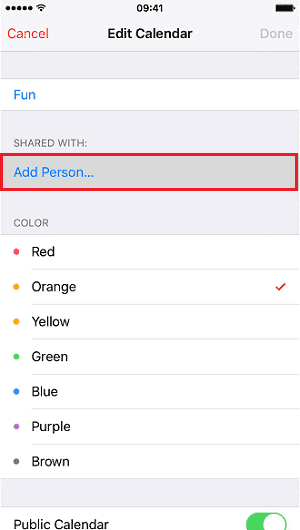 Part 2 (Bonus Tip): How to share other files from iPhone to iPhone
If you want to share other files, including photos, videos, contacts, music, and more from your iPhone to another iOS device, what would you do? Here I'd like to recommend a free tool, EaseUS MobiMover Free, for you. With MobiMover installed on your Mac or PC, you can:
Transfer files between two iOS devices: You can choose to sync all content or copy a specific category from one iOS device to another.
Copy data between an iOS device and computer: No matter you want to put music to iPhone or save iPhone text messages to computer, you can get it done using MobiMover.
Manage iDevice content: By deleting/editing the existing files on your iPhone or adding new items to your device, you can easily manage your iDevice content from computer.
Download videos from websites: With the video download feature, you can download videos from Vimeo, YouTube, Instagram, Dailymotion, and other popular video sites.
Now follow the steps below to transfer files from one iPhone to another to have a try.
Step 1. Connect two iPhones to your computer with compatible USB cables and tap "Trust This Computer" on both devices. Run EaseUS MobiMover and select the "Phone to Phone" mode on the main screen. Next, you need to determine the transfer direction, from iPhone A to iPhone B, or from iPhone B to iPhone A. Once done, click "Next" to continue.
Step 2. At this step, all the iPhone data are presented with numbers and file size. Select one category or multiple categories of data as you want, and click "Transfer".
Step 3. MobiMover will begin to transfer selected files from one iPhone to the other without any hassle. When the process finishes, go to the corresponding apps to check the newly added files.