When the common solutions can not cope with the problems happened to your iPad, you might want to reset your iPad to have a try. Or when you intend to give or sell your iPad to others, you might also want to reset your iPad to protect your personal information. There are many options you can choose to reset an iPad, depending on your needs. For example, if you don't want to keep the preferences you have set in some Apps, you can just reset all settings. While if you want to wipe your iPad, you choose to reset all content and settings instead. What's important is that, to protect the existing data and media on your iPad, you need to back up your iPad to the computer first and then remove them without being worried about you will need the data someday in the future. Thus before the tip introducing how to reset iPad, there is the way telling you how to back up your iPad to computer.
Part 1: How to back up iPad to computer with MobiMover (FREE)
To back up your iPad to computer safely, you can use MobiMover Free, an iPhone data transfer tool, to help you. MobiMover enables you to back up your iPhone/iPad to PC, share files between two iOS devices and transfer files from PC to your iPhone/iPad without any cost. The supported files are photos, videos, music, contacts, notes and so on, depending on the feature you'd like to use. With MobiMover, you can back up the contacts, messages, notes, calendars, voice mails, books, photos, videos, audios and more from your iPad to PC without data loss. Follow the steps below to learn how to use MobiMover with easy steps.
Step 1. Connect your iPad to your computer with a USB cable. Launch EaseUS MobiMover on your computer, and select the "Phone to PC" mode, which helps you export iPad data to the computer. Move your mouse to the right pane and click "Next" to start.
Step 2. MobiMover allows you to transfer all the iPad data to the computer at one time at a fast speed. You can also select Contact, Messages, Note, Photo, Video, or Audio individually. You can change the default destination for exported files on your computer. If you don't set it on your own, MobiMover will download the iPad files to a desktop folder. Click "Transfer" to begin to transfer files from iPad to the computer without a hitch.
Step 3. Wait for a while to let the transfer process finish. Please don't disconnect the iPad while transferring. When the process finishes, you can check the items on your computer.
With MobiMover installed on your PC, you can enjoy its amazing features by doing things like transferring music from computer to iPad and transferring photos from iPhone to iPad. Don't hesitate to have a try.
Part 2: How to reset iPad
Step 1: Go to "Settings" App on your iPad.
Step 2: Selection "General" among the options.
Step 3: Tap on "Reset".
Step 4: In Reset, there are several options you can choose. The following introduces the function of the options in Reset.
1. Reset All Settings: This option will remove your preferences but won't delete the existing data on your iPad like Music, Videos, Photos and so on.
2. Reset All Content and Settings: This option will wipe all the media and data on your iPad, which means it will reset your iPad to factory settings. If you want to sell or give your iPad to others, this option is what you need to choose.
3. Reset Network Settings: This option will erase the settings about the networks on your iPad. For example, it will erase all your saved Wi-Fi network connections. You can try this option to solve your Wi-Fi connection problem.
4. Reset Keyboard Dictionary: This option will remove all the custom words you have typed on the keyboard.
5. Reset Home Screen Layout: This option will reset your Home screen layout to factory settings.
6. Reset Location & Privacy: This option will erase all your location and privacy settings on your iPad.
Step 5: Choose one of these options according to your need and confirm your choice. You might be asked to enter your passcode during the process, just type it in to continue.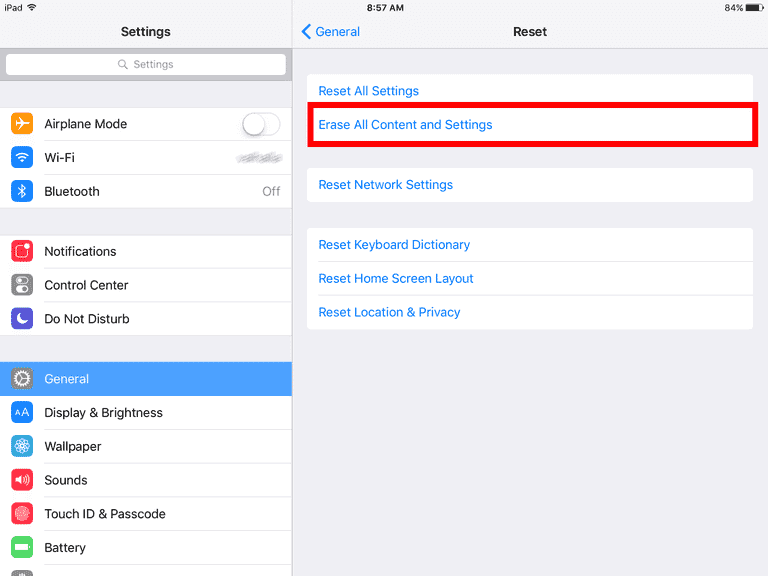 Resetting your device can solve problems like "cannot connect to App Store" and "can't download Apps on iPhone/iPad". The causes that lead to the problem vary, thus don't be upset when the tip doesn't work well for you and then try other tips that may solve your problems.