Message alerts, as one of the best iPhone features, is quite useful as they keep you in sync with the message conversations. It is especially helpful when there's something important that you're dealing with via iPhone message. However, there are also something not so good about iPhone message alerts, which bothers many iPhone users. Since it shows the content of the message sent from anyone on the Lock screen, your privacy might be exposed to the public. When you're in the middle of something, like in a meeting or study, the message alerts might distract you.
You must be seeking for a solution, and iOS 11 has brought it to you. Now you can hide iPhone message alert in iOS 11 from the individual conversation. After it is enabled to a certain message, the message alert won't be shown on the Lock screen anymore. Now let's read more to learn how to hide alerts in Message app in iOS 11
How to Hide Alerts in Message app on iPhone in iOS 11
Step 1: Open the Message app on your iPhone or iPad.
Step 2: Select the conversation that you want to hide message alert.
Step 3: Tap on the button on the right upper corner.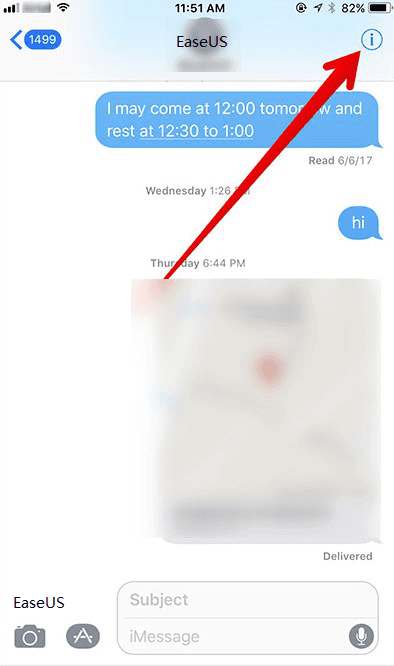 Image Credit: Apple.com
Step 4: There you will see the "Hide Alerts" option and the switch beside it being gray. Turn on the switch, and it becomes green.
Step 5: Tap on the "Done" button on the upper right corner of the screen.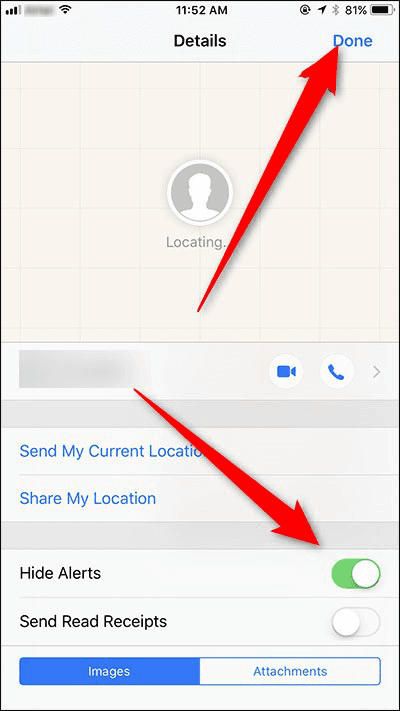 Image Credit: Apple.com
Now you know how to hide alerts in Message app on iPhone. In this way, you can turn on or off the alerts of any message conversation in iPhone or iPad.
If you're preparing to upgrade to iOS 11, we suggest you free up more space on your iPhone for a faster and safer upgrade of iOS 11. As we know, upgrading to new version of iOS would take hours, or sometimes even stuck in the middle of the process. How to free up storage space on iPhone? One of the best ways is to transfer photos from iPhone to Windows PC, as photos usually take most of the storage space on iPhone. Here we recommend you to use EaseUS MobiMover Free, all-in-one iPhone transfer software, to bulk transfer photos from iPhone to PC without iTunes. Let's do it step by step. Moreover, if you need to transfer photos from PC to iPhone to load extra images, you can still use MobiMover to do it.
Step 1. Connect your iPhone to PC running Windows 7 or later. Run EaseUS MobiMover, choose "Phone to PC" and click the "Next" button to go on.
Step 2. Check the category/categories you want to transfer from your iPhone to the computer. As you can see, you can copy other supported files together with photos from your iPhone to PC all at once. Besides, you can customize the storage path for the exported photos. Otherwise, MobiMover will save them on your desktop.
Step 3. Now, click the "Transfer" button to start transferring photos from your iPhone to PC without iTunes. Exporting files from iPhone to PC with MobiMover is the right way for backup to avoid unexpected data loss.
After finish transferring, you can delete all photos from iPhone and free up more storage space for the upgrade of iOS 11.
EaseUS MobiMover Free also works perfectly to import videos from iPhone to computer.