Overview of iPhone DFU Mode
What's the iPhone DFU Mode?DFU or Device Firmware Upgrade mode allows all devices to be restored from any state. It is essentially a mode where the boot ROM can accept iBSS.DFU is burned into the hardware, so it cannot be removed. So, when your iPhone 8/8 Plus/X running iOS 11 can't be turned on or recognized by iTunes, you can put your iPhone into DFU Mode which can make your iPhone recognized by iTunes.And then you can restore your iPhone in DFU Mode by iTunes effectively and safely.
How to get into DFU Mode on iPhone 8/8 Plus/X
Most iPhone users don't know the method getting into DFU Mode on iPhone.Don't worry, this article will provide you the method that you can put your iPhone Plus/X into DFU Mode with it. (Want learn more tips and get the most out of iPhone?Please go to the iOS & Mac Topics section to find what you need.)So, please follow the tutorial below and get into DFU Mode on your iPhone 8/8 Plus/X.
1. Connect your iPhone 8/8 Plus/X to a computer using a USB cable.
2. Quick-press the Volume Up button
3. Quick-press the Volume Down button
4. Hold down the Side button until the screen goes black, then hold down both the Side button and Volume Down button.
5. After 5 seconds, release the Side button while continuing to hold down the Volume Down button.
6. If the Apple logo appears, the Side button was held down for too long.
7. Nothing will be displayed on the screen when the device is in DFU mode.If open,iTunes will alert you that a device was detected in recovery mode.
If your iPhone 8/8 Plus/X shows a screen telling you to connect the device to iTunes like the picture below, retry these steps.
You may also need to know How to enter DFU Mode on iPad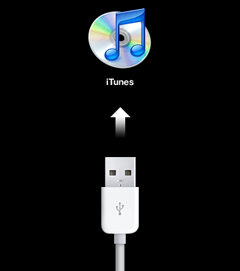 Tips:
When you get into DFU Mode successfully and restored your iPhone 8/8 Plus/X using iTunes completely, you will lose all the data on iPhone. So it's important to back up your iPhone 8/8 Plus/X data to a computer. Here you May need the iPhone data transfer software that can help you to transfer all the data in your device to the computer with just one click.The completely free iOS data transfer software - MobiMover Free can make it with ease.MobiMover can help you not only transfer files between iOS devices or between iOS device and computer but also manage your iOS content by deleting, adding or editing items on your device from computer. Sounds great? Equip your computer with MobiMover and get the application launched to try to transfer iPhone 8/8 Plus/X data to computer.
Step 1. Connect your iPhone 8 or iPhone X to your PC with a USB cable. If asked, tap "Trust" on the device screen. Open EaseUS MobiMover and select the transfer mode "Phone to PC". Then, click "Next" to export iPhone data to the computer.
Step 2. All the compatible data from your iPhone will be read and loaded here. You can transfer them all or select a particular type to download to PC by checking the boxes. The default path to keep the transferred items is C:\Users\Owner\Desktop, you can customize a location as well. Click "Transfer".
Step 3. MobiMover will start immediately to transfer files from iPhone X or iPhone 8 to PC without a hitch. Don't disconnect the USB connection until the process accomplishes. Unlike iTunes, MobiMover can move iOS data in an accessible way. When the transferring has done, you can open and check the exported files.