Yesterday, when I've updated iOS 11, I found that my iPhone stuck at apple logo, there are so many important files like photos, music, video, etc, I can't believe that my iPhone has become a toy, is anyone can help me?
Nowadays, more and more people use iPhone, and many users complain that their iPhone stuck at apple logo after an update or restart, they think their iPhone has been ruined. Don't panic, here are some pieces of advice which you can give a try to get your iPhone out of a startup loop.
The reason why iPhone get stuck at the apple logo
When there's a problem with the iOS system, it might prevent the iPhone from booting. It's very difficult for the beginner user to know exactly what the cause of the problem is, but some causes are very common among the user's feedback, which are booting problem after the upgrade to a new system, problem after jailbreaking, problem after the beta version of iOS used has expired. Now we all know what might be the reason, but what should we do if we encounter the same problem?
What we can do to solve iPhone stuck at apple logo
1. As the first step, restart the iPhone is very easy to do. But to be honest, that might not fix this particular problem 100% sure, but it's the simplest approach and does not cost you anything, just a few seconds waiting for the iPhone to start up again.
2. If the restart doesn't work, you can go to the Recovery Mode, which allows your iPhone to connect to iTunes and restore a fresh installation of the iOS or a backup of your data onto your phone. It's a relatively simple process and solves the problem in some cases.
3. Try to put iPhone in DFU Mode, since the first two steps don't work at all, considering that might be another problem on booting up your iPhone. However, enter the DFU mode takes some practices because you need to do a set of actions within a few seconds. Please following these steps below to have a try:
*Start iTunes on your computer.
*Connect your iPhone to your computer with the USB cable
*Turn off your iPhone.
*After the iPhone is off, hold down the on/off button for 3 seconds.
*When 3 seconds have passed, keep holding the on/off button and start pressing the home button on the front of the phone
*Then hold both buttons for 10 seconds
*Let go of the on/off button but keep holding the home button (or volume down on an iPhone 7) for another 5 seconds
*If the Apple and iTunes logo is shown on the screen, that means you're not in DFU Mode and you need to repeat the process. Otherwise, if your iPhone's screen stays black and doesn't display anything, that means you enter in DFU Mode successfully.
*After entering the DFU Mode, there will be a pop-up window which appears in iTunes to demand you to restore your iPhone. Here, you can restore your iPhone to factory settings, on the other hand, you also have a choice to load a backup of files on your iPhone.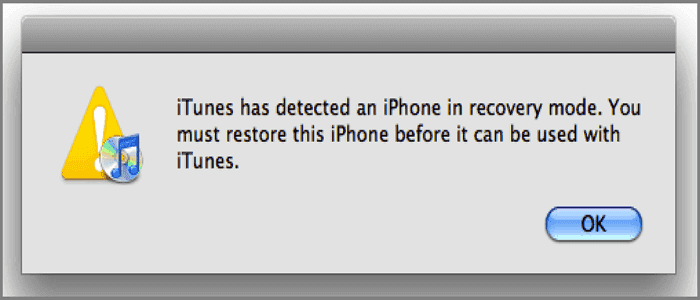 By the way, for your iPhone data security, we recommend you to backup normally the iPhone data, here we recommend you to use a free iPhone data transfer software - EaseUS MobiSaver Free, which is able to backup and manage photos, videos, audios, contacts, notes, messages, etc as a free iPhone content manager.
1.Download and install EaseUS MobiMover Free on your PC, then connect your device.
2.Tape on Trust to let the computer read your data.
3.Choose Transfer to Computer, the data on your device will be transferred automatically by MobiMover.