Apple has finally released its new iOS 11.2.5. Considered as a minor iOS update, iOS 11.2.5 is the tenth update to iOS 11. According to Apple, the new iOS 11 has not only has fixed the bugs found in earlier iOS 11 but also added some new features to the operating system. Read on to get the details.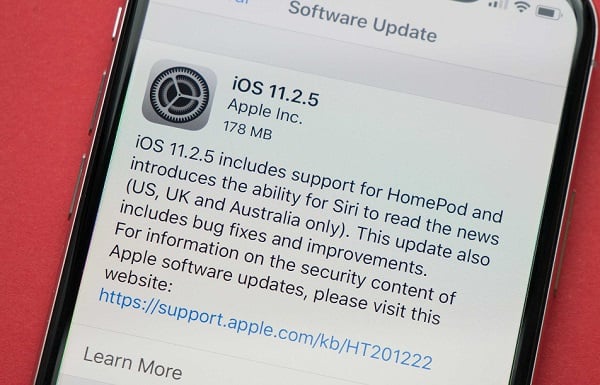 Part 1: What's new in iOS 11.2.5
Apple has added two main new features to iOS 11.2.5, including support for HomePod, which is a smart speaker developed by Apple and will be released in February, and new functionality to Siri. Besides, a new music interface is also contained in the new iOS 11.2.5.
Support for HomePod: With this feature, you can set up HomePod easily with your iOS devices by transferring your Apple ID, Apple Music, Siri and Wi-Fi Settings from iDevice to HomePod.
New functionality to Siri: In the new iOS 11.2.5, you can ask Siri to read the news for you by saying "Hey Siri, play the news." What's more, you can ask Siri to play the news from the category you like, such as Sports, Business, and Music. (Siri not working? Learn how to fix it yourself.)
Part 2: What has iOS 11.2.5 fixed
If you have encountered one or more of the issues described below, don't hesitate to update to the new iOS 11.2.5 because these bugs have been fixed in this version.
A bug called "text bomb" that cause iPhone to be locked up while receiving a problematic text message.
An issue in Phone App that leads to incomplete information display in the call list.
An issue on iPhone X that causes Mail notification from Exchange to disappear while unlocking iPhone X with Face ID.
An issue in Messages App that causes conversations to be listed out of order.
An issue in CarPay where Not Playing controls will stop working after multiple track changes.
In addition, security improvements have also been added to iOS 11.2.5. You can go to the page (https://support.apple.com/en-gb/HT208463) to get the details.
Part 3: What's the compatibility of iOS 11.2.5
According to iPhone users who have already installed iOS 11.2.5 on their device, the new iOS 11.2.5 enables them to open App with faster speed, use their device more smoothly with longer battery life. If you are using iOS 10 on your iPhone, iPad or iPod, you are not suggested to update to iOS 11.2.5. While if you have been using iOS 11 on your device, you are highly recommended to download iOS 11.2.5 and then install it on your iOS device. Besides, iPhone 6s users reported that the iOS 11.2.5 works well on their device. While if you are using iOS 11 and don't want to update to the latest version, you can choose to downgrade to iOS 10.3.2.
Part 4: How to download and install iOS 11.2.5
Before you install iOS 11.2.5 on your iPhone, iPad or iPod, you'd better back up your iPhone to the computer to avoid accidental data loss. After that, go to Settings > General > Software Update and then click Download and Install when you see the iOS 11.2.5 available.