"Hi! I have a question to ask. Maybe somebody can help me? I have had my iPhone 6 for quite a long time. It comes with 64 GB storage and now it is almost full. I can't take more pictures or videos, also download new apps is not possible anymore. So my question is, how do I clear up space on iPhone so that I can store more data on it. Any advice or tool would be appreciated. Thanks!"
I believe many of you would be so familiar with this question because when you got an iPhone with low storage space, you will often meet the same problem if you don't clear up your phone. So in this article, we will show you a practice utility - EaseUS MobiMover Free, to help you with this iPhone storage full issue. You can use this free iPhone data transfer to do 2 things to clear up free space on the iPhone.
Tip 1. Use MobiMover Free to transfer useful files from iPhone to PC to clear up iPhone space
If the files that take up the most of your iPhone space are the ones you don't want to lose, you can choose to transfer them to your computer and then delete them all at once on your iPhone. There you have successfully freed up space on your iPhone. EaseUS MobiMover is a powerful iPhone data transfer software that can help you out in such case.
Now we will show you how to transfer photos from iPhone to PC as an example so that you can learn how to use it to transfer all other files like videos, notes, contacts etc from iPhone to PC:
Step 1. Connect your iPhone to your PC with a USB cable. Tap "Trust This Computer" on the device screen if a pop-up appears. Start EaseUS MobiMover and select the "Phone to PC" pattern on the main interface. Click "Next" to start data transfer from iPhone to your computer.
Step 2. MobiMover enables you to transfer everything from your iPhone to the PC with one click, like audio files, videos, pictures, books, contacts and more. You can check one or multiple data categories by checking the boxes. You can also customize a file location to keep the transferred items. If you don't customize the storage path on your own, click "Transfer" directly and MobiMover will save the files to Desktop.
Step 3. MobiMover will start immediately transfer selected files from iPhone to PC without iTunes at lightning speed. Please don't suspend the USB connection until the process finishes. Some contents, like contacts and messages, will be saved as a .html file. You can view them by opening in a web browser.
Now you have transferred large photos from your iPhone to the computer. So you can go ahead and delete them all on your iPhone to clear up free space.
Tip 2. Use MobiMover Free to delete useless documents & data to clear up iPhone space
MobiMover is not only a free iPhone data transfer but also an iPhone content manager to delete documents and data on iPhone to free up iPhone storage. (Take deleting contacts on iPhone as an example here.)
Step 1. Connect your iPhone to your computer (Mac or PC) with a USB cable, launch EaseUS MobiMover, click "Content Management" and choose the category you want to delete data from. (Here deleting contacts from iPhone is set as an example.)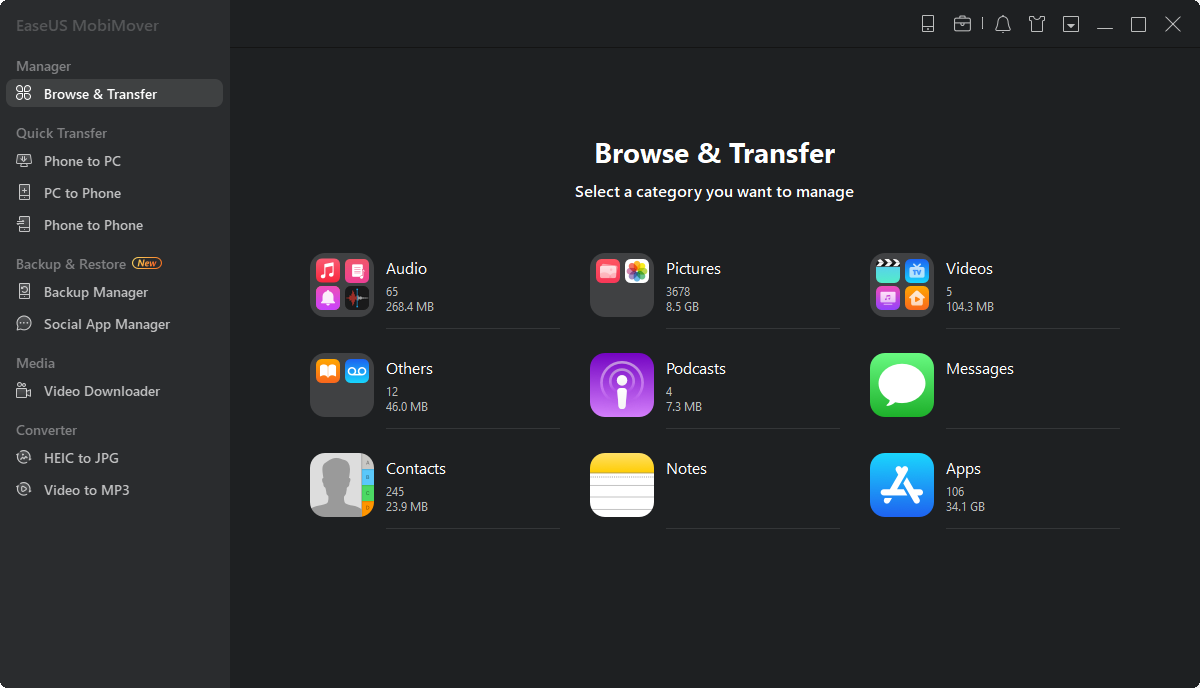 Step 2. Click "Select All" to select all data on your iPhone or tick the checkbox next to the items you want to remove to choose specific files, then click "Delete" to delete the selected content from your iPhone. (Before you remove data from your iPhone, you are recommended to make a backup of it by clicking "Transfer to PC".)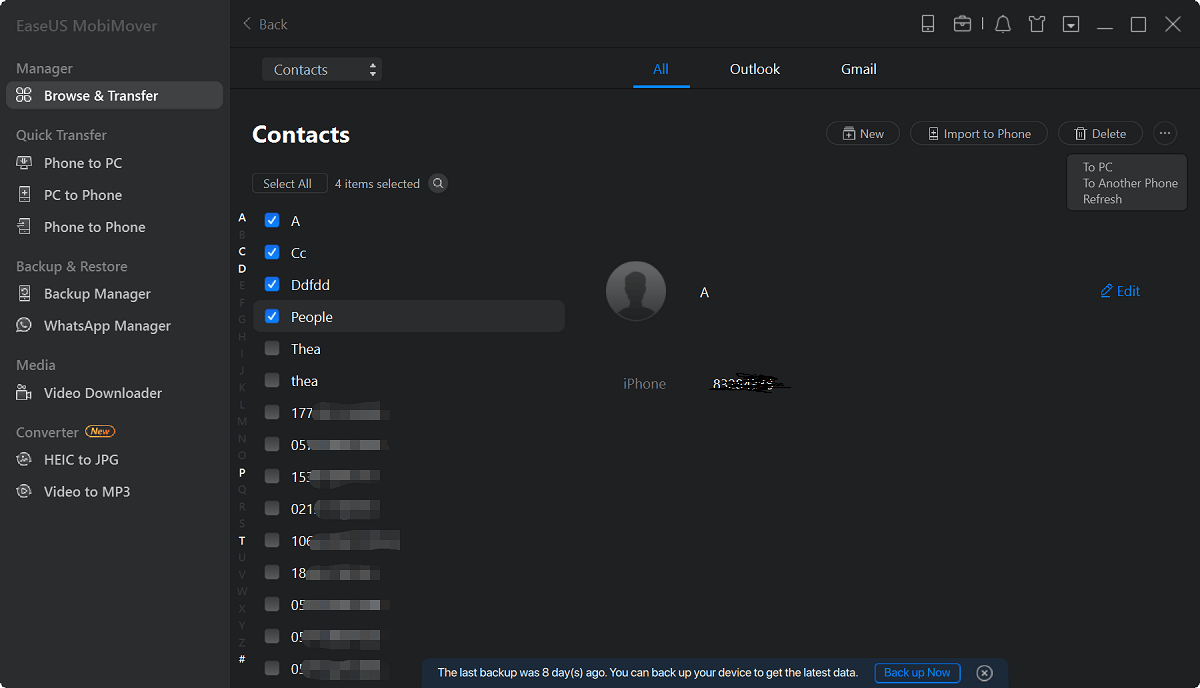 Step 3. After clicking "Delete", you will see a new window asking you whether to delete the selected items. Click "Yes" in the window to confirm your deletion.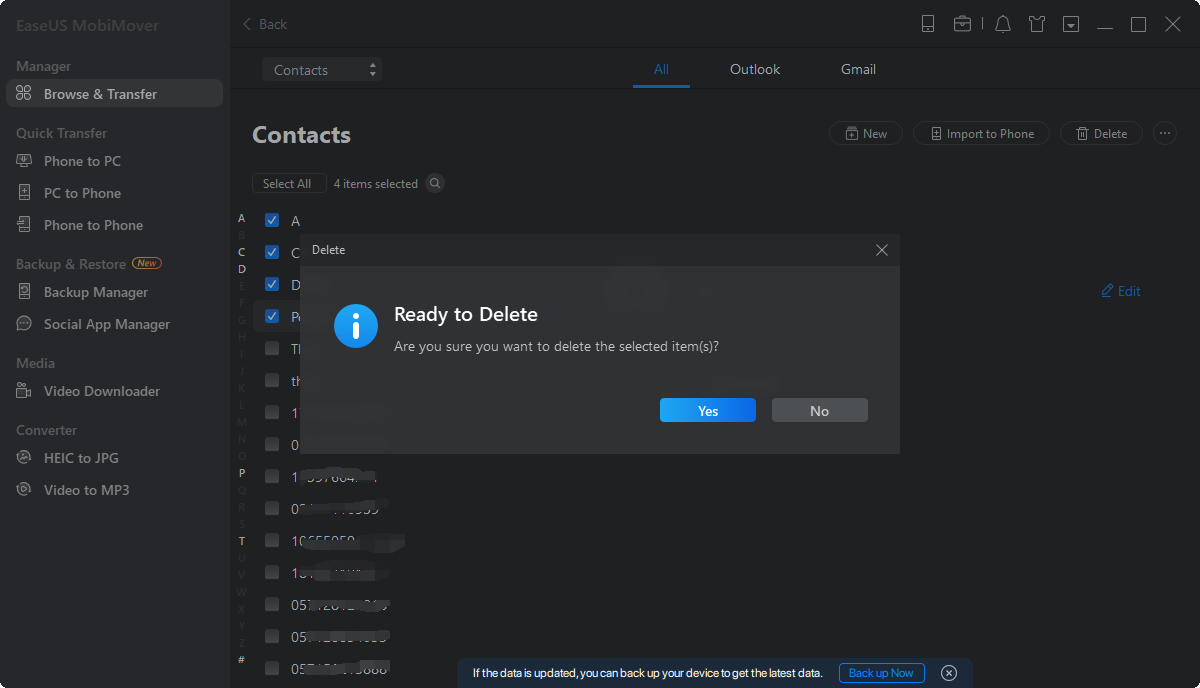 Now you have deleted the useless data that might take up much space on your iPhone.