Bluetooth is an important feature for data sharing. When it doesn't work properly, it can cause a lot of inconveniences. "Bluetooth not working on iPhone" issues like you can't connect your iPhone/iPad with a Bluetooth accessory or the connection always drops are quite common. And the causes that lead to this problem vary. The tip isn't workable for others may work well for you. Read on to learn the tips to fix "Bluetooth not working on iPhone/iPad" issues and know about the alternative way to share data without Bluetooth.
How to fix Bluetooth Not Working on iPhone/iPad
Tip 1: Check whether your Bluetooth accessory supports the connection with iOS devices. If the accessory is not in the list of supported devices, that's the reason why you can not connect it to your iPhone.
Tip 2: Make sure your iOS device and the Bluetooth have enough power supply. If the battery of one of the device is drained, you'll surely fail to connect them together with Bluetooth. By the way, if it's the power supply that caused the problem, you may need to know the tips on how to save battery on iPhone.
Tip 3: Make sure the Bluetooth on both your iOS device and Bluetooth accessory is on. You can check the Bluetooth on your iPhone by opening "Settings" and choosing "Bluetooth". If you can't switch on the Bluetooth on your iPhone/iPad, you need to restart your iDevice by pressing and holding Sleep/Wake button, Moving the slider to turn off your iDevice, and then pressing and holding Sleep/Wake button to start your iPhone/iPad again. Restarting your device may also solve the Wi-Fi connection problem on your iPhone if you have encountered it.
Tip 4: Make sure your iOS device and Bluetooth accessory are close to each other. If the distance between the two devices is beyond supported distance, the connection is not likely to succeed.
Tip 5: Re-open Bluetooth on your iOS device and the Bluetooth accessory.
Tip 6: If the connection keeps dropping, you can unpair the two devices and go back to connect your iPhone/iPad to the Bluetooth accessory again.
Tip 7: Restart your iOS device and your Bluetooth accessory.
Tip 8: If you have tried all the tips above and find they don't work, you might need to contact Apple Support.
Tip 9: Use an alternative tool to share data.
As mentioned above, what's convenient with Bluetooth is its data sharing feature. For example, you can transfer photos from one iPhone to another with Bluetooth on. If it doesn't work properly, your intention to share data between iOS devices will fail. But don't worry, there is another option for you to choose to transfer data between two iOS devices, which is to use MobiMover. MobiMover Free is a professionally designed free iPhone data transfer tool for data sharing. You can transfer files between PC and iPhone/iPad or between two iOS devices with MobiMover for absolutely free. MobiMover can bring more conveniences for you when it comes to data transfer. The steps below will show you how to transfer, for example, photos, from iPhone to iPhone with MobiMover.
Step 1. Connect your iPhones to your computer. Open EaseUS MobiMover, then go to > Pictures > Photos. You can also use the data transfer feature to download all the photos from iPhone to iPhone at a time.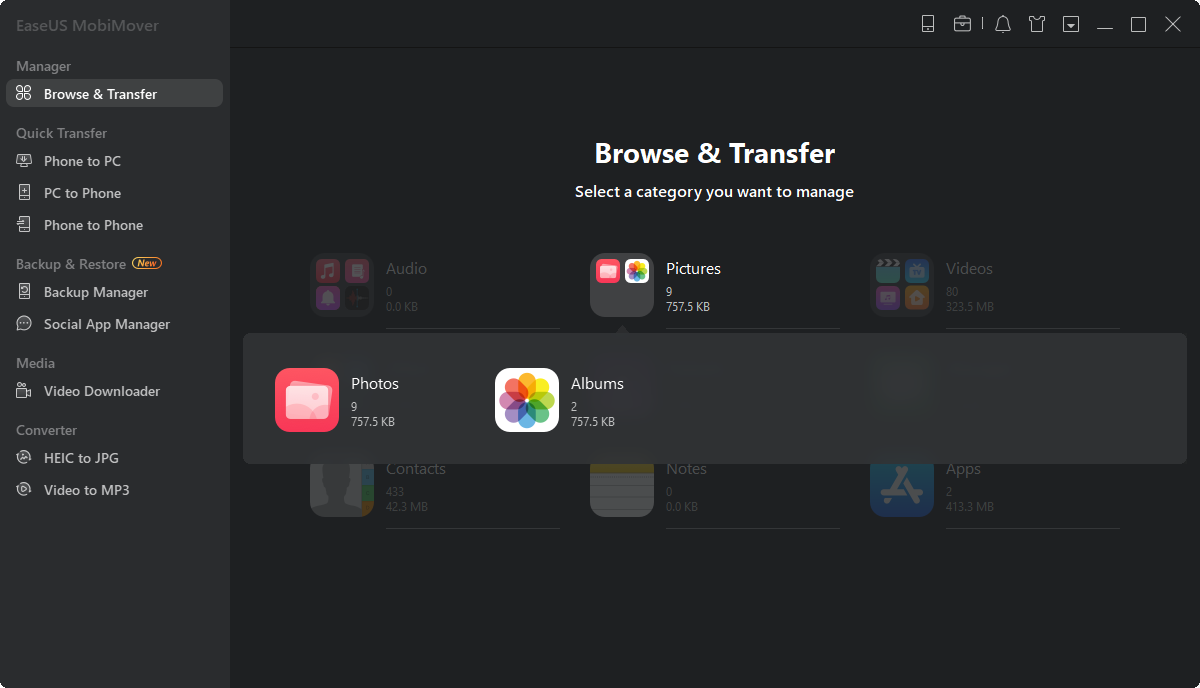 Step 2. Choose the photos or albums you want to move from one iPhone to another (set the source and target iPhones correctly by clicking the phone icon on the top toolbar). You can choose to transfer all the photos at once or specific images selectively.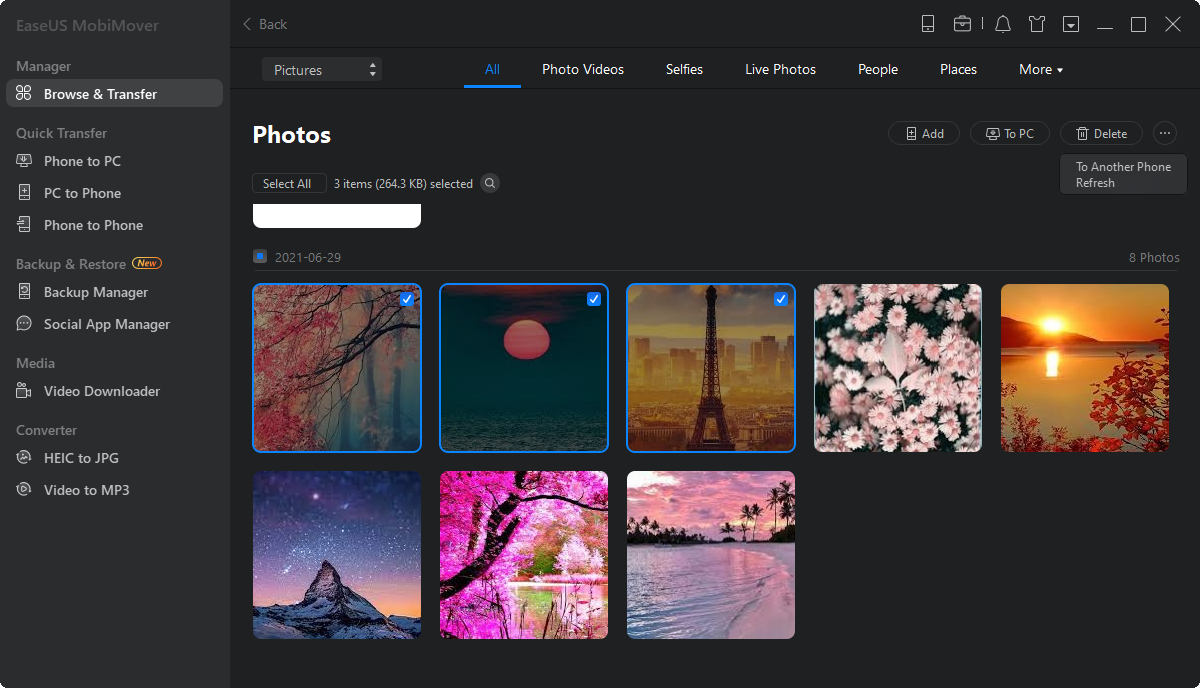 Step 3. Click "To Another Phone" to start transferring photos from iPhone to another. When it has done, go to your target device to check the items in the "Photos" app.
With MobiMover, you can not only share files between two iOS devices, but also do things like transferring photos from computer to iPhone, putting music to iPhone and deleting bookmarks on iPad. Equipe your PC with MobiMover and you will enjoy the conveniences it brings to you.