YouTube videos keep buffering all the time and can't stop is a frequently occurred issue no matter whether you are using Chrome, Firefox, and Safari on Windows/Mac computer, or running the YouTube app on iPhone/Android phone. Besides, this problem often appears unexpectedly, and make the videos virtually unwatchable. Here, in this article, we will explain the reasons for YouTube app buffering, and show you several tried-and-true approaches to troubleshoot.
Contents:
Part 1

Why do YouTube Videos keep buffering

YouTube videos' speed can be affected by many factors. When this comes up, you could not focus the reason specifically within a short time. The common causes are listed below.
Poor internet network or Wi-Fi signal.
The Flash Player can't work correctly.
The HD videos have high resolution.
Other Ad blocking software or third-party add-ons are incompatible with YouTube.
Too much browser caches and cookies leave no sufficient storage space.
Watch YouTube videos with fast internet but with slow servers.
Unknown YouTube errors, like error 400, 401, or 503.
Part 2

How to fix YouTube videos buffers on Windows/Mac/iPhone

You can try the following methods to fix YouTube videos buffering problem, whether you are facing it on your computer or iPhone.

1. Make sure the stable internet connection speed (1Mbps at least)

Most of the time, the network issue should be responsible for the problem. To watch YouTube videos smoothly, you need to connect your computer to a reliable internet network.

2. Restart the router/computer/iPhone

Restarting the router is an effective way to solve network problem. It can clear out any leftover internet crud that's been building up and then speed up your internet. Simply shut the router off and turn it on in at least 30 seconds. Moreover, you can restart your computer or iPhone if the trouble is related to your device.

3. Clear browser cache and cookies

Videos watching requires a certain amount of loading space. If there is too much browser data stored, it could lead to slow videos buffering. To settle the issue, you should delete cache and cookies in your particular browser.

4. Check/Update the Flash Player

If the flash player can't work well, it will affect the normal video viewing. Fix the issue if the flash player has something wrong. Or, update it if necessary.

5. Lower the video resolution

If you are watching videos with 720p HD or 1080p HD resolution with poor internet network, you can lower it to 144p, 240p, 360p, or 576p.

6. Download YouTube videos and watch offline

If the above solutions can't figure out, the last thing you can try is to download the wanted YouTube videos to your Windows/Mac computer or iPhone so that you can watch them offline without online buffering, which waste a lot of time for waiting.

When comes how to download YouTube videos offline, here is the EaseUS MobiMover Free Video Downloader worthy of trying. With this tool, you can save online videos to your computer and iOS device from YouTube, DailyMotion, Vimeo, Facebook, Instagram, and other 900+ sites for free without the size and quantity limits. In addition, you can use MobiMover Video Downloader to save any video from any website by easily copying and pasting URL.

Click the download button below and try MobiMover right now. MobiMover is not only good at online video downloading but also works well in iOS data transfer and management. Above all, it's FREE.

Step 1. Run EaseUS MobiMover, go to "Video Downloader", and choose the device you want to save the downloaded YouTube videos. If you want to download YouTube videos to your mobile device, connect it to your PC first.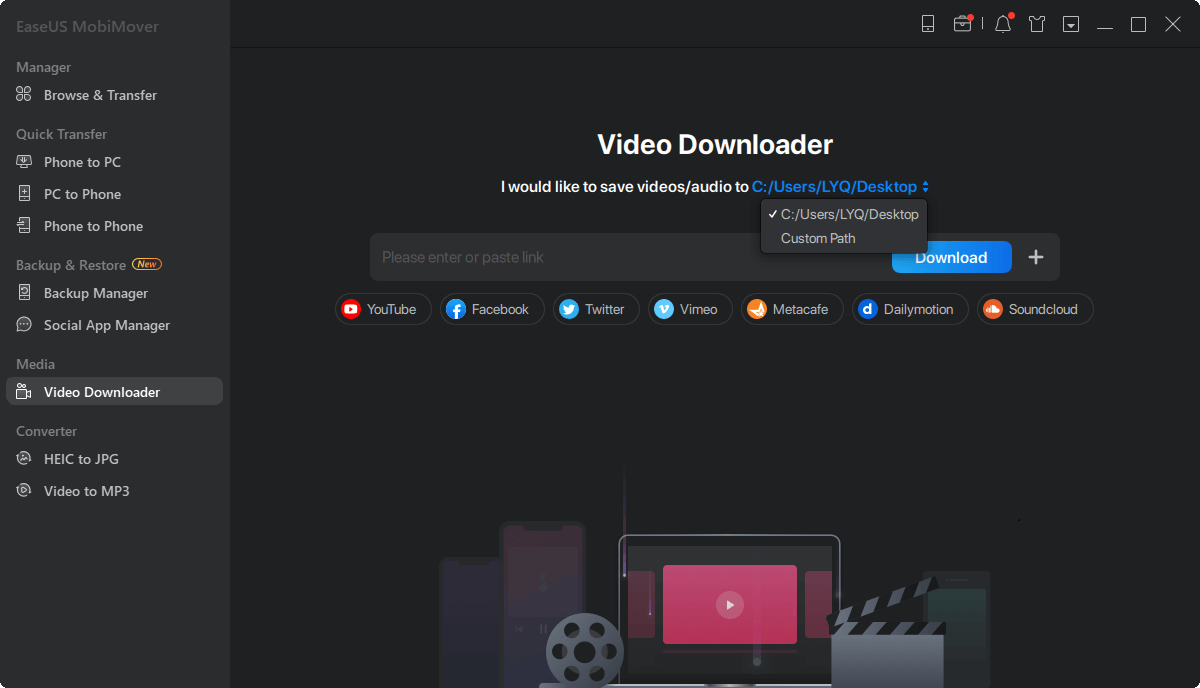 Step 2. Copy the URL of the YouTube video you want to download, paste it into the bar in MobiMover, then tap the "Download" button.
Step 3. After you click the "Download" button, MobiMover will quickly analyze the URL and download the YouTube video to your computer or iPhone/iPad.
You can also read: