iOS 11 surprises us with a series of breakthroughs, such as more intelligent Siri with translation function, highly-customized Control Center, all-new App Store and new File app for iOS document management. However, there are both good and bad points with the new update, different users have reported many kinds of problems after updating to iOS 11, such as alarm not working in iOS 11, notification, Bluetooth and flashlight not working on iPhone 6/6S/7/7 Plus in iOS 11. Today, we will talk about another issue that is bothering many users, that is Safari not working in iOS 11 on iPhone and iPad and we provide all the possible solutions below to help you troubleshoot.
7 Tips to fix Safari not working in iOS 11 on iPhone 6/6S/7/7 Plus
When Safari is not working, the first thing you need to do is to check the network for Safari is available or not. Go to "Settings" > "Cellular" > "Safari" > choose "WLAN & Cellular Data". If there is no problem with network settings for Safari, but it still doesn't work, go on to try tips below.
1. Close and launch Safari again
If the Safari is stuck with no response, but other apps work well, you can relaunch the Safari app to solve the problem. Double-click the Home button on your device screen to activate multitasking screen (Multitasking not working either? See how to fix it! ), then swipe up Safari app to close it. After 30 seconds, re-open Safari. If this can't fix the issue, move on to nest method.
2. Switch to a different network
If you found multiple apps are not working well, including Safari, you need to check the network. If the network is not stable or not well connected, you can change to a different network and open Safari again.
3. Reset network settings
The incorrect network settings may cause Safari not working in iOS 11. Therefore, resetting network settings is a good way worth trying. After resetting, all your Wi-Fi info, including account and password will be removed, you need to re-enter Wi-Fi password.
To reset network settings, just go to "Settings" > "General" > "Reset" > "Reset Network Settings".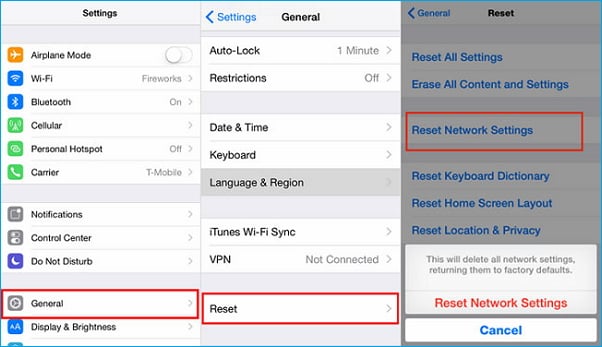 4. Clear Safari History & Website Data
The iOS 11 Safari not working well can be in the form of running slowly. If so, you can improve its performance by cleaning cache, history and website data.
Go to "Settings" > "Safari" > "Clear History and Website Data". This operation won't cause Safari bookmarks loss but only the data cleaning of browsing history, login data, theme selection, preferences and other customized info. If you happen to meet Safari running slowly on new iPhone x, you can fix it by clearing Safari history and website data too.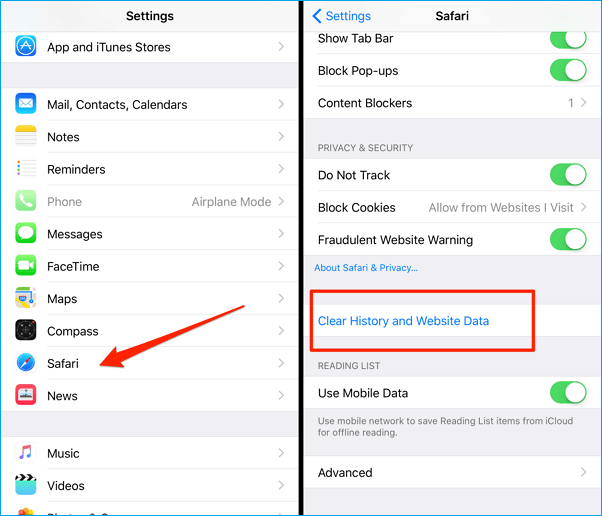 5. Check for Safari restriction
If you have enabled the restriction for Safari app after updating to iOS 11, the Safari app won't work normally. So, you need to turn it off: go to "Settings" > "General > "Restrictions" > Enter the password > toggle off the Safari if the restriction is on.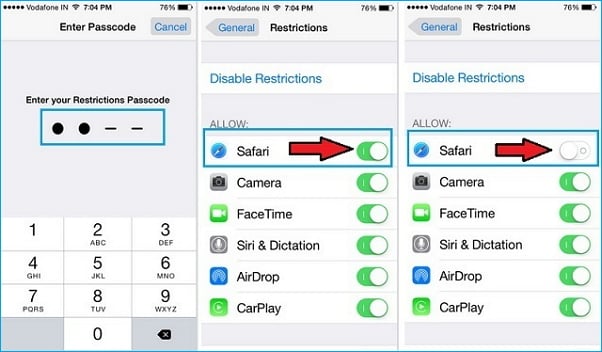 6. Restart your iPhone
Restarting your iPhone can fix many small matters, including Safari not working in iOS 11. In this way, all processes on your device will be closed and the iOS memory will be completely released. Press and hold the Sleep/Wake button until you see "slide to power off" and swipe right to turn it off. After 30 seconds, re-open your iPhone again.
7. Update iOS of iPhone/iPad
If the Safari not working in iOS 11 is caused by system bugs, updating to the latest iOS version is a good choice to fix the issue.
Turn on the network connection > Go to "Settings" > "General" > "Software Update" > check if there is a new version available, if yes, download and install it on your device.