Apple has released iOS 11 for a period of time with many new features and has updates to iOS 11.2 up to now, and most of iPhone and iPad users have changed to iOS 11 on the day it launched. However, as the problems show in iOS index page on our website, iOS 11 also brings not a few issues along with the surprises caused by iOS 11 software-related or hardware-related issues, such as AirDrop won't work in iOS 11, iPhone 6/7 alarm/flashlight not working after iOS 11 as well as App Store won't work or download will be talked about here.
Many users have complained that after updating to iOS 11, they can't download apps or update an app in App Store and the App Store is down completely. Then, how to fix this issue effectively and let your App Store works again? Read this post and check all the possible solutions listed below.
Top 6 ways to fix App Sore down in iOS 11/11.1/11.2
The App Store down or not working in iOS 11 can be due to App Store its own problem, like caches accumulation and external issues, such as poor internet connection or insufficient iPhone storage. Keep reading and try every fix below to settle App Store down in iOS 11.
1. Check the internet connection
No or poor internet connection can directly cause "cannot connect to App Store". Therefore, when this issue occurs, please check and make sure your device has connected to the internet via Wi-Fi or Cellular.
Go to "Settings" > turn on Wi-Fi or Cellular Data for App Store.
If you have disabled the Cellular Data for App Store, you can turn it on again by going to "Settings" > "iTunes Store&App Store" > slide on "Use Cellular data".
2. Reset Network Settings
If you have turned on the internet connection for App Store while it is still down, you can consider resetting network settings. iOS update each time may cause some settings changed and cause unexpected problems. At this time, the network resetting can be helpful for many internet-related problems, including GPS not working in iOS 11, or cant download apps in iOS 11.
Go to "Settings" > "General" > "Reset" > "Reset Network Settings". After this, you need to reconnect to the Wi-Fi, VPN, and APN on your iPhone by entering the passwords again.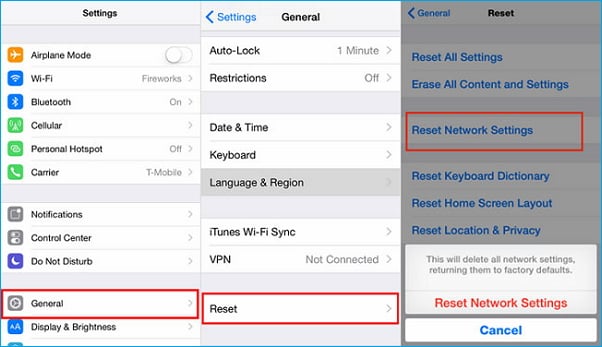 3. Restart your iPhone
Long-time iPhone usage will save considerable running caches on your iPhone, if you don't restart your device, some matters may happen just like the App Store won't work. Besides, if you also meet the iOS 11 screen recording not working or other small issues, you can also try to fix them by restarting your iPhone.
Restart iPhone 6/7/8: Press and hold the "Sleep/Wake" button until the red slider shows up, then drag the "slider to power off". After 30 seconds later, press and hold the "Sleep/Wake" button again until the Apple logo appears on your iPhone.
Restart iPhone X: Press and hold both Side button and Volume Down ( or Volume Up) buttons at the same time until you see the slider. Drag the slider to shut down your iPhone X completely. After 30 seconds later, press and hold the "Sleep/Wake" button again until the Apple logo appears on your iPhone.
4. Free up storage on iPhone
If you don't have enough space on your iPhone, you can't download any new app or update any previous app in App Store. Then, you have to free up sufficient space on your device through various ways, like delete apps on iPhone, or transfer data from iPhone to PC with a free iPhone data transfer tool.
Tips

If you happen to back up your iPhone to the computer for both data-safe or space clear, you can try EaseUS MobiMover Free, the first completely free iPhone data transfer in the world to export contacts, messages, notes, calendars, voice mails, books, Safari bookmarks & history, photos, videos, and audios to the computer in one-click. Now, download MobiMover Free and have a try!
Step 1. Connect your iPhone to your PC running Windows 7/8/10 with a USB cable. Tap "Trust" on your iPhone screen if asked. Run EaseUS MobiMover and navigate to "Phone to PC". To back up iPhone photos, contacts, and other types of files, click "Next" to begin.
Step 2. You can back up iPhone photos, videos, movies, music, playlist, ringtones, books, contacts, messages, notes, voice memos, and more as the image shows below. You can transfer these items all at one time or respectively export a specified data type. MobiMover also supports you to customize the storage path for iPhone backup. Choose desired files and click "Transfer" to back up iPhone files to your PC right now
Step 3. Wait patiently until the transfer process ends. MobiMover will copy the iPhone files in a readable and accessible way so you can view, edit, or delete the data based on your own need.
5. Clear cache on App Store
Too many caches on your App Store will lead slower or improper running in App Store, including can't download apps. Hence, you can try to clear caches to remove all outdated info and speed up your App Store. To clear caches on App Store, you can tap any tab of Today, Games, Apps, Search and Updates 10 times on the bottom.
6. Update to the latest iOS version
iOS has been updated to iOS 11.2.1, which fixes bugs including an issue that could disable remote access to shared users of the Home app. If the App Store down in iOS 11 is the iOS-related problem, you can fix it by updating to the latest version. Just have a try.
Go to "Settings" > "General" > "Software Update" > check whether there is a new version or not. If yes, tap "Download and Install" to start to install the latest iOS 11 version on your iPhone.