Every year, the thing Apple fans expect the most is the Apple's Worldwide Developers Conference, in which the company will announce both new iOS system and a range of new devices. In the 2017 Worldwide Developers Conference, iOS 11, Mac OS High Sierra, and Watch OS 4 was introduced, along with new iPad Pro models, new MacBooks, new MacBook Pro models, and new iMacs. Here, we will talk about the high-profile iOS 11 that sets a new standard for the mobile operating system with more advanced technique and makes iPad more capable than ever.
iOS 11 release date
According to reports from Wall Street Journal and Tech Crunch, the new iOS 11 system and Apple devices are is expected to happen on September 12. In that case, we'll see the iOS 11 update arrive on iPhones the following week.
New iOS 11 features
Use Apple Pay to pay friends with a message
iOS 11 makes send or receive money from friends as simple as a conversation. Now, Apply Pay is seamlessly integrated with Message, which allows you transferring money to any friend or family member in your contacts list conveniently. What's more, when you get paid, your money is 100% secure within Apply Pay Cash and available for paying for apps in App Store or any transaction on the web or transfer back to your bank account.
Siri becomes more natural and more helpful
Through the intelligent learning technology, iOS 11 makes Siri's voice intonation becomes more natural and closer to the real language rhythm. Besides, the translation function appears in iOS 11, supporting the voice translation between English and Chinese, French, German, Italian, and Spanish. You are able to ask Siri something in English and how to say it in Chinese, French, German, or Italian, and Siri will give you the answers immediately.
Also relying on the intelligent learning technology, Siri is capable of taking the initiative to judge your next action, for example, the functions you will apply, and the place, movie or music name you have searched in Safari.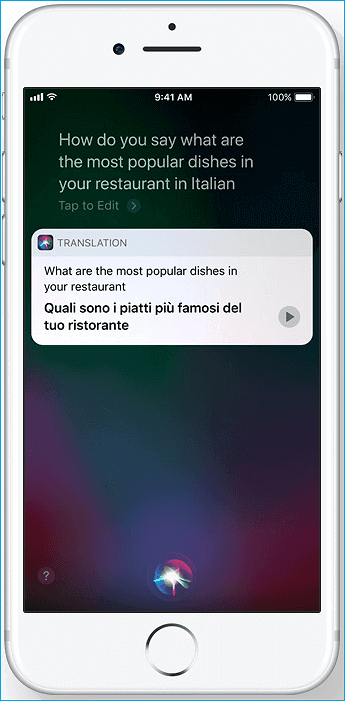 Customize the Control Center Freely
The new design of the Control Center is the most significant visual changes in iOS 11. The music control panel, originally in the right slide the second screen, now is integrated into the main control panel. The screen brightness, volume, music control panels, Wi-Fi and Bluetooth switch panel are used on the 3D Touch for more precisely controlling the adjustment range, and providing more features. Moreover, the Night Shift button is expected to disappear. Go to check how to customize Control Center in iOS 11 with details.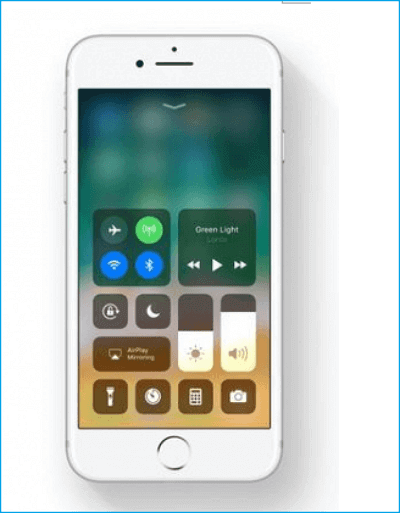 App Store adjustments
App Store has a great change. The first three of the five pages are changed from "Original", "Category" and "Rank" to "Today", "Game" and "Application". "Today" will recommend daily excellent apps, and also introduce articles, the use of skills and developer stories, more like a comprehensive application recommended the guide. "Game" and "application" pages are independent, which shows the attention to mobile games comes from Apple.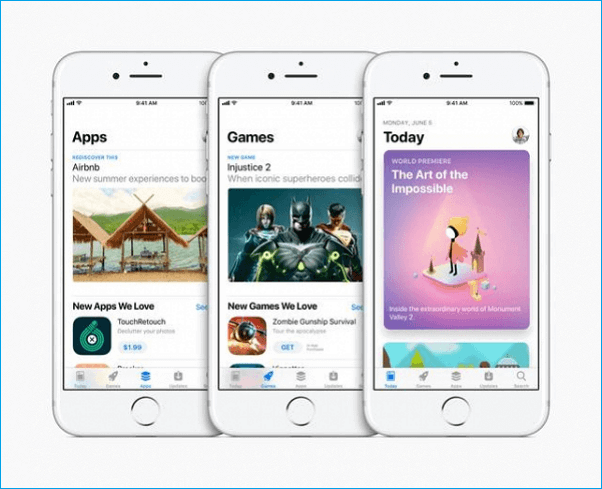 New Files application added
The new Files app brings you the comprehensive files management; you can easily browse, search, and organize all your files in one place. And there's a dedicated place for your recent files. Not just the ones on your iPad, but also those in apps, on your other iOS devices, in iCloud Drive, and across other services like Box and Dropbox.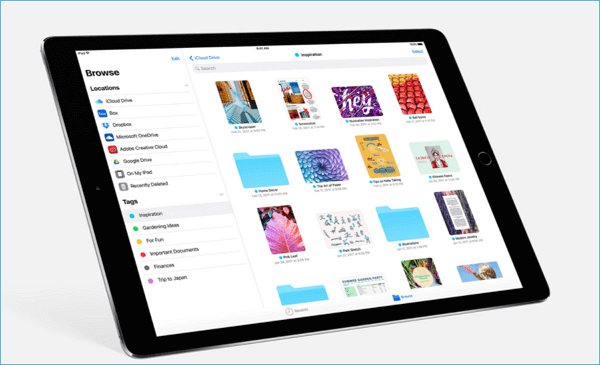 Drag and drop feature for iPad
Drag and drop is the new feature added to iPad, with which, you are able to move text, photos, links, and files from one application to another. On the iPhone, drag and drop can be used between apps, while on the iPad, it can be used across the entire operating system.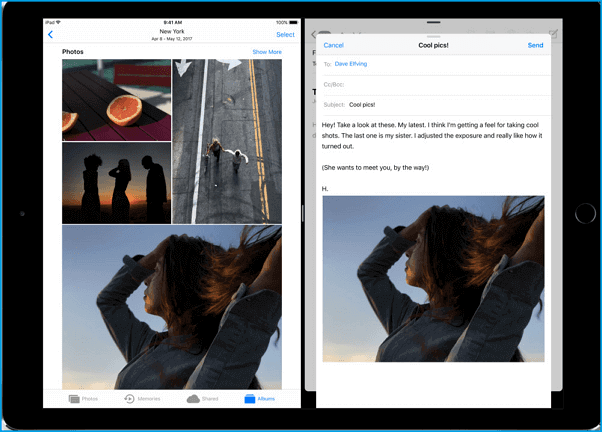 New Dock design
The new Dock is another foundational change for iPad. It's now available on any screen. With a simple tap, you can open and switch apps instantly. And you can customize it with more of your favorite apps. The Dock also can change intelligently and suggest apps according to your using habits, like ones you opened recently and the last one you were using on your iPhone or iPad.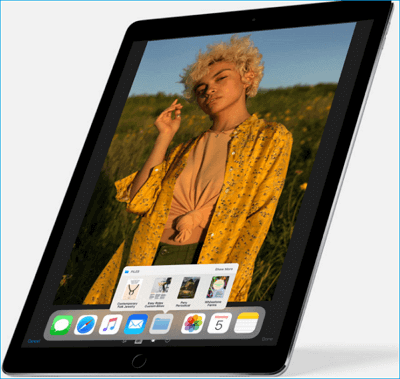 Do not Disturb model
Do Not Disturb model is added to CarPlay, which is similar to the original Do Not Disturb at night, automatically identifying useless notifications and preventing reminders when setting up. If you receive a text message at this time, iMessage will automatically reply to the message, inform the sender you are driving, and reply "Urgent" for the emergency reminder.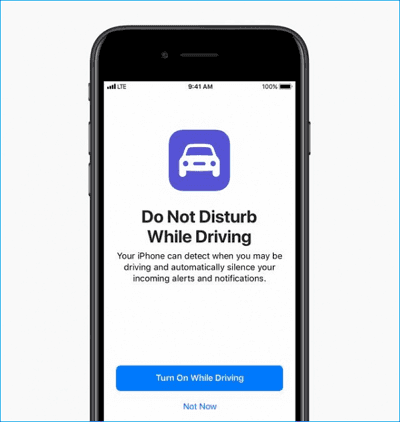 QuickType keyboard makes one-hand typing
No matter you are using the full keyboard or Jiugong grid keyboard, one hand typing is not a problem. With QuickType embedded, you just need to tap and hold the Earth icon and then select one hand input, the keyboard will move closer to the thumb from the location. And now, Jiugong grid keyboard can be faster and more frequently in recognition of English words.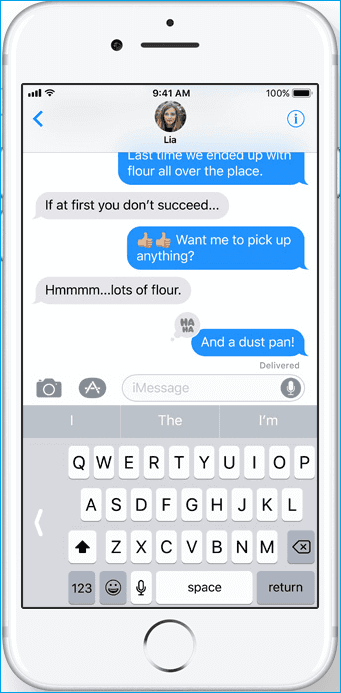 Apple Pencil to make marks
iOS 11 makes Apple Pencil for iPad Pro more versatile, powerful, and natural than ever to make marks. It can be used for screenshot and handwritten notes, illustrations drawing directly in the ranks of the notepad text just like Samsung Note series. It's more useful for all kinds of tasks, such as taking notes, getting work done, or simply being creative.
Camera and Photos upgrades
Apple provides new HEVC format for video and HEIF format for the photo to compress with a higher rate. Compare to the former one, Live Photos can now choose a frame as a cover and joined the loop, backspace, long exposure automatic processing. Live Photos can play as a smart short video creation tool instead of the simple record before and even imitate the camera long exposure shooting water and so on.
Update to iOS 11
Having known well about the main features of iOS 11 and can't help trying? Go to the detailed post on how to update to iOS 11 to sommothly download and install iOS 11 on your iPhone or iPad.