Websites and advertisers use cookies to identify you and follow you around the internet, and they might also save other website data to remember you by. In Safari, you can delete these cookies and other data. Make sure Safari leaves no traces of your browsing history, you need to erase cookies on safari after using it many times, this post will tell you the free and easy way to resolve your problem.
How to erase cookies on safari on iPhone
Step 1: Open "Settings" App on your iPhone or iPad.
Step 2: Scroll down to choose "Safari".
Step 3: Scroll down to find the option "Clear History and Website Data".
Step 4: Click "Clear History and Website Data" and all the history, cookies, and other browsing data will be removed from your iPhone. Besides, History will be cleared of all the devices that have signed into your iCloud account.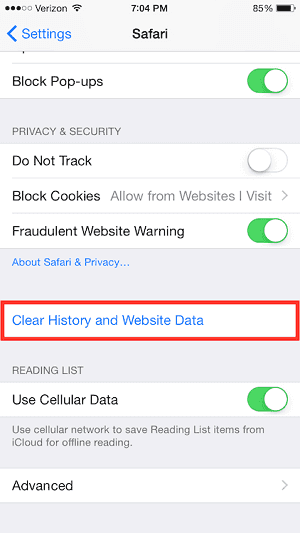 How to erase cookies on safari on Mac
1.Select Preferences from the Safari menu or hold down the Command key and the comma key at the same time (Command+,).
2.Click the Remove All Website Data button to remove all stored website data.
3.Click Remove Now to confirm. Note, as Safari warns you, this could log you out of sites and perhaps also change how they function. For example, instead of getting tailored ads on the site, you'll be served generic ones.
Besides the clear of cookies, we recommend you a third party free iPhone data transfer software to resolve some problems like clearing Safari bookmarks on iPhone X.