Many people believe that iOS system is the best system of all the mobile devices. But, when it comes to the iOS system upgrade, there might be some bugs. What's more, you may have already get used to the old system which you have used for years. Now you to downgrade iOS system on your iPhone, however, there is not a button says downgrade iPhone system on your iPhone. Don't worry, This article will tell you how to down grade iPhone system without lost any data.
Part 1. Backup your iPhone data
Backup iPhone with iTunes will change the system of your iPhone when restore, you could backup your iPhone data with iCloud Backup. You can restore information from iCloud after downgrading iPhone system.
Step 1. For iOS 10.3 users, please go to Settings>Name>iCloud. For the other iPhone users, please go to Settings>iCloud.
Step 2. Find the button "iCloud Backup" or "Backup", toggle it on.
Step 3. Please make sure that your iPhone is connected to Wi-Fi, and please keep your iPhone charging.
Step 4. After the backup, go to Settings>Name>iCloud>iCloud Storage>Manage Storage to check the iPhone backup.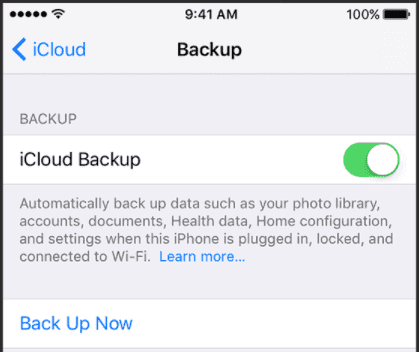 Part 2. Downgrade iPhone system
If you want to downgrade iPhone system, you would need a backup file from the system you want. Also, you can download a standard file from Apple support to downgrade iOS system. The process is almost the same as restoring your iPhone with iTunes.
Step 1. Go to Apple Support, find the page Download.
Step 2. Select iPhone in the product list, and choose which iOS system you want to downgrade to.
Step 3. Download the file to your computer.
Step 4. While downloading, open iTunes on your computer and update it to the latest version.
Step 5. Connect you iPhone to this computer with lighting cable.
Step 6. Click the iPhone icon on the top left, and switch to iPhone device panel.
Step 7. Find the button "Restore backup" and click it.
Step 8. Select the file you just download from Apple Support. Restore this file will downgrade your iPhone to the specific system.
Step 9. Please wait. After the process finished, go to Setting>General>Software Update to check the system number of your iPhone, so that you could know whether your iPhone system has successfully downgraded.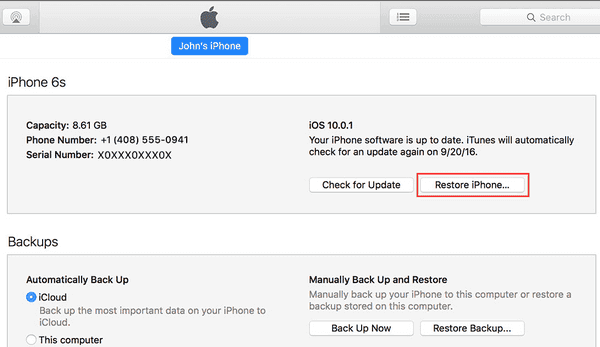 Part 3. Restore your iPhone information data
If you found that the information on your iPhone is lost, don't worry, you can restore them from iCloud Backup. It is easy to get contacts from iCloud Backup or download apps from iCloud.
Step 1. Go to Settings>General>Reset.
Step 2. Reset the data you need to, and of course, you can "Erase All Content and Settings" directly.
Step 3. Select "Restore from iCloud" on the "App and Data" screen.
Step 4. Login with your iCloud account and select the backup file to restore.
Step 5. Wait for it. This will help you to get all your data back after you downgrading iPhone system.