After we've got the newly released iPhone 8, the first thing we will do is transferring all the contacts information from old iPhone to iPhone 8 for normal use. And with time going by, the number of contacts on iPhone 8 will consistently grow and take considerable storage space. At times, we may find some particular contacts coming with the people we have ever met or are out the touch. In order to clear these kinds of contacts, we need to delete the useless and unknown contacts from time to time. Here, in this blog, we will provide three free and effective methods in all to delete multiple or all contacts on iPhone 8.
How to delete contacts on iPhone 8 with MobiMover Free
The first method to delete contacts on iPhone 8 is using EaseUS MobiMover Free, the only free iPhone manager tool in the market to easily delete iPhone contacts with familiar keyboard operations. With MobiMover, you are able to delete single, multiple or the entire contacts on iPhone 8 at a time. What's more, MobiMover still allows for new-creating & editing contacts within the application, adding photos to contacts for customized settings and syncing the contacts to another iPhone/iPad or computer.
1. Download and install EaseUS MobiMover Free on your desktop. The system requirement is Windows 7, 8, 8.1 or 10, please make sure your PC is running any of these OSes.
2. Connect iPhone 8 to the computer with its original USB cable. Launch MobiMover and choose Custom transfer type in the main interface. Next, choose Contacts in the left side panel to show the whole contacts on your iPhone 8. If you can't open Contacts and see a notice on closing iCloud, go to iPhone Settings > iCloud > turn off Contacts in the apps list using iCloud.
3. Launch MobiMover, click Custom and go to Contacts.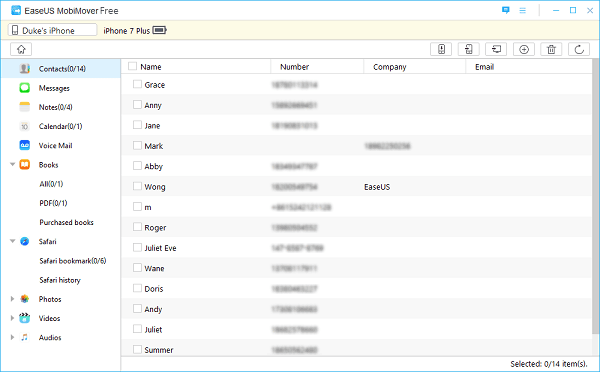 3. Choose multiple or all contacts based on your own needs by ticking the boxes in front of the contacts, and find the trash button in the upper right corner.
4. Click the trash button and confirm the deletion by click Yes button. As MobiMover can sync any data change to your iPhone automatically, the unwanted contacts will be removed from your iPhone at the same time.
As you can see, it is quite easy to delete contacts on iPhone 8 as you wish by using EaseUS MobiMover Free, not only the contacts but also many other iPhone files managements are supported by MobiMover, including music, notes, calendars, and videos. You can check how to delete iPhone music with the same steps listed above if you need.
How to delete contacts on iPhone 8 with Contacts app
Removing contacts from iPhone Contacts app is the easiest way, and the shortcoming of this method is you have to delete contacts one by one.
1. Open Contacts app on your iPhone 8.
2. Tap one specific contact you want to remove.
3. Tap Edit button in the upper right corner, and scroll down to find Delete Contact.
4. Tap Delete Contact and confirm the deletion.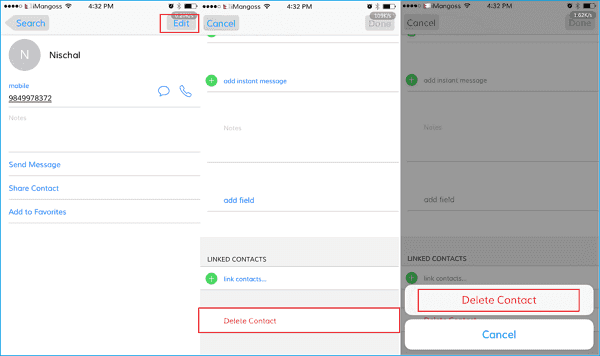 How to remove all contacts on iPhone 8 via iCloud
If you want to remove all the contacts information on iPhone 8, you can delete them all from Settings.
1. Go to Settings on iPhone 8 and tap the Apple account.
2. Tap iCloud and you will see to list of apps using iCloud.
3. Turn of Contacts from the list and tap Delete from My iPhone on the warning window.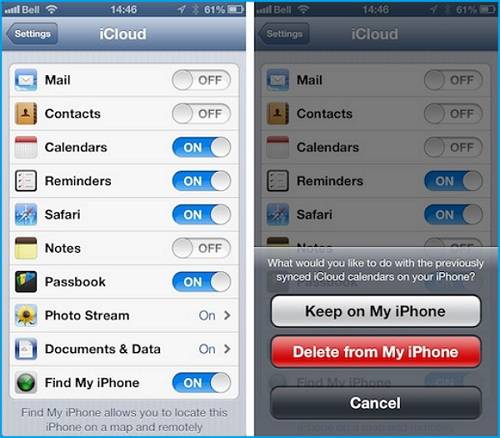 Through iPhone settings, many iPhone data and documents can be removed, including deleting iPhone apps, link to the guide to get complete info on how to delete iPhone apps in different ways.
How to delete contacts on iPhone 8 from iCloud control panel
Using iCloud control panel to remove contacts from iPhone 8 on Windows PC or Mac may be a little more complex than above two solutions. While iCloud control panel can help you manage more iPhone contents, like photos deletion but not limited to contacts.
1. Download and install iCloud control panel on your computer from Apple official website.
2. Open iCloud control panel and log in your Apple account.
3. Select Contacts on the main interface and view the whole contacts,
4. Choose the unwanted contacts, right-click them, and choose Delete Cards to remove them out.
5. As any operation going on iCloud control panel will be synced to iPhone 8, thus, contacts deletions will also be synced to iPhone 8.