"I am unable to move or delete apps and icons on my iPhone 7 iOS 11.1. When I press the app, it simply asks if I want to share the app. I have reset the settings and even restored the phone as new and the problem continues. How can I fix this issue by myself?"
The 3d touch embedded on iPhone running iOS 10 or later makes it harder to delete apps on iPhone 7 or iPhone 7 Plus like the problem stated above. When you press hard like you had done before, you may invoke app sharing instead of deletion. Before we get into the discussion on how to delete apps on iPhone 7, you need to know that there are some built-in apps on your iPhone can't be removed no matter which way you take. Therefore, please make sure first that the apps you want to remove from your iPhone 7 are the ones allowed. After this, you can use the two available ways listed below to delete apps from iPhone 7/7 Plus.
Method 1: Delete apps on iPhone 7/7 Plus by slight press with "X"
After iOS 10, if you want to remove apps on iPhone, you are supposed to touch and keep your finger on the icon lightly but don't press hard like you had to before. Quick touch will open the app, light touch and hold will create wiggling icons with the X to delete the app. Following tips for app deletion from iPhone 7 also can be applied to delete apps on iPhone 8.
1. Go to the home screen with the apps you want to delete on your iPhone 7/7 Plus.
2. Find the certain app and slightly press & hold the icon until it begins to wobble and with an "X" symbol at the top left corner.
3. Tap the X and you will see a screen pop-up warning "Delete this app will also delete its data." Tap Delete to remove the app on your iPhone 7 permanently. Repeat these steps again and again if you have multiple apps to be deleted. If you can't delete apps when pressing the icon with no "X", you can fix this by going to "Settings" > tap "General" > scroll down & tap "Restrictions" > tap "Enable Restrictions" > turn on "Deleting Apps".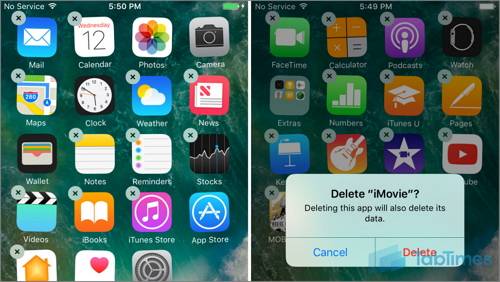 Method 2: Delete apps on iPhone 7/7 Plus from Settings
Apart from laying your finger on the icon to delete apps on iPhone 7/7 Plus, you can still free up iPhone space via removing apps from settings.
1. Open iPhone 7/7 plus in iOS 11, then go to "Settings" > tap "General".
2. Tap "iPhone Storage" and scroll down to find the certain app you want to delete.
3. Tap the app, and you will access the app management interface, where you can"Offload App" /ios-tips/offload-apps-in-ios-11.html and "Delete App".
4. Tap "Delete App", and choose "Delete App" on the pop-up window.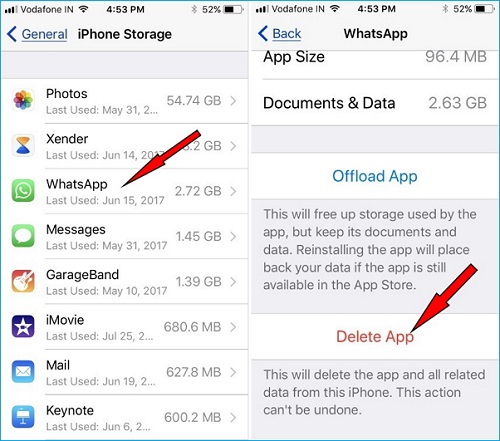 See More:
The way to manage your iPhone space can be reached via many aspects. For example, you can
delete all photos from iPhone
after an iPhone backup which is the most effective solution, or you also can download the videos from iPhone to the computer, which take considerable memory. To fulfill these needs, one free iPhone data manager you can't miss is
EaseUS MobiMover Free
, the totally free iOS data management tool to help you add, delete, and transfer iPhone photos, contacts, music, videos and other documents with ease.