Deleting all emails on iPhone can be easily realized if your iPhone is running iOS 9 with the "Trash All" function embedded. However, after updating iOS 10, the "Trash All" option is removed and it's not an easy thing to delete emails within Mail application on iPhone with iOS 10 and later, including the latest iPhone X, iPhone 8, iPhone 8 Plus, iPhone 7 and 7 Plus. In this post, we mainly talk about how to delete emails on iPhone X to free up iPhone space in two quickest and free ways.
Delete all emails on iPhone X by multiple choosing
In iOS 11 and later, there is no "Delete All" option in Inbox, Sent and Draft within Mail app, if you want to delete all emails in these three folders, you need to choose all emails by one by one and move them all to trash. Now, let's how to delete emails on iPhone X.
1. Open your iPhone X and go to "Mail" applications.
2. Login to your Emails, and go to "Inbox" > "Edit" > choose all emails by checking one by one > then tap "Trash". Or tap "Move > Trash".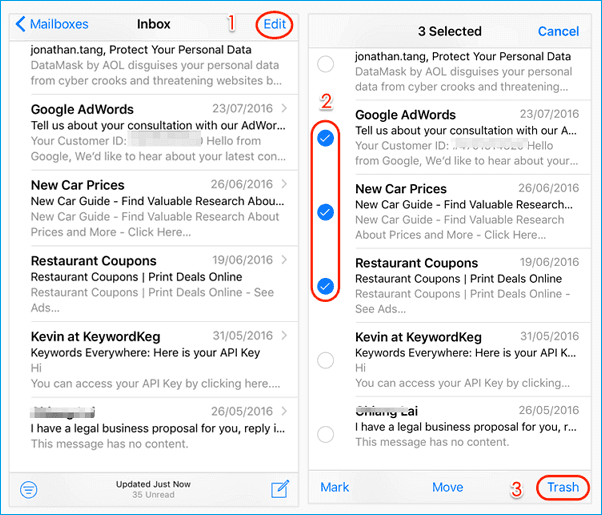 Delete all emails on iPhone X by moving emails to Junk and Trash
Although there is no choice to delete all emails at once in Inbox, Sent and Draft, you can still delete all emails at one time by moving the emails in Inbox, Sent and Draft to Junk or Trash, where there is "Delete All" option. Following tips below to delete all emails in the mailbox on iPhone X.
1. Go to Inbox, Sent or Draft that has many emails to delete. Here, we use Inbox as an example.
2. Tap "Inbox", then tap "Edit" in the right upper corner.
3. Choose one email, next, press and hold the "Move" on the bottom and untick the email you selected just now at the same time.
4. Operation in step 3 will navigate you to a page that allows moving all emails to "Junk" and "Trash" folder where you can move all emails and use "Delete All" function.
5. Moving all emails to "Trash", and click "Edit" > "Delete All".
6. Go to "Trash" folder and clean all emails.
How to delete other iPhone files at once with MobiMover Free
For freeing up iPhone space and make iPhone faster, deleting emails is just one aspect. Many other files accumulation can also make your iPhone with little space and need to be removed by using an excellent iPhone manager program. Here, we recommend EaseUS MobiMover Free iPhone manager software to you to easily manage all your iPhone files, like adding a song to a playlist, deleting all music and photo albums at one time, transferring files from iPhone X to PC and much more.