iOS 11 brings us a series of unexpected changes, and among the great iOS 11 features, customizing Control Center in iOS 11 is definitely a bright spot. The control center is not inaccessible anymore, we can redesign it based on specific needs. For example, we can add the frequently used app to the Control Center, turn on cellular on or off within control center without go to Settings, remove the any disliked control pre-installed in Control Center and more. But how to accurately customize Control Center in iOS 11 on iPhone or iPad to meet our preference? Following steps are for how it's done in right way.
How to Customize Control Center in iOS 11 on iPhone iPad
After you have successfully updated to iOS 11, new Control Center is available for you now, follow steps below to redesign your own Control Center.
1. Turn on your iPhone or iPad, and go to Settings app.
2. Scroll down, and you will find the Control Center option, then tap it.
3. Now, you can see the option of Customize Controls in the Control Center managing screen. Tap it and you will access to the specific operating screen.
4. In the INCLUDE section, you can see the application that has been added to the Control Center. If you don't like some controls or shortcuts anymore, tap on the Red Button (-) to delete them.
5. Look down, you will find the MORE CONTROLS section. If you want to add some favorite apps to Control Center for convenient use, you can tap the Add Button (+) to add more controls.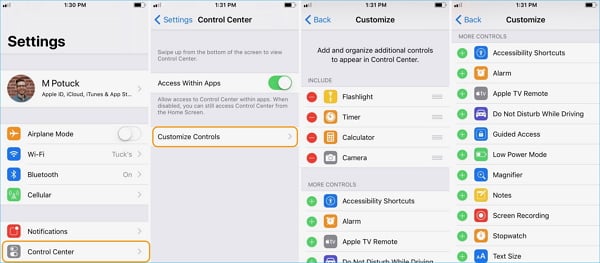 How to organize the order or controls in Control Center
It is quite easy to customize the Control Center in iOS 11, right? After the customization is done, you can open the Control Center to check the controls by swiping up from the bottom of your screen. Moreover, you can reorganize the order of the controls to the most convenient status.
Open the Control Center on your iPhone or iPad, tap and hold on the control you want to change the position, hold it and enter into hover mode, then drag the control to the new location.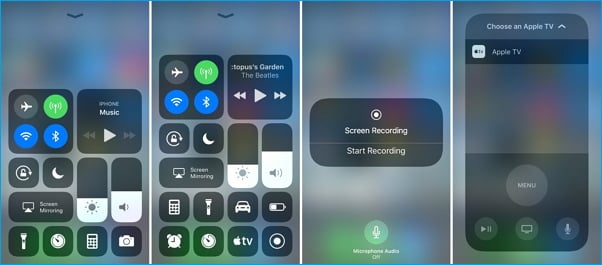 Just like every coin has two sides, there must be some bugs in iOS 11 along with its wonderful changes, if you don't like the iOS, you are free to downgrade from iOS 11 to 10.3 version.