Summary
This tutorial article will show you how to restore unsaved, lost or deleted Notepad ++ files on Windows 10/8/7 with or without backups with a few simple clicks. Don't worry if your precious Notepad ++ files disappeared on your PC. Follow and try the 100% effective methods on this page to retrieve your lost or unsaved Notepad ++ files with ease.
Question: Can I restore a deleted or lost unsaved Notepad ++ file on Windows 10
"The Notepad ++ recently start deleting my TXT files on my computer. This morning, I was editing an important document with Notepad ++ when it suddenly crashed.
I reopened the Notepad Plus, the created .txt file which contained my whole morning job got deleted. I opened a new one, it got deleted again.
I stopped using the Notepad ++ and how can I restore my lost and unsaved Notepad ++ files on the computer?
I'm using Windows 10 by the way."
How to Restore Unsaved, Lost or Deleted NotePad ++ Files
Are you facing a similar issue that your Notepad ++ files got deleted or removed for no reasons? Or did you accidentally deleted or closed an unsaved .txt files on Notepad ++? Do you know how to restore the lost Notepad ++ files?
The simple solution to this issue is to restore lost Notepad ++ files from backups. But what if you don't have a backup of the lost text files, what else can you do to get those files back? Two 100% working methods are available to help you fix this issue, and you can just apply the proper solution to get your lost Notepad Plus files back right now:
PAGE CONTENT:
Method 1. Restore unsaved/lost Notepad ++ files from backups
Method 2. Recover lost, deleted Notepad ++ files without backup
 Important

If you've created a backup of notepad files, please refer to Method 1 for help. If you didn't have any backups for the lost Notepad ++ files, please turn to Method 2 and apply powerful file recovery software for a try.
Method 1. Restore Unsaved/Lost Notepad ++ Files from Backups
Mostly, unlike the Notepad, Notepad ++ is more advanced and it has a feature of creating backup files during the editing process. It means that Notepad ++ users can create a backup file of your currently editing files.
If you've turned on the backup feature (which is usually turned on by default) or have created backups for the lost or unsaved Notepad ++ files, you can simply follow the detailed guidelines below to restore your unsaved Notepad ++ files right now:
Step 1. Open a new Notepad ++ file, click on Settings > Preference.
Step 2. Click Backup on the Preference window, and find the Notepad ++ backup location on your PC in the Backup path.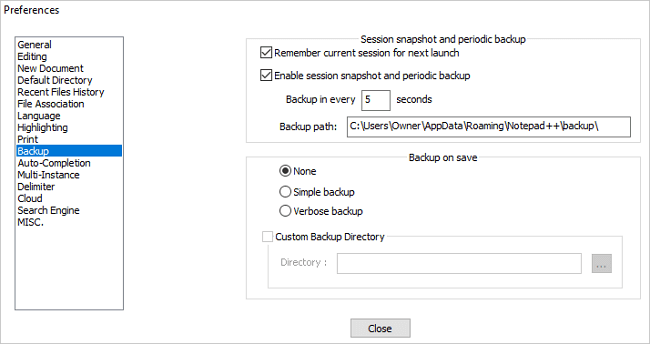 Note: To prevent Notepad ++ files from losing again, you can check "Remember current session for next launch", Enable session snapshot and periodic backup - "Backup in every 7 or 5 seconds".
Step 3. Copy the backup path of your Notepad: C:\Users\UserName\AppData\Roaming\Notepad++\backup (usually).
And past it on your Windows Explorer, click Enter to find the exact backup folder of your Notepad ++.

Step 4. You will be able to see all Notepad backups listed there, and you can click Date modified to choose the most recent notepad file that you've lost, right-click on it and choose to open with Notepad.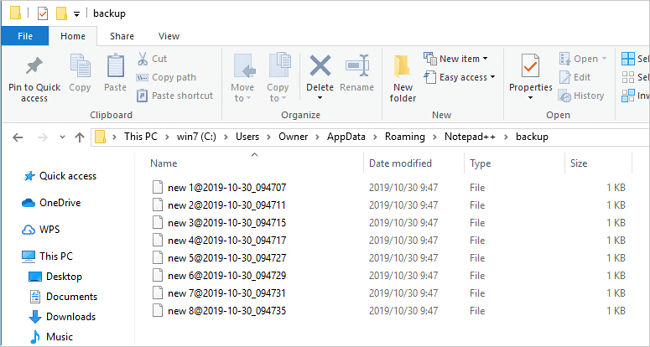 Step 5. And now you should be able to view and click Save As or Rename to save your lost or unsaved Notepad++files to a safe location.

Method 2. Restore Lost or Deleted Notepad ++ Files without Backup
If you don't have a backup of the losing Notepad ++ files which you removed or deleted by mistake, just relax.
The best free file recovery software - EaseUS Data Recovery Wizard Free Edition can get you out of this issue within 3 simple steps. It is fully compatible with all Windows OS and Mac OS X.
You can directly download and install this free file recovery software on your Windows PC and apply the simple guidelines listed below to get your lost Notepad ++ files back now:
The Text file recovery steps are:
Launch EaseUS file recovery software.
Select the file location, which can be a hard disk drive, an external USB flash drive/micro SD card or a specific folder on Desktop or somewhere else.
Click on the Scan button.
Files are showing up during the scan.
Quickly access the text files by choosing "Documents" from the drop-down list in "Filter".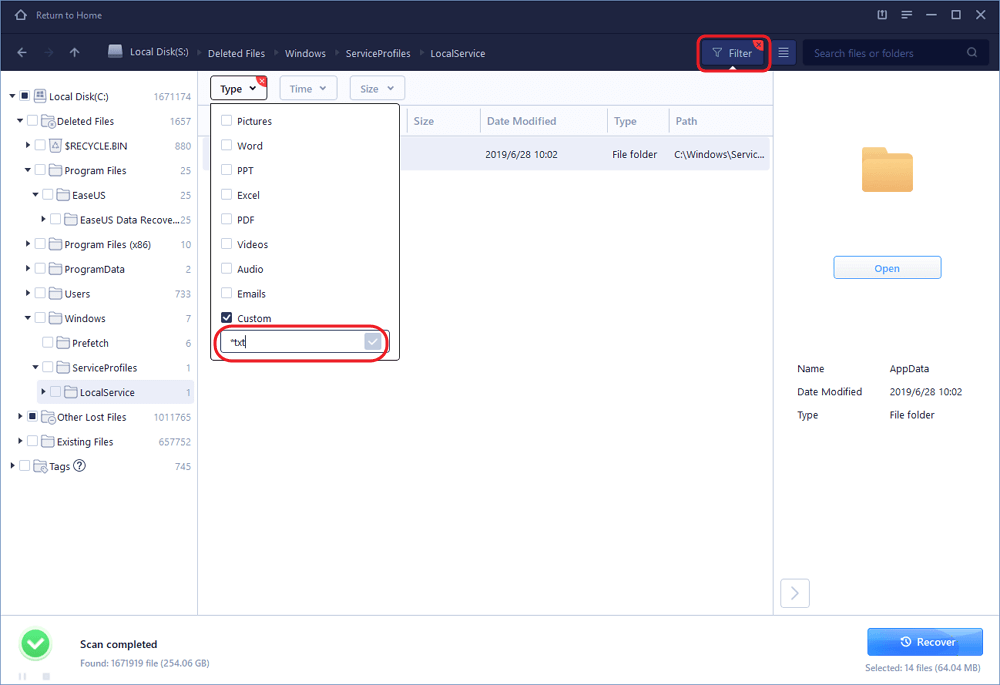 Lastly, select the text file and click on the Recover button.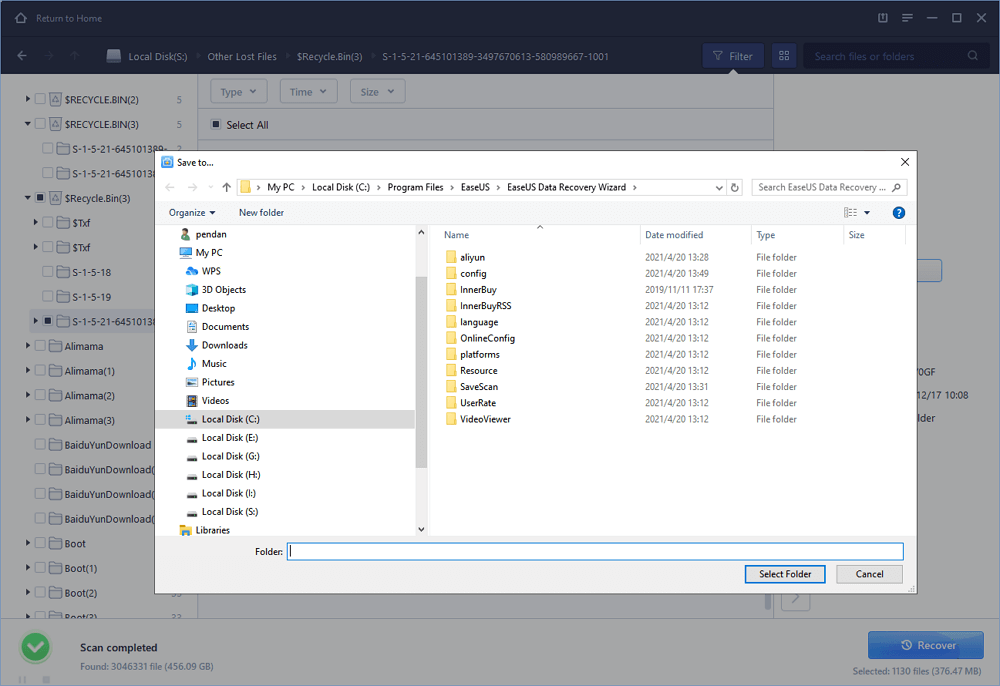 After this, you can continue using and editing the restored .txt or text files with the Notepad ++ program without any problems.
Final Word
If you've followed the provided methods on this page and successfully restored the lost, deleted or even unsaved Notepad ++ files, congratulations.
But it's not the end of a story.
1. If you don't want to lose important files again, please do remember to turn on the AutoSave feature in Notepad ++ to automatically backup Notepad files for you.
2. It's also a good behavior to save Notepad files regularly and create backups of important files frequently.
These two tips will help you avoid unexpected accidents and protect your Notepad ++ files securely.
100% of people found this article helful.
Frequently Asked Qusetions
1. Why cannot I recover 2GB data for free?

It is recommended to check the version installed is Free or Trial because they are different versions.

Trial has data preview function but cannot save any files, while the Free version enables to recover 2 GB files. The default free space is 500 MB and you may share the product on social media to get another 1.5 GB.
2. Why cannot the recovered files be opened?

A file is saved as 2 parts on the storage device: directory info (which is comprised by file name, time stamp and size info, etc.) and data content.

If the files with original file names and folder structures cannot be opened, one possible reason is the corrupted directory info. There is still a chance to recover the data content with the RAW Recovery method in our software.
3. Why isn't it suggested to recover the files back to the original drive?

The storage structure of the lost files would be altered or damaged by any changes on the drive. If you save the recovered files back to the same drive, the original data structures and data content would be corrupted or overwritten, which causes permanent data loss. So you should prepare another disk to save the files.
4. How can I check whether my data is recoverable or not before purchase?

The Free version helps you save 2GB files to better verify the recovery quality of our product before purchase.
5. How long does it take to scan the drive?

It strongly depends on the capacity of your hard drive and the performance of your computer. As reference,most drive recoveries can be completed in around 10 to 12 hours for a 1-TB healthy hard drive in general conditions.
About Data Recovery Wizard
It's super easy to recover 250+ types of files after deletion, disk formatting and virus infection. Click the links and compare the difference of each version.