2 ways to decrypt .zepto files without paying the ransom
Cannot access your data after zepto ransom attacking? Finding zepto file decrypter to retrieve .zepto files? Like cerber virus, Zepto is a dangerous file encrypting ransom virus which can affect your computer and lock or encrypt all your files by changing the files extensions to ".zepto". And later it will send you a message telling you to buy a decryption key to restore .zepto files. Now, Zepto ransomware is back and become more active since the beginning of September, with more and more users reporting attacks. And Windows Defender can't block it. It's really disgusting! So, users might interested in the question that whether there is a virus file recovery solution to remove the virus and recover Zepto encrypted files without paying the ransom? Of course, yes. In the last post, we have introduced how to recover cerber files, in this page, we will continue to talk about how to decrypt .zepto files without using zepto file decrypter or zepto decryption tool in two easy ways:
Method 1. Recover .zepto files using System Restore
Method 2. Retrieve .zepto files from Previous Version
Method 1. Recover .zepto files using System Restore
Restoring your system to the last backup point using System Restore is the easiest way to recover .zepto files. Requiring no antivirus software and zepto decryption tool, it can help you remove the virus and decrypt .depto files with ease.
1. Initiate the search for "system restore".
2. Click on the result.
3. Choose the date before the infection appearance.
4. Follow the on-screen instructions to recover zepto files.
Method 2. Retrieve .zepto files from Previous Version
Previous Versions is a backup and recovery feature in Windows can be used to restore deleted, formatted, modified, damaged files and folders. With its help, you are allowed to recover zepto files without third-party zepto decrypter tool if restore point was made prior to virus infection. To use this tool to restore files encrypted by Zepto virus, please follow these steps:
1. Right-click the file and choose "Properties".
2. Open the "Previous Version" tab.
3. Select the latest version and click "Copy".
4. Click "Restore".
As you can see, zepto file decrypter is not the only way to decrypt .zepto files, there are many alternative ways to retrieve Zepto encrypted files. But if your PC is infected with zepto ransomware without restore points prior to infection date, you cannot restore your data using the above ways. Then you need to use automated zepto decryption tools. Kaspersky provides a free tool which helps you to decrypt .zepto files. You can take it as a try!
Retrieve virus infected files with EaseUS file recovery software
And if your files are hidden or corrupted after virus attack or deleted by antivirus and you fail to retrieve them by other ways, please don't worry! Just try to get them back with third-party data recovery software. Here EaseUS file recovery software is recommended for its powerful data recovery capacity and easy-to-use feature. To recover virus infected files, just download the program and follow these steps:
Step 1. Select the disk storage location where you lost data and click "Scan".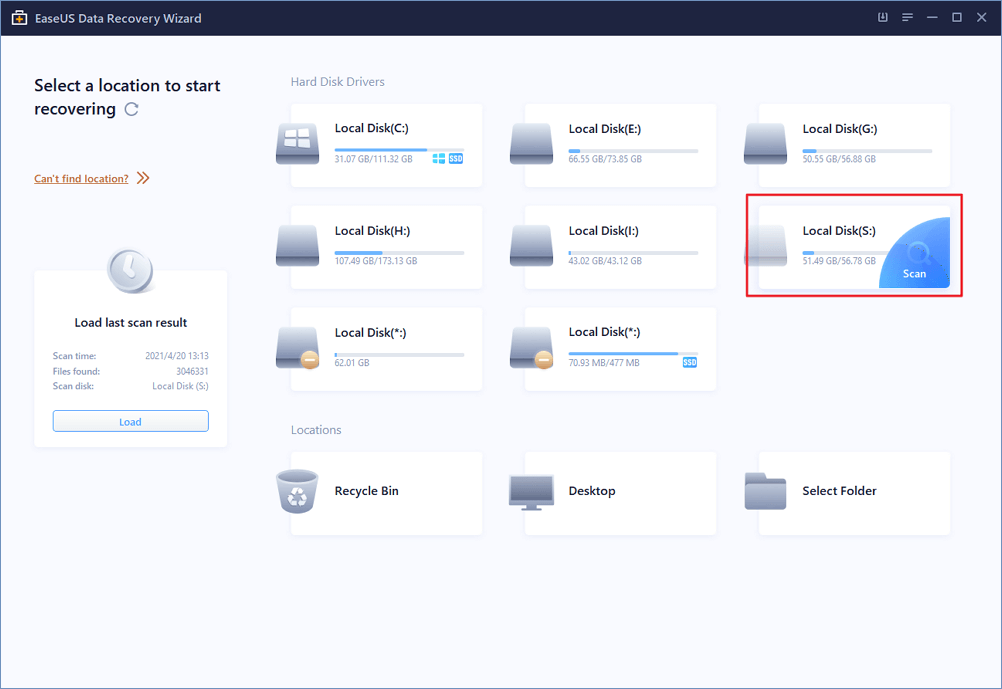 Step 2. EaseUS Data Recovery Wizard will start a quick scan first. After the quick scan completes, a deep scan will automatically launch in order to find more files.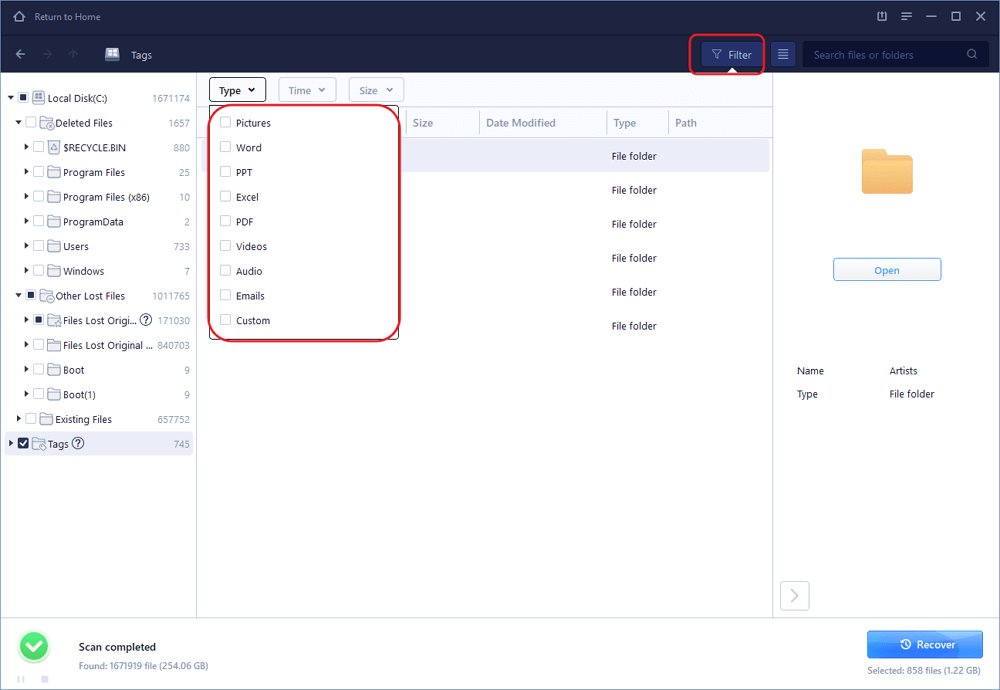 Step 3. After scan, you can filter what you need from the scanning results according to the file type. Then, click "Recover" button to retrieve them back once. Here you should save all the recovered files on a different drive or memory card in case of data recovery failure.