Windows 7 Hidden Files Loss Case
Hi there, can anyone tell me how to recover hidden files Windows 7? How did I get my Windows 7 hidden files lost? This is really an unexpected accident. Yesterday, I got a call from my boss, telling me to send him an important file which was set as a hidden file in my computer.
I tried to find the hidden file among some other important files which were set as hidden. Then I tried to move this hidden file out of the folder. After decrypting the file, I viewed the file. Everything was all right and when I tried to send it to my boss, a sudden power failure occurred. Then I tried to restart the computer, it turned out that the hidden file disappeared! Yes, it just simply disappeared! How can I get it back? Is it possible to recover hidden files Windows 7? This is really urgent. Please help me. Thank you very much.
Recommended Method to Recover Hidden Files Windows 7
To recover hidden files Windows 7 seems really complex for most ordinary inexperienced users and usually all lost hidden files are confidential or greatly important. Losing them may cause serious disaster. Then a professional file recovery software becomes really important. Here we recommend you to try EaseUS Data Recovery Wizard which dedicates to offer professional method to help inexperienced users out of diverse complex data troubles.
You are allowed to restore about 2GB files for free with this software. This software simplifies all complex data recovery process and only 3 steps will do all the jobs for you. Other more cases like how to fix hard disk format error or pen drive recovery can also be simply solved by yourself now. Download this software and let it help you right now.
How to Recover Hidden Files Windows 7 with EaseUS Data Recovery Wizard?
How many of you know how to recover hidden files Windows 7? EaseUS Data Recovery Wizard offers reliable solutions for you now to solve complex data troubles including how to recover hidden files Windows 7 or usbc files recovery free download. Do feel free to download this software and start to find your lost hidden files right now.
1. Select disk partition or storage location where you lost files and click "Scan".
2. EaseUS Data Recovery Wizard will start a quick scan to find lost files;
After the quick scan, a deep scan will automatically start to find more hidden files;
3. Preview and restore lost files;
You can preview found data by file types, select found files and click "Recover" to save them to another safe spot in PC/storage device.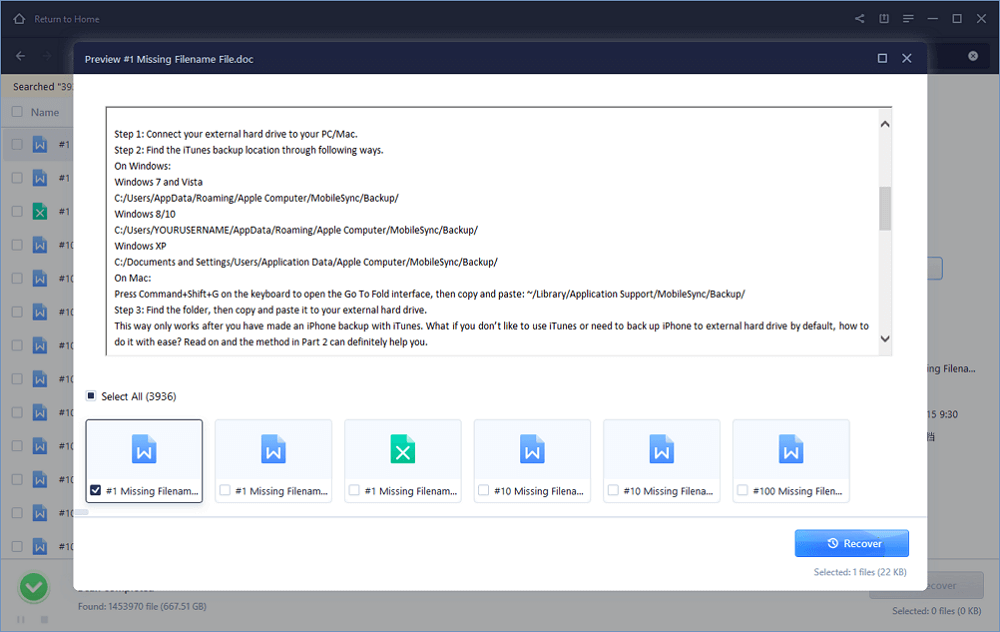 Are you still feeling confused about how to recover hidden files Windows 7? EaseUS Data Recovery Wizard is your best choice now and you can even apply this software to solve other more complex cases. No extra technical skills are required.